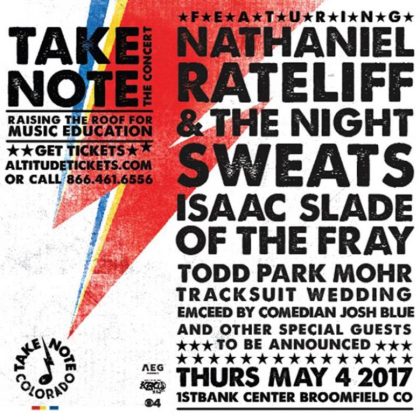 BUSINESS NEWS: CO Governor Announces Benefit Concert For Music Education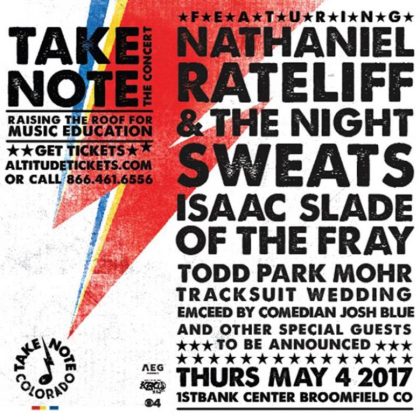 DENVER (CBS4) – Colorado's governor announced a big benefit concert on Monday that will go a long way towards improving the musical education of Colorado students.
Gov. John Hickenlooper, along with Isaac Slade of The Fray, revealed the details of "Take Note The Concert," which benefits the Colorado Music Coalition and features local Colorado performers. It will be held at 1stBank Center in Broomfield on May 4 and features headliners Nathaniel Rateliff & the Night Sweats and Slade in a solo performance.
Other performers include Todd Park Mohr of Big Head Todd and the Monsters, Tracksuit Wedding and Billy Nershi of The String Cheese Incident.
The Colorado Music Coalition plans to expand both access to instruments and professional instruction for students at the elementary, middle and high school levels. AEG Presents Rocky Mountains and the Anschutz Foundation are backing the nonprofit along with the governor, and more concerts with Colorado musicians are also in the works in the future.
A public service announcement featuring Hickenlooper and Slade and promoting the concert will be airing on CBS4 soon.
Newsite includes a video of the announcement featuring Governor Hickenlooper and Isaac Slade.
http://denver.cbslocal.com/2017/03/07/colorado-governor-announces-benefit-concert-for-music-education/
Learn more at the Colorado Music Coalition's Facebook page.
https://www.facebook.com/COMusCoalition/
[Editor's Note: The Colorado Music Coalition organization is not to be confused with the Colorado Music Collective! Remember: The Colorado Music Association was FIRST! (Since 1999)]