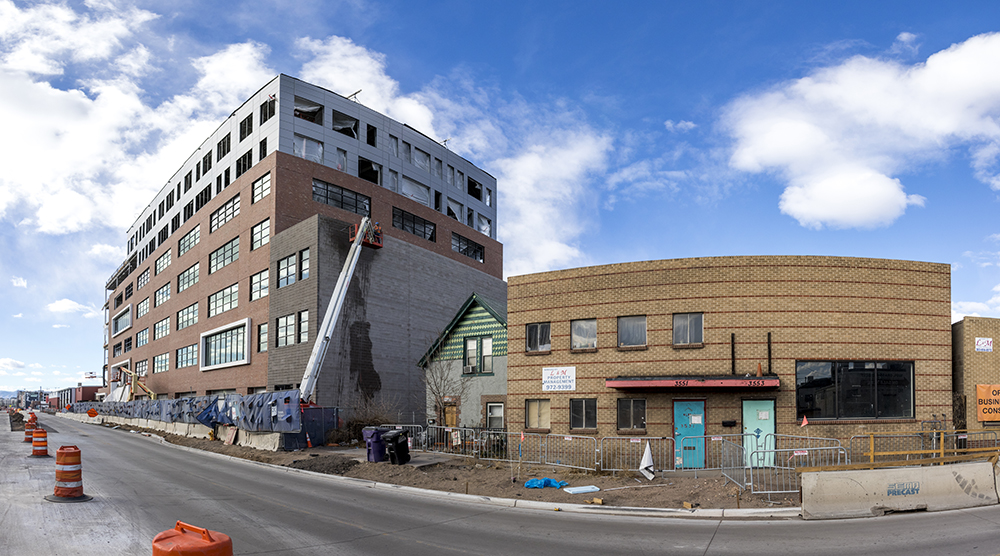 BUSINESS NEWS: Denver Announces $300,000 Safe Creative Spaces Fund
Denver Arts & Venues will provide $300,000 for "need-based funding for creative space tenant safety and building improvements" in a Safe Creative Spaces Fund.
The announcement comes right between the anniversaries of the Dec. 2nd fire at the Ghost Ship DIY art space in Oakland [which] killed 36 people and the Dec. 8th shutdown of Denver DIY spaces Rhinoceropolis and Glob.
The fund is an extension of the Safe Occupancy Program the city created earlier this year, which was meant to give people living in spaces like Rhinoceropolis and Glob a way to legalize their buildings without losing their housing.
But artists felt that wasn't enough. As Lauri Lynnxe Murphy, an artist and member of Amplify Arts, told Denverite in July, "It's about money. If this is going to succeed, we need money."
Some money was already coming into the community via a grant from Meow Wolf and additional support from the city — $70,000 in all across 19 Denver art and music spaces. That was a jumping-off point for the people and organizations who received financial support, but also for a larger effort from the city.
"We needed to start somewhere, and in order to raise additional funding, we needed to get that [Safe Occupancy Program] bill passed, which happened in July," said Lisa Gedgaudas, program administrator for Arts & Venues' Create Denver.
Now the city is putting $300,000 on the table, this time with administrative help from the RedLine nonprofit contemporary art center. According to a news release, RedLine will "facilitate support between artists and art businesses."
"RedLine has been with us through this process quite a bit, really since December, when the Ghost Ship fire happened," Gedgaudas said. "It's RedLine's mission to support community advancement and dialogue around these things … so it was very natural."
Bree Davies, an advocate for the DIY community, said the RedLine partnership is key. The gallery hosted the first community meeting organized by Amplify Arts, and local artists trust the organization and its executive director, Louise Martorano.
"I think we saw that artists did not trust the city, which is why basically no one from the DIY community came forward initially to take advantage of the occupancy program," she said.
There was a feeling that coming forward to participate would mean "creating a registry of ourselves that could be used later on," she said. Without financial support, artists can't complete the program, then they're left on a list of unpermitted spaces with no way of getting up to code.
As of now, no one in Davies' circle has participated in the program. But with funding and the backing of a trusted arts organization, she hopes that might change.
"The city is still facing an affordability crisis. We're losing artists very quickly. I know a lot of artists personally who came here initially because it was affordable," she said. "… We have to stop people leaving the city. That's not only artists, but that's working class folks, people who are on the lower end of the economic spectrum. I hope this is a step toward that."
The application opens on Dec. 12 at http://redlineart.org. Applicants are welcome to contact RedLine Program Manager Libby Barbee for free, confidential guidance at [email protected] or 303-296-4448.
> > > > > > > > > >
Gedgaudas said it's also important to note that through March 2, 2018, any buildings vacated or that have been inspected in response to complaints and tips since December 2016 are retroactively eligible for this funding.
Correction: An earlier version of this article was missing the year on the end date for the distribution of funds. It has been updated to include the year, 2020.
By Ashley Dean
Go to the website to find all the information about applying for these spaces and funds:
https://www.denverite.com/denver-announces-300000-safe-creative-spaces-fund-46399/
[A big 'Thanks' to David Barber, http://www.RockOnColorado.com for suggesting this article.]