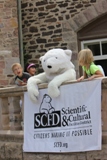 BUSINESS NEWS: Error in State Spending Bill Costing RTD, Zoo and Arts More Than $500,000 a Month
State lawmakers are in a mad dash to correct an error in a recently passed law that is slicing off hundreds of thousands of dollars a month in revenue for several well-known Colorado institutions, including the Regional Transportation District, the Denver Zoo and the Denver Museum of Nature and Science.
The problem traces to language in a comprehensive spending measure passed during the final days of the 2017 legislative session. Scenarios to fix it include a rare special session of the legislature.
"I would talk to the governor about (calling a special session)," said Sen. Lucia Guzman, D-Denver, one of bill's sponsors. "We have to do everything we can."
Senate Bill 267 boosts payments to hospitals and schools, generates $1.9 billion for transportation and eliminates the 2.9 percent regular sales tax on recreational pot in favor of a bump in the special sales tax on weed from 10 to 15 percent.
But the bill mistakenly omitted RTD, dozens of arts and culture entities that comprise the Scientific and Cultural Facilities District (SCFD) and other state-supported organizations as recipients of the state's recast revenue from the state's recreational marijuana sales tax.
One approach that could avert a special session would involve convening a smaller group of lawmakers in a rule-making role in the next few weeks.
"I do hope it can be a very easy fix," said Rep. K.C. Becker, D-Boulder, a bill sponsor.
But if neither that nor a special session happens, then the problem would have to wait for the next legislative session in January. RTD could by that time be out more than $3 million in pot tax revenues.
The sudden disappearance of $500,000 the agency expected to bring in from the tax each month, said RTD spokesman Scott Reed "will have an obviously notable and unexpected impact to RTD's budget." But he pointed out that it is only 1 percent of the agency's total annual sales and use tax revenues "and a fraction of a percent of our overall budget."
"We will likely be able to move forward for the remainder of this year without making any additional formal budget revisions requiring board action," he said Tuesday.
Still, Guzman said the error should never have happened. The shortcomings in the spending bill were first reported last week by The Complete Colorado.
"It's a situation that was a horrible oversight, and we feel horrible about it and we'll get it back on track," she said.
The error came about in the closing days of the 2017 legislative session, when bills were being written, rewritten and amended at a lightning pace. Reed said RTD was never asked by legislative staff to note what it considered to be the financial effects of the bill.
When asked about the error's impact on the SCFD, Executive Director Deborah Jordy said the organization "is aware of the issue and is currently working through financial modeling which will allow us to better understand the true financial impacts for the district."
SCFD's funded organizations, like the Denver Zoo, the Denver Botanic Gardens, and the Arvada Center for the Arts and Humanities, have been notified about the situation, she said.
Henry Sobanet, director of the Office of State Planning and Budgeting, said drafting errors are not uncommon in the statehouse but that the oversight in the spending bill, missed by any number of staffers, policy analysts, lawmakers and lobbyists, was unlike anything he has seen in recent years.
"I think the complexity and time demands of the bill were definitely contributors to this one," Sobanet said.
House bill sponsor Jon Becker, a Republican from Fort Morgan, said he and his colleagues spent hours going over details in the 59-page bill but no one caught the fact that at least half a dozen special districts had not been included in the marijuana tax language.
"There are usually enough checks and balances that this doesn't happen," he said. "Certainly nobody wanted to create hardship for anybody."
By John Aguilar | [email protected] | The Denver Post
http://www.denverpost.com/2017/07/11/colorado-spending-bill-error-rtd-denver-zoo-museum-of-nature-and-science/
Originally from Boston, John Aguilar covers Denver's suburbs for The Denver Post, where he has worked since April 2014. He has also worked at the Boulder County Business Report, the Rocky Mountain News and the Boulder Daily Camera.
[Thank you to Alex Teitz, http://www.femmusic.com, for contributing this article.]