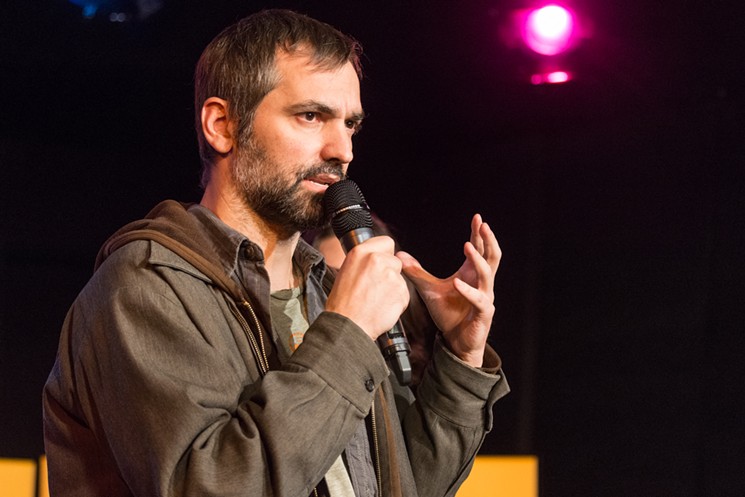 BUSINESS NEWS: OMF's Station 104.7 LPFM Moves to 89.3 HD3 and 92.9 FM + Status
Just over two years ago, the Open Media Foundation and Denhac partnered to launch Denver Open Media Radio on 104.7 FM. This was Denver's first and only station dedicated entirely to local content. In our first two years, nearly 5,000 songs were submitted by local bands, in addition to hundreds of podcasts, interviews, and other radio productions, all of which can be heard at http://denveropenmedia.org.
With the shutdown of our cable TV stations, Denver Open Media radio is expanding. With a new agreement with KUVO, Denver Open Media is now broadcasting on 89.3 HD3 with a reach nearly 100 times the footprint of our previous low-power station. And for those of you without HD receivers in your car or home, we will be launching 92.9 FM later this month, a significant expansion of our radio presence and a major win for local artists! If you'd like to DJ/host or if you have any content you'd like to air on Denver Open Media Radio, become a member at http://www.denveropenmedia.org.
Add 89.3HD3 to your favorites and support our growing community of creatives!
# # #
Update on the Status of Denver Open Media's Public Access TV Operations
Happy New Year! 2018 saw a lot of changes to Denver Open Media, and we want to thank all of our members and supporters for being patient throughout this transitional period.
As of December 19th at midnight, Denver Open Media stopped cablecasting on Comcast and CenturyLink. Denver Marketing and Media Services now manages the cable channels, and runs the public access station, for Denver residents, out of the Denver City and County Building for Denver residents.
Even though we are not cablecasting anymore, Denver Open Media is still streaming YOUR content on the DOM website, mirroring the same program schedules on what were channels 56 and 57. We are also airing local Denver content on our radio signal, KOMF 92.9FM/89.3HD3.
Looking to the new year, we will honor all DOM memberships and are still accepting reservations for studio, field, and editing equipment, as we have reached a tentative agreement (subject to change) with the City in regards to the City-owned equipment housed at Denver Open Media. Apart from half of the Learning Lab iMacs and laptops and 25% of the field equipment that the City has taken back, we will be keeping the remaining equipment at our facilities for use by the community! Have a look at our current available inventory.
Under this tentative agreement, we will own that equipment, but we will also be responsible for repairs, maintenance and replacement with NO FUNDING from the City or staff time. This means that some services, processes, and hours of operation may be subject to change as the year progresses. We ask that you be patient with us. We will inform DOM members and the general public regarding any changes as soon as possible.
In the meantime, members will still be able to edit, utilize field equipment and studios, submit radio content, and live stream video and audio on the DOM website, social media, and on 92.9FM/89.3HD3. Our goal is to continue serving the community as best we can, as we have done for the last 12 years.
What DOM will no longer provide:
● Cable TV Distribution (live or recorded)
● New $500 Film School Passes
What DOM offers that the City's Public Access does not:
● Memberships to all, regardless of proof of Denver residency or State-issued IDs
● Performance Space for:
○ Music
○ Comedians
○ Live-audience space for over 60 people
○ Green screen studios
● Editing onsite
● Commercial reservations
● Radio distribution
● A wide array of classes
● Community and meeting space
● Livestream and on-demand video
● Free parking
If you are interested in getting involved in strategic planning or to help with fundraising and income generation for the next chapter of DOM, please email [email protected]
Open Media Foundation
700 Kalamath Street, Denver, CO 80204
720-222-0159
http://www.openmediafoundation.org
http://denveropenmedia.org