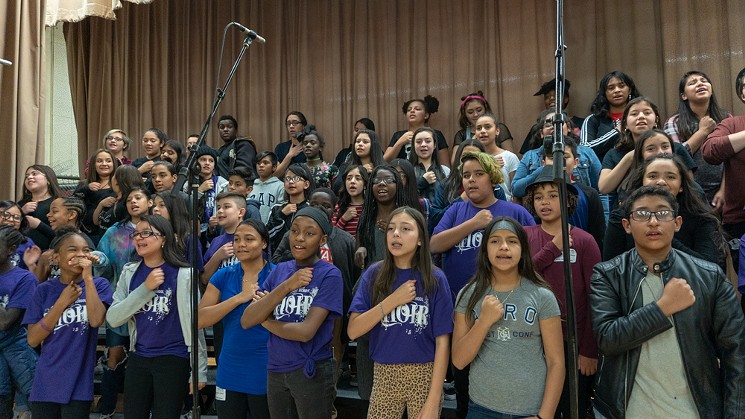 EVENTS: Denver Youth Come Together for Black Music Matters
From Jimmy Ayers: Vocal Coalition concert next Thursday night at the Colorado Museum at 7:00 p.m. Black Music Matters featuring many amazing artists including Deep Pocket Thieves. Last year sold out, so try to get your tickets ASAP. Proud of you, Larea Edwards, for your vision and passion.
By Kori Hazel, 303 Magazine | Vocal Coalition (VOCO) isn't your ordinary children's choir. Based on the foundation of unifying equity-minded individuals through music, VOCO is a children's choir breaking barriers. Whether that be through physical disabilities or the color of one's skin, VOCO challenges its listeners as well as its talented little singers to indulge and understand culture through music and local musicians. For Black History Month, the group will return for their second annual Black History Matters program, whereby they will work with local musicians and sing their songs through the lens of black history. Prior to the performance, we sat down with VOCO founder, Travis Branam and creative director of Black Music Matters Larea Edwards, to talk about the kids who make up VOCO, the group's mission and why,in fact, black music matters.
Black Music Matters will be February 28, at the History Colorado Center (1200 Broadway, Denver, 80203) at 6 p.m. Tickets are available here: https://www.vocalcoalition.org/
https://303magazine.com/2019/02/meet-voco-coalition/
# # # # #
By Taylor Heussner, Westword | Travis Branam left his position as an assistant children's choir director eight years ago to organize Vocal Coalition, a multicultural nonprofit choir comprising students from across Denver neighborhoods.
Vocal Coalition, also known as VOCO, is reinventing the choir experience, because while Branam facilitates the weekly rehearsals and concerts, he no longer takes on the role of a traditional conductor, not wanting to impose his white male bias on the music of other cultures.
"Vocal Coalition is trying to fight our villain, if you will: ethnocentrism," says Branam, "There's beauty and value that comes from living in your own culture, but when you evaluate the culture or music of someone else, and you're making decisions about whether or not you like it, how close you feel to it based on your own lens, you're trying to impose something on that culture and the people who make it that they are not trying to even be. That tendency really drives musical and cultural division."
VOCO bridges this division by collaborating with local musicians, such as 2MX2, Kid Astronaut, The Reminders and so many more, who teach fifth- through twelfth-grade students a song, rehearse with the youth weekly, then perform at a concert with them. By bringing in the artists, Branam is able to eliminate the need for a conductor and instead allow the artists to teach and share the music they created.
When he first started VOCO, Branam recounts people criticizing him for creating a program that would bridge Denver's neighborhoods. With the influx of people moving into Denver and pushing longtime residents out, the program is growing in response to youth wanting to cross cultural lines.
"A lot of times the traditional youth choirs will think the barriers are transportation and finance. And that's why it's not diverse. The barriers are cultural," Branam says. "It takes a very confident, self-aware person to step into a cultural space that they don't feel represents them and experience community through it. That's why most choirs don't connect with a wider population of people."
A few years ago, Branam met the co-founder of the gospel group Spirit of Grace, Larea Edwards, whose daughter was a member of Vocal Coalition. Last year, they co-hosted the event Black Music Matters, and on February 28, the event will return, this time tracing the history of music from Africa to Colorado.
"The underlying theme of Black Music Matters is we took the music to identify our situation, to help us heal and to use it to move above," says Edwards. She originally envisioned fifty kids involved with the event, and it has quickly spiraled into over 150 participants. The evening includes performances by kids in VOCO as well as Colorado artists such as musician Kayla Rae, poet Suzi Q. Smith, Spirit of Grace and more.
"I just really wanted to teach the kids the origin of the music. African music, African Caribbean music, spirituals, gospel, jazz, opera, hip-hop — this is how it grew," says Edwards.
Outside of orchestrating Black Music Matters, Edwards brings Spirit of Grace into schools with a predominantly white student population to share the heritage of gospel music. Her role is to help break down stereotypes and teach that gospel music originated as a code for slaves to communicate with one another in America before the Slavery Abolition Act.
"Last year, me and my sister, with our Afros out, we go into this [elementary school] classroom, and kids were coming in, and they looked at us, freaked out — and there was one girl who was hiding behind chairs. She walked into the classroom, then backed out," Edwards recalls. "What would make a kid, who saw two black women, react like a panther in 2018? This is why we need to be here."
VOCO plans to reunite with Spirit of Grace for a 2020 Black Music Matters event.
"Our mission is unifying equity-minded humans through music. We are saying that's the prerequisite. You don't have to have been in a choir. You don't have to have previous musical experience, but you have to identify with someone who is equity-minded," Branam says. "It's very vulnerable to share a culture with people who aren't like you. So having that as a prerequisite is important."
Vocal Coalition Presents: Black Music Matters 2.0, 7 p.m. Thursday, February 28, History Colorado, 1200 Broadway, $20.
https://www.westword.com/music/vocal-coalition-breaks-down-ethnocentrism-through-song-at-black-music-matters-11215988
Taylor Heussner has been writing for Westword since January 2018. She received her bachelor's degree in creative writing from Colorado State University and writes for a myriad of literary magazines. When not attending concerts, you can find her searching for music, writing poetry or petting the local neighborhood dog.