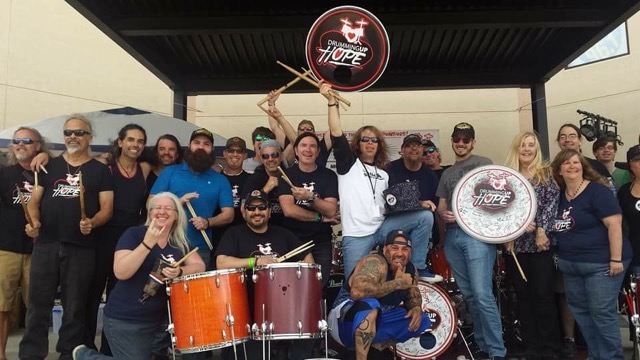 EVENTS: Drumming Up Hope Still Looking for Drummers
The Drumming Up Hope group will be providing 81 hours of continual drumming from May 24 (4:00 p.m.) – May 27 (5:00 p.m.) at the Thunder Mountain Amphitheatre located in Loveland, Colorado. Last year's record was set at 73 hours and this year will be set at 81 to beat our own Guinness World Book Record. Donations will be taken, and all funds will go directly to St. Jude's Children's Hospital.
Drumming Up Hope Foundation is a non-profit organization, established in 2016 by Loveland-based drummer Tim Elliot. The organization, which currently consists of drummers in the northern Colorado and southern Wyoming region, gathers to put on drumming-related events for good causes on both local and national levels. The inaugural event, and brain child of Tim Elliott, was a 72-hour drumming marathon held over Memorial Day Weekend in 2016 at Thunder Mountain Amphitheater. The response to Tim's spark spread like wildfire and funds were raised throughout the community by the 32 drummers involved, to be donated to St. Jude's Children's Research Hospital. The marathon, televised at the end by 9-News, unofficially broke the Guinness world record for continuous group drumming.
We are set to run the 3rd Annual marathon this year again over Memorial Day Weekend, this time for 81 hours at Thunder Mountain Amphitheater, breaking our own record each year. Another spark was ignited, and the flames were fanned culminating in the gathering of several of the drummers from the marathon to put on the Giga-palooza at Nixon's Rocky Mountain Smoke House & Tavern over the first weekend of December 2016. This event, lasting approximately 15 hours over two days, was put on to thank the drummers involved in the drumming marathon and to showcase the talents of their bands in the only way we knew how: by playing music for the local fans! The Giga-palooza successfully raised proceeds for Weld County Suicide [Prevention], Education & Support Services. In December of 2017, our Santa Cops of Larimer County event brought in loads of toys for children! We continue to be involved in several smaller events throughout the community, such as raising funds for Autism Awareness, and are looking to be involved in many more community awareness events.
Drumming Up Hope gathers to lend support to charitable organizations we admire, and to promote music education and brother and sisterhood amongst local and regional drummers (and musicians) of all ages. Our mission is to use our passion for drumming to make a world of difference in our communities, one beat at a time. We can currently be found on Facebook at
http://www.facebook.com/drumminguphopefoundation and our website is http://www.drumminguphopefoundation.org
Annette writes: I am requesting your Sponsorship of me as I drum on Friday, May 25th from 8:00 p.m. – 9:00 p.m. and make-a-donation for me to the Drumming Up Hope Foundation. This link will take you to a drummer specific support page.
https://www.drumminguphopefoundation.org/drummer-specific-support
Please post your support for me on Facebook for this event. Lastly, please come out to hear me drum and cheer me on!! Thanks for your support.
Please feel free to contact either Kelly Ireland (VP and Director of Operations), Tim Elliott (President & CEO), or Vicki Heaton (CFO) with any questions. We would love to work with you!
Vickie Heaton, 720-327-9001
Kelly Ireland, 720-231-4867
Tim Elliott, 970-691-8770