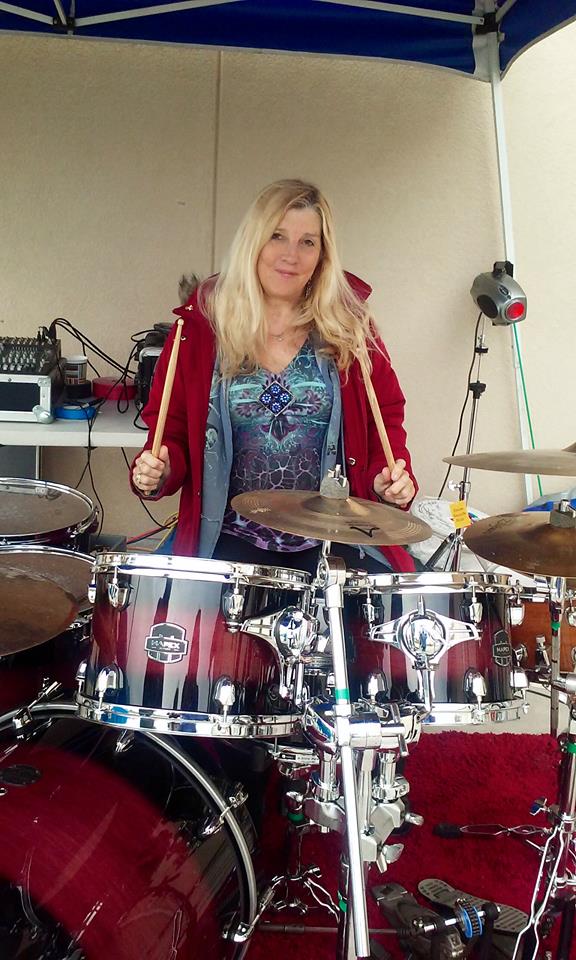 EVENTS: Introducing the 2nd Annual Drumming Up Hope Event // Innervision Music Showcase Presents "Rock the Mic on a Higher Level" Benefit
From COMBO's Vice-President Annette on Facebook: I am requesting Sponsorship – and of course FANS to cheer me on while I drum for an hour non stop!
The Drumming Up Hope group will be providing 73 hours of continual drumming from May 25th starting at 4: p.m. and ending on May 28th at 5:00 p.m. at the Thunder Mountain Ampitheatre located in Loveland, Colorado. Last year's record was set at 72 hours and this year will be set at 73 to beat our own Guinness World Book Record. Donations will be taken and all funds will go to St. Jude's Children's Hospital.
I am requesting your Sponsorship of me as I drum on May 25th from 7:00 p.m. until 8:00 p.m. and make-a-donation for me to the Drumming Up Hope Foundation. Post your support for me on FB for this event. Also, please also come out and hear me drum. Thanks for your support.
When: Starting Thursday, May 25th – Ending May 28th at 5:00 p.m. (73 hours straight)
Where: Thunder Mountain Ampitheatre, 4250 Byrd Drive, Loveland, CO
What: Drumming Up Hope Drumathon for St. Jude's – Round 2
Time: 4:00 p.m. – then straight thru for 72 hours.
Cost: Donations to St. Jude's truly appreciated
About Drumming Up Hope Foundation:
Drumming Up Hope is a nonprofit organization formed by drummers with the purpose of gathering to lend support to charitable organizations we admire, and to promote music education and brotherhood amongst local and regional drummers and musicians of all ages.
Our mission is to use our passion for drumming to make a world of difference in our communities, one beat at a time!
The foundation was established in 2016 by Loveland, CO-based drummer Tim Elliott. The organization, which currently consists of drummers in the northern Colorado and southern Wyoming region, gathers to put on drumming-related events for good causes on both local and national levels.
Keep an eye out for events coming near you!
From Moss West on Fb, 5/16/17: PLEASE HELP! I am playing drums at the Drumming Up Hope world record thing again this year. We are supposed to be raising money for the St Jude's Children's Clinic. I figured it wouldn't hurt to ask… "Would anyone – anyone at all – be willing to donate to the ST. JUDE'S CHILDREN'S CLINIC?" We raised over 5 grand last year and would like to beat our record by donating even MORE THIS year! If you might be interested in being a part of helping us out, PLEASE feel free to instant message me! That way even YOU could be a part of our world record! Thank you kindly!
We're asking COMBO members to come out and either participate or donate. That would be AWESOME! Our Vice-President Annette Cannon will be drumming for one hour from 7:00 to 8:00 p.m. on Thursday night. Come out and throw cream pies at her to see if she misses a beat.:-)
Please feel free to contact either Kelly Ireland (VP and Director of Operations), Tim Elliott
(President & CEO), or me with any questions. We would love to work with you!
Vickie Heaton, CFO – 720-327-9001
Drumming Up Hope Foundation, Inc.
or
Kelly Ireland – 720-231-4867
Tim Elliott – 970-691-8770
* * * * *
INNERVISION MUSIC SHOWCASE PRESENTS "ROCK THE MIC ON A HIGHER LEVEL"
When: TONIGHT – Thursday, May 25, 2017
Who: In conjunction with DIME Denver's Pop up Shop
Where: Tivoli Student Union Basement, 900 Auraria Parkway, Suite #140, Denver, CO 80204
Time: Doors open at 7:00 p.m. – ends at 9:00 p.m.
Cost: A suggested donation of $10.00 on web site and at the door! Periscope/Facebook viewers outside of Colorado: $5.00
Donors will receive a raffle ticket for a chance to win prizes during the concert! The show will be filmed for Denver's Comcast Channels 56, 57 and 219.
This musical benefit is to raise money for Innervision's disabled musical artists, learn more at:
720 255-8871