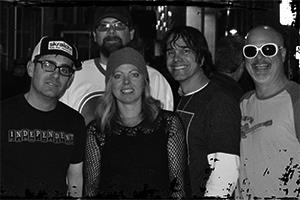 EVENTS: Toad in the Hole Performing at Swallow Hill Music TONIGHT, Feb. 1st
There is a new trio of old friends and band mates making their name in the Denver music scene. Toad in the Hole, made up of Kris VanDeWalker, Geoff Morris and Chad Beall, have released their debut album, a double vinyl record set, titled "Apartment 203". This acoustic indie sound has a solid foundation of vocals, acoustic guitar and banjo, supported by a cast of guest artists including Mark Serratoni (drums) and Joel Ashmore (upright bass), both of which have become full time band members. Also appearing are Bret Sexton (saxophone) and vocal contributions by Damien McCarron (The Indulgers), Anthony B. Cohen and Patrick M. Balai.
This dynamic collection of songs is an evolution of experimentation in various genres. The roots of this urban acoustic sound took hold after collaborations between Geoff and local hip hop artist, Status. Status also heads Cadava Records, which is the label "Apartment 203" is released through. Accompanied by the unique songwriting styles and performance acumen of Kris and Chad, the band has embarked down the path of individuality while staying current and accessible.
All songs on the digital album are original compositions. These selections range from stories about life and personal history to whimsical meanderings. The vinyl record version of the album adds "You Stay Here", an adaptation of a song written by Irish songwriter Richard Shindell.
The team of artists was gathered and charged with bringing their personalities and expertise to the table. "This concept is about letting artists be artists", says Geoff Morris. Great musicianship, as well as album artwork and design by Dwane Cohen, photography by David McGrath, mixing by Justin Peacock and mastering by Brian Gardner, all culminate in a unique experience from start to finish.

Where: Swallow Hill Music, 71 East Yale, Denver
Tickets: $12 DOS
Time: 7:30 p.m.
http://connect.swallowhillmusic.org/EventTicket/EventDetail/2820/id0/toad-in-the-hole-denver-2018