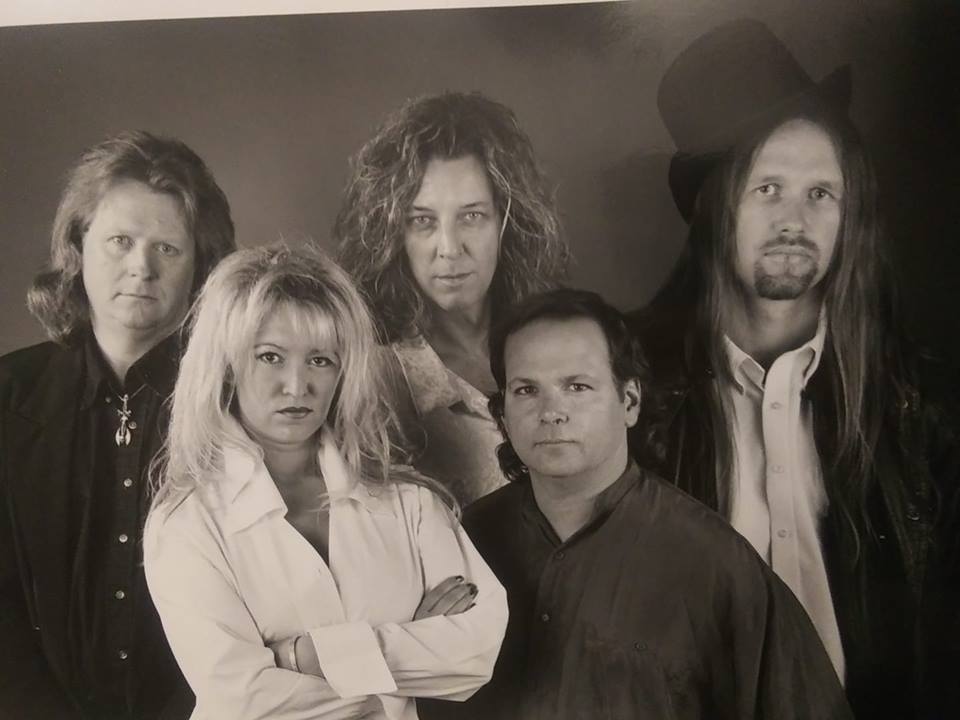 IN MEMORIAM: Denver-son Scott Cleland / Bassist Joe Osborn / Other Notable Musicians'
From Kris Logan on Fb, 12/13/18: This was JADED probably around 1999. Was hard to keep a straight face with Scott wearing a hat he found randomly at the photo shoot. Loved playing with him!!! He will be deeply missed. R.I.P, Mr Cleland.
# # # # #
Joe Osborn (August 28, 1937 – December 14, 2018) was an American bass guitar player known for his work as a session musician in Los Angeles and Nashville during the 1960s through the 1980s.
Osborn began his career working in local clubs, then played on a hit record by singer Dale Hawkins. He moved to Las Vegas at age 20, and spent a year playing backup for country singer Bob Luman. With legendary guitar player Roy Buchanan among his bandmates, Osborn switched from guitar to electric bass. In 1960, with Allen "Puddler" Harris, a native of Franklin Parish, also in northeastern Louisiana, and James Burton, originally from Webster Parish, he joined pop star Ricky Nelson's backup band, where he spent four years. His playing on such Nelson hits as "Travellin' Man" began attracting wider notice, and he found opportunities to branch out into studio work with artists such as Johnny Rivers.
When the Nelson band dissolved in 1964, Osborn turned to studio work in Los Angeles full-time. For the next ten years, he was considered a "first-call" bassist among Los Angeles studio musicians (known as The Wrecking Crew), and he worked with well-known producers such as Lou Adler and Bones Howe, frequently in combination with drummer Hal Blaine and keyboardist Larry Knechtel—the combination of Blaine, Osborn and Knechtel have been referred to as the Hollywood Golden Trio. His bass can be heard on many of the hit records cut in Los Angeles during that time, along with numerous film scores and television commercials.
His playing can be heard on records by such well-known groups as The Mamas & the Papas, The Association, The Grass Roots and The 5th Dimension. Osborn can be heard on Simon & Garfunkel's "Bridge over Troubled Water" and the 5th Dimension's version of "Aquarius/Let the Sunshine In". A song featuring prominently mixed bass in melodic counterpoint to acoustic guitars is the 1972 hit single "Ventura Highway" by the group America. He also played on several Johnny Rivers records.
Osborn played on many of Neil Diamond's major hits in the late 1960s and early to middle 1970s, including the hauntingly unique bass lines on "Holly Holy" in 1969. Osborn is also known for his discovery and encouragement of the popular brother-and-sister duo, the Carpenters, on whose albums he played bass throughout their career.
He can be heard playing on several of Nancy Sinatra's 1970's recordings and he was the bassist on the 1977 Christian album Forgiven by Don Francisco.
In 1974, Osborn left Los Angeles and moved to the country and western capital, Nashville. He continued an active studio career, playing behind such vocalists as Kenny Rogers, Mel Tillis, and Hank Williams, Jr. One count listed Osborn as bassist on fifty-three number one hits on the country charts and at least 197 that were in the top 40's. Osborn's musical gift has been credited to over 242 different songs, with many performances going uncredited in his early years. Osborn left Nashville in 1988 and settled in Keithville in Caddo Parish near Shreveport in northwestern Louisiana.
From 2005 until December 2018, he continued to live in semi-retirement and record occasionally. He enjoyed continuing to create new charts and recordings with Richard Carpenter, as well as playing bass at his local church. Joe continued to inspire and work in the studio locally through May 2017, with his most recent credit being given on the album by Micah and the Jazzgrass Apocalypse which was released in August 2018.
Osborn was diagnosed with pancreatic cancer in early 2018 and died on December 14, 2018 at his home.
Joe Osborn was nominated for Bass Player of the Year by the Academy of Country Music in 1980, 1981, 1982, 1983, 1984, and 1985, winning the honor 4 out of 6 times.
1980 Bass Player of the Year, Nominee, Academy of Country Music
1981 Bass Player of the Year, Winner, Academy of Country Music
1982 Bass Player of the Year, Nominee, Academy of Country Music
1983 Bass Player of the Year, Winner, Academy of Country Music
1984 Bass Player of the Year, Winner, Academy of Country Music
1985 Bass Player of the Year, Winner, Academy of Country Music
2010 The Louisiana Music Hall of Fame.
Read the whole article here:
https://en.wikipedia.org/wiki/Joe_Osborn
* * * * *
Other Notable Musicians' Deaths…
December 2018
17: Arun Bhaduri, 75, Indian classical vocalist, respiratory disease; Galt MacDermot, 89, Canadian-American composer (Hair, Two Gentlemen of Verona) and pianist; Anca Pop, 34, Romanian-Canadian singer-songwriter, traffic collision (body found on this date).
16: Chiquetete, 70, Spanish flamenco and ballad singer, heart attack.
15: Jerry Chesnut, 87, American songwriter ("Good Year for the Roses", "T-R-O-U-B-L-E", "It's Four in the Morning"); Arthur Maia, 56, Brazilian composer and musician, heart attack.
14: Joe Osborn, 81, American bass guitarist (The Wrecking Crew).
13: Nancy Wilson, 81, American jazz singer ("(You Don't Know) How Glad I Am"), Grammy winner (1965, 2005, 2007).
11: Angelo Conti, 62, Italian singer (Banda Bassotti).