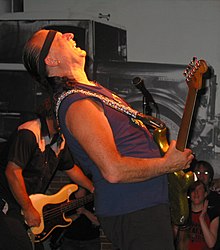 IN MEMORIAM: Dick Dale; Bernie Torme; David White; Andre Williams // Other Notable Musicians' Deaths
Dick Dale – "King of the Surf Guitar" | Richard Anthony Monsour (May 4, 1937 – March 16, 2019), known professionally as Dick Dale, was an American rock guitarist. He was a pioneer of surf music, drawing on Middle Eastern music scales and experimenting with reverberation. Dale was known as "The King of the Surf Guitar", which was also the title given to his second studio album.
Dale worked closely with the manufacturer Fender to produce custom-made amplifiers including the first-ever 100-watt guitar amplifier. He pushed the limits of electric amplification technology, helping to develop equipment that was capable of producing a louder guitar sound without sacrificing reliability.
Dale was born Richard Anthony Monsour in Boston, Massachusetts, on May 4, 1937. He was of Lebanese descent from his father, James, and of Polish-Belarusian descent from his mother, Fern. His family subsequently moved to Quincy, Massachusetts. He learned the piano when he was nine after listening to his aunt playing it. He was given a trumpet in seventh grade, and later acquired a ukulele (for $6 part exchange), after having become influenced by Hank Williams. The first song he played on the ukulele was "Tennessee Waltz". He was also influenced musically by his uncle, who taught him how to play the tarabaki and could play the oud.
Dale then bought a guitar from a friend for $8, paying him back on installments. He then learned to play the instrument, using a combination of styles incorporating both lead and rhythm styles, so that the guitar filled the place of drums. His early tarabaki drumming later influenced his guitar playing, particularly his rapid alternate picking technique. Dale referred to this as "the pulsation", noting all instruments he played derived from the tarabaki. He was raised in Quincy until he completed the eleventh grade at Quincy High School in 1954, when his father, a machinist, took a job working for Hughes Aircraft Company in the Southern California aerospace industry. The family moved to El Segundo, California. Dale spent his senior year at and graduated from Washington Senior High School. He learned to surf at the age of 17. He retained a strong interest in Arabic music, which later played a major role in his development of surf rock music.
> > > > > > >
"Let's Go Trippin'" is one of the first surf rock songs. This was followed by more locally released songs, including "Jungle Fever" and "Surf Beat" on his own Deltone label. His first full-length album was Surfers' Choice in 1962. The album was picked up by Capitol Records and distributed nationally, and Dale soon began appearing on The Ed Sullivan Show, and in films where he played his signature single "Misirlou". He later stated, "I still remember the first night we played it ("Misirlou"). I changed the tempo, and just started cranking on that mother. And … it was eerie. The people came rising up off the floor, and they were chanting and stomping. I guess that was the beginning of the surfer's stomp." His second album was named after his performing nickname, "King of the Surf Guitar".
Dale later said "There was a tremendous amount of power I felt while surfing and that feeling of power was simply transferred into my guitar". His playing style reflected the experience he had when surfing, and projecting the power of the ocean to people.
Dale and the Del-Tones performed both sides of his Capitol single, "Secret Surfin' Spot" in the 1963 movie, Beach Party, starring Frankie Avalon and Annette Funicello. The group performed the songs "My First Love," "Runnin' Wild" and "Muscle Beach" in the 1964 film, Muscle Beach Party.
> > > > > > > >
Dale was married at least twice. In the early 1970s, his wife Jeannie Monsour was a Las Vegas dancer who worked in a revue with Dale. Their son James, also known as Jimmie, was 20 years old in 2012. Dale said that same year he had not spoken to Jeannie in over a decade and rarely saw James, who sometimes played drums on his father's tours. As of 2015, his wife Lana was his manager.
Dale said that he never used alcohol or other drugs, for health reasons, and discouraged their use by band members and road crew. In 1972, he stopped eating red meat. He studied Kenpo karate for over 30 years. In early 2008, he experienced a recurrence of colorectal cancer and finished a surgical, chemotherapy, and radiation treatment regimen. In June 2009, Dale began a West Coast tour from southern California to British Columbia, with approximately 20 concert dates.
"Forever Came Calling" (or FCC) featured Dale's then-17-year-old son, Jimmie Dale on drums, who opened for him. He was scheduled to play the Australian One Great Night On Earth festival to raise funds to benefit those affected by the Black Saturday bushfires and other natural disasters. Dale continued to perform at venues across the U.S. in order to pay for medical bills. At the time of his death, Dale had tour dates scheduled into November 2019.
Dale died in Loma Linda, California on March 16, 2019, at the age of 81. He was treated for heart failure and kidney failure prior to his death.
https://en.wikipedia.org/wiki/Dick_Dale
# # # # #
Bernie Tormé (born Bernard Joseph Tormey; 18 March 1952 – 17 March 2019) was an Irish rock guitarist, singer, songwriter, record label and recording studio owner. Tormé is best known for his work with Gillan, as well as his brief stints with Ozzy Osbourne's backing band and Atomic Rooster.
https://en.wikipedia.org/wiki/Bernie_Torm%C3%A9
# # # # #
David White Tricker (November 26, 1939 – March 17, 2019), known as David White, was an American singer and songwriter. He formed, and was a founding member of the doo-wop quartet Danny & the Juniors as well as being a founding member of the pop trio The Spokesmen. He wrote "Rock and Roll Is Here to Stay" and co-wrote a number of other hit songs, including "At the Hop," "You Don't Own Me", and "1-2-3."
> > > > > > > >
In 1991, White's piano was donated to The Rock and Roll Hall of Fame in Cleveland, Ohio. In 1992, White and Danny & the Juniors were inducted into The Hall of Fame and Walk of Fame in Philadelphia by The Philadelphia Music Alliance. In 2003, Danny & the Juniors were inducted into The Vocal Group Hall of Fame in Sharon, Pennsylvania. In 2013, White and Danny and the Juniors were inducted into The Broadcast Pioneers Hall of Fame in Philadelphia. Also in 2013, White and John Madara were inducted into The Walk of Fame by The Philadelphia Music Alliance.
In 1959, at the age of nineteen, White married sixteen-year-old Joanne "Dee" Rody. The marriage lasted twelve years and produced three children: Wendy, Linda, and Jody. In 1998, White married Sandra Simone. He and Simone were actively engaged in writing, producing, and discovering new talent.
David White died in Las Vegas, Nevada on March 17, 2019, at the age of 79.
https://en.wikipedia.org/wiki/David_White_(musician)
# # # # #
Zephire Andre Williams (November 1, 1936 – March 17, 2019) was an American R&B musician who started his career in the 1950s at Fortune Records in Detroit. His most famous songs include the hits "Jail Bait," "Greasy Chicken," "Bacon Fat" (1957) and "Cadillac Jack" (1966). He was also the co-writer of the R&B hit "Shake a Tail Feather".
Born in Bessemer, Alabama, United States, Williams lived in a housing project with his mother until she died when he was six years of age. A shy and smart young boy, his "aunties" raised him until he was around 16. He then set out on his own and moved to Detroit, Michigan. There, he became friends with Jack and Devora Brown, owners of Fortune Records which was located at the back of a barber shop. Williams would become label mates with Nolan Strong and Nathaniel Mayer.
He then became lead singer for The 5 Dollars in 1955, which already had a contract with Fortune Records. Though most of the songs were billed as 'Andre Williams and the Don Juans (on Epic in 1956 billed as 'Andre Mr Rhythm Williams and his New Group'), "Bacon Fat" and "Jail Bait" were solo efforts. "Bacon Fat" hit #9 on the US Billboard R&B chart in 1957. "Bacon Fat" (written by Williams) was such a success that Fortune Records sold the song to Epic Records, a much larger distributor (released as Epic 5-9196 "Bacon Fat/Just because of a Kiss"). In 1960 Fortune released an album of all of his singles with the Don Juans, which was titled Jail Bait (re-released in 1986). In 1960, he appeared on Motown's Miracle Record label releasing "Rosa Lee".
In the early 1960s, Williams co-wrote Stevie Wonder's first song, "Thank You for Loving Me." Williams' "Shake a Tail Feather" was also a hit in 1963 for the Five Du-Tones and then for Ike & Tina Turner plus James and Bobby Purify. Alvin Cash & the Crawlers also made a hit out of the Williams song "Twine Time". As well as these hits, Williams also supervised the making of two albums by The Contours. Additionally, in the 1960s, Williams was the manager and roadie for Edwin Starr.
> > > > > > > >
https://en.wikipedia.org/wiki/Andre_Williams
* * * * *
Other Notable Musicians' Deaths…
March 2019
20: Terje Nilsen, 67, Norwegian singer-songwriter.
17: Wolfgang Meyer, 64, German clarinetist; Enrico Riccardi, 84, Italian composer and lyricist; Bernie Tormé, 66, Irish guitarist, singer and songwriter (Gillan, Guy McCoy Tormé, Desperado), pneumonia; Yuya Uchida, 79, Japanese singer (Flower Travellin' Band) and actor (Merry Christmas, Mr. Lawrence, Black Rain), pneumonia; David White, 79, American singer-songwriter (Danny & the Juniors, The Spokesmen); Andre Williams, 82, American R&B singer and songwriter ("Shake a Tail Feather"), colon cancer.
16: Dick Dale, 81, American guitarist and surf music pioneer ("Let's Go Trippin'", "Misirlou"), heart failure; Yann-Fañch Kemener, 61, French singer; Yulia Nachalova, 38, Russian singer, actress and television presenter, cerebral edema.
13: Areg Nazaryan, 54, Armenian musician, composer and film director; Joseph Hanson Kwabena Nketia, 97, Ghanaian ethnomusicologist and composer.