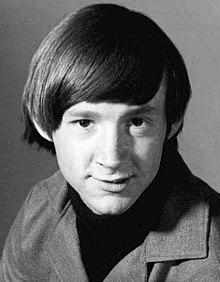 IN MEMORIAM: Douglas Sandom, Andy Anderson, Mark Hollis, Mac Wiseman, Peter Tork
Douglas Sandom (often misspelled Sanden; 02/26/1930 – 02/27/19) was an English drummer who was the second drummer for the rock band the Who.
During the infancy of the band's career, while they were playing as the Detours (around mid-1962), Sandom, a bricklayer, joined as drummer. However, while the other members of the band were in their late teens, Sandom was already in his early thirties, and the difference in age caused problems in the band. His wife also objected to him staying out at all hours of the night.[1] In February 1964, the band discovered that there was another group called the Detours. On Valentine's Day 1964, they changed their name to the Who.
When the band secured, but failed, an audition with Fontana Records in early 1964, the label's producer, Chris Parmeinter, said he didn't like Sandom's drumming. The band's then manager, Helmut Gordon, and lead guitarist Pete Townshend agreed, and Townshend suggested to the other members of the band, Roger Daltrey and John Entwistle, that Sandom leave the band. Sandom gave a month's notice, and left in April.
Within a month of Sandom's departure, Keith Moon was hired after he approached the band at one of their gigs and told them he could play better than the session drummer they had hired to fill the vacancy left by Sandom. No recordings with Sandom playing with the band were ever released.
https://en.wikipedia.org/wiki/Doug_Sandom
# # # # #
Andy Anderson
Andy Anderson (born Clifford Leon Anderson, 30 January 1951 – 26 February 2019) was an English drummer, best known for his work with The Cure and Steve Hillage.
Anderson worked on Xitintoday, a studio album released by Nik Turner's Sphynx in 1978. He played with Steve Hillage on two 1979 albums, Live Herald and Open, and had a brief stint in Hawkwind in 1983, but did not record with them. His tenure in that group was cut short when he played with The Glove on their first and only album Blue Sunshine.
He later joined The Cure as their drummer in 1983, after original drummer Lol Tolhurst switched to keyboards. Anderson recorded on the albums Japanese Whispers, The Top, and Concert in addition to the singles "Love Cats" and "The Caterpillar.
Anderson is also credited on recordings by many other bands and artists, including (in order of release) Robin Scott, Mother Gong, M, Jeffrey Lee Pierce, Steve Vengeance, Two-Bit Thief, The Saints, Backbeats, Hoagy Carmichael, Martha Munizzi, Group 1 Crew, The Gun Club, Spirits Burning & Clearlight, and Beat The System (as a producer).
https://en.wikipedia.org/wiki/Andy_Anderson_(drummer)
# # # # #
Mark Hollis
Mark David Hollis (4 January 1955 – February 2019) was an English musician and singer-songwriter. He achieved commercial success and critical acclaim in the 1980s and 1990s as the co-founder, lead singer and principal songwriter of the band Talk Talk. Hollis wrote or co-wrote most of Talk Talk's music, including hits like "It's My Life" and "Life's What You Make It", and increasingly developed an influential experimental and contemplative style.
Beginning in 1981 as a synth-pop group with a New Romantic image, Talk Talk's sound became increasingly adventurous under Hollis's direction. For their third album, The Colour of Spring (1986), Talk Talk adopted an art pop sound that won critical and commercial favour; it remains their biggest commercial success. The band's final two albums, Spirit of Eden (1988) and Laughing Stock (1991), were radical departures from their early work, taking influence from jazz, folk, classical and experimental music. While they were commercial failures in their own time, these albums have come to be seen as early landmarks of post-rock music.
After Talk Talk disbanded in 1992, Hollis returned to music in 1998 with a self-titled solo album, which continued the direction of Talk Talk's sound but in a more minimal, spare, acoustic style. Following the release of his only solo album, Hollis largely retired from the recording industry.
Hollis died, aged 64, in February 2019.
https://en.wikipedia.org/wiki/Mark_Hollis_(musician)
# # # # #
Mac Wiseman
Malcolm Bell Wiseman (May 23, 1925 – February 24, 2019) was an American bluegrass singer.
He was born on May 23, 1925, in Crimora, Virginia. He attended school in New Hope, Virginia, and graduated from high school there in 1943. He had polio from the age of six months; due to his disabilities, he could not do field work and spent his time in childhood listening to old records. He studied at the Shenandoah Conservatory in Dayton, Virginia, before it moved to Winchester, Virginia, in 1960 and started his career as a disc jockey at WSVA-AM in Harrisonburg, Virginia.
His musical career began as upright bass player in the Cumberland Mountain Folks, the band of country singer Molly O'Day. When Lester Flatt and Earl Scruggs left Bill Monroe's band, Wiseman became the guitarist for their new band, the Foggy Mountain Boys. Later he played with Bill Monroe's Bluegrass Boys.
In 1951, his first solo single, "'Tis Sweet to Be Remembered", was released. According to Rolling Stone this song "catapulted him to solo stardom".
He was co-founder of the Country Music Association (CMA) and was its last living co-founder. In 1958, the original CMA board was formed with help from Wiseman to save the popularity of country music from rock & roll. He also served as the first secretary of CMA. From 1966 to 1970, Wiseman served as director of the WWVA Jamboree.
In 1986 he co-founded the International Bluegrass Music Association (IBMA) which was another influential bluegrass music body.
https://en.wikipedia.org/wiki/Mac_Wiseman
# # # # #
Peter Halsten Thorkelson (February 13, 1942 – February 21, 2019), better known as Peter Tork, was an American musician, composer and actor, best known as the keyboardist and bass guitarist of the Monkees.
He began studying piano at the age of nine, showing an aptitude for music by learning to play several different instruments, including the banjo, acoustic bass, and guitar. Tork attended Windham High School in Willimantic, Connecticut, and was a member of the first graduating class at E. O. Smith High School in Storrs, Connecticut. He attended Carleton College before he moved to New York City, where he became part of the folk music scene in Greenwich Village during the first half of the 1960s. While there, he befriended other up-and-coming musicians such as Stephen Stills.
Stephen Stills had auditioned for the new television series about four pop-rock musicians but was turned down because the show's producers felt his hair and teeth would not photograph well. When asked if he knew of someone with a similar "open, Nordic look", Stills suggested Tork should audition. Tork got the job and became one of the four members of the Monkees, a pop band of the mid-1960s, created for a television sitcom. Tork was the oldest member of the group.
Tork was a proficient musician, and though other members of the group were not allowed to play their own instruments on their first two albums, he was an exception, playing what he described as "third chair guitar" on Michael Nesmith's song "Papa Gene's Blues" on their first album. He subsequently played keyboards, bass guitar, banjo, harpsichord, and other instruments on their recordings. He co-wrote, along with Joey Richards, the closing theme song of the second season of The Monkees, "For Pete's Sake". On the television show, he was relegated to playing the "lovable dummy", a persona Tork had developed as a folk singer in New York's Greenwich Village.
https://en.wikipedia.org/wiki/Peter_Tork