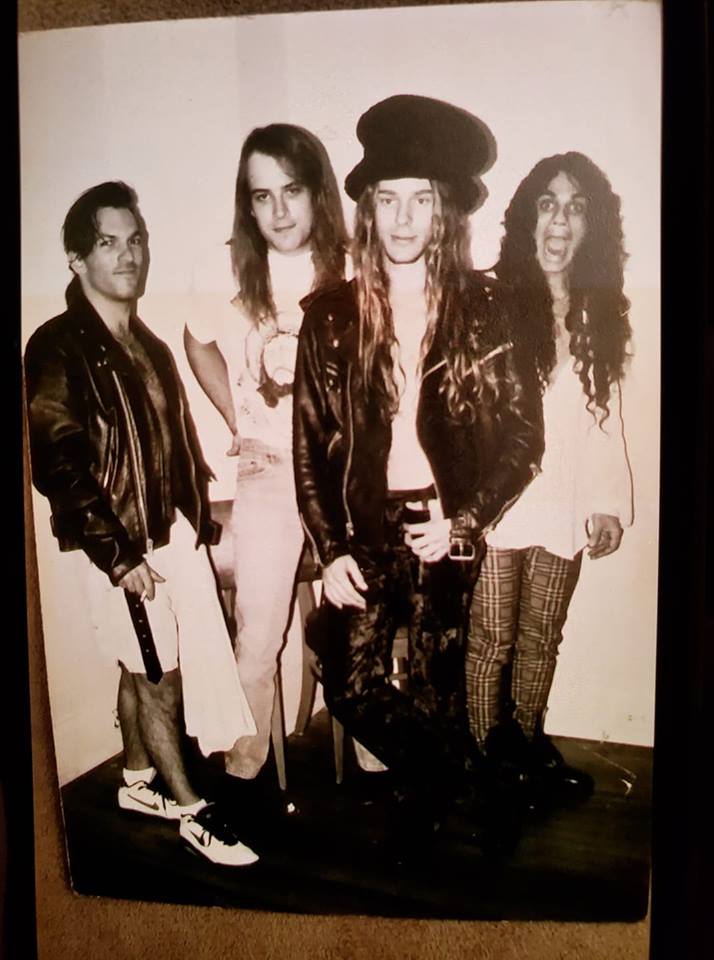 IN MEMORIAM: Local Musician/Drummer Dean Delorenzo // Other Notable Musicians' Deaths
From Chris Mercer: My brother in music Dean Delorenzo, an absolute original, a unique and amazing person. I will miss our political sparring matches.
I will miss your pre-show pep talks and encouragement. I loved you like a brother and hope to see you on the other side. Sleep well, friend.
Those kind of cars don't pass you every day.
Your friend Streunze
From Stork Family Mortuary's site:
Dean Dominic Delorenzo – (7/29/1967 to 10/14/2018)
Dean Delorenzo, 51 years old, died suddenly of a heart attack on 10/14/2018. Born in Chicago, IL, Dean attended St. Mary's Catholic School in Darien, IL and Douglas County High School, Castle Rock, Co.
With an endearing smile, outgoing personality and gentile and energetic nature, Dean engaged everyone with warmth, great sense of humor and quick wit. In his early years, Dean loved to write and perform music. He was a talented drummer and performed with local musicians and national touring bands as well as touring across country with his band, "The Bratz", performing songs off their independently produced album. In addition he traveled to Nashville to produce several country songs he wrote to shop to publishers and management companies. He has written some memorable tunes.
In his professional life, Dean started Barnstormer Products in 1990 and has supplied tens of thousands of signs and print work for many customers, mostly repeat and referral, due to his care and ability to make them feel at ease as he over delivered with a smile. Few may realize that he was an inventor and brought to market "Geddit Drumwear", sold world-wide and used by many renowned musicians appearing on the David Letterman Show, American Music Awards and MTV Music Awards; and the patented Windrider device for sign enhancement.
Dean followed politics closely, loved his country and was very proud to be an American.
More than just being creative and a hard worker, Dean loved being with people just enjoying life with good food and drink. He was truly gracious and generous. He will be dearly missed by a large community of friends near and far. In 1994, Dean met the love of his life, Adele (Benson) Delorenzo. They created for themselves a storybook love affair. He cherished and loved Adele and was loved by her and her entire family. Dean relished the ideal of family and kept in regular contact with his beloved mother, father, siblings, aunts & uncles and cousins. Dean is survived by his mother Mary Ann Farnsworth, step father Craig Farnsworth, brothers Tony/Regina and Bart Delorenzo, step siblings Garrett and Cathyrn Farnsworth and step mother Carol Delorenzo. He is preceded in death by his father Bartolomeo Delorenzo and his beloved grandparents William and Lydia Bitters.
Lovable and loving, thoughtful, clever and funny is how he will be forever remembered.
Dean's wishes in death are for a private viewing and cremation. A memorial gathering will be announced separately. The family greatly appreciates the outpouring of sympathy, love and prayers.
https://www.storkfamilymortuary.com/obituaries/Dean-Dominic-Delorenzo?obId=3378650#/obituaryInfo
To send flowers or a remembrance gift to the family of Dean Dominic Delorenzo, please visit our Tribute Store.
https://stork-family-mortuary.tributecenterstore.com/?oId=3378650&tag=Standard&ph=2
Photo: Dean Delorenzo (second from left) (from Brian Scott Yalacki's Facebook page)
* * * * *
Other Notable Musicians' Deaths…
October 2018
17: Valters Fridenbergs, 30, Latvian musician (Valters and Kaža), contestant of Eurovision Song Contest 2005, cancer: Oli Herbert, 48, American heavy metal guitarist (All That Remains).
16: Du Yuwei, 19, Chinese singer (GNZ48), suicide.
14: Dean Delorenzo, 51, drummer, inventor, heart attack; Aziza Niyozmetova, 46, Uzbekistani singer, cancer; Saleem (ms), 57, Malaysian singer, traffic collision; Luis G. Santiago, Puerto Rican actor (Minga y Petraca) and musician, complications from diabetes.
13: Annapurna Devi, 91, Indian classical *surbahar player.
12: Vladimir Gaikov, 72, Russian percussionist and music teacher; Andy Goessling, American musician (Railroad Earth); Takehisa Kosugi, 80, Japanese composer and violinist, esophageal cancer.
11: Carol Hall, 82, American composer and lyricist (The Best Little Whorehouse in Texas), complications from primary progressive aphasia; Duncan Johnson, 80, Canadian-born British DJ, complications from Parkinson's disease.
10: Theresa Hightower, 64, American jazz singer, colon cancer; Gilbert Izquierdo, American rapper (Brownside).
9: Nitin Bali, 47, Indian singer, traffic collision.