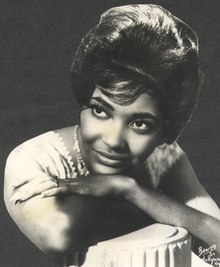 IN MEMORIAM: Nancy Wilson, Song Stylist / Jerry Chesnut, Songwriter
Nancy Sue Wilson (February 20, 1937 – December 13, 2018) was an American singer whose career spanned over five decades, from the mid–1950s until her retirement in the early–2010s. She was notable for her single "(You Don't Know) How Glad I Am" and her version of the standard "Guess Who I Saw Today". Wilson recorded more than 70 albums and won three Grammy Awards for her work. During her performing career Wilson was labeled a singer of blues, jazz, R&B, pop, and soul, a "consummate actress", and "the complete entertainer". The title she preferred, however, was "song stylist". She received many nicknames including "Sweet Nancy", "The Baby", "Fancy Miss Nancy" and "The Girl With the Honey-Coated Voice".
Read the whole article here:
https://en.wikipedia.org/wiki/Nancy_Wilson_(jazz_singer)
# # # # #
Jerry Donald Chesnut (May 7, 1931 – December 15, 2018) was an American country music songwriter. His hits include "Good Year for the Roses" (recorded by Alan Jackson, George Jones and Elvis Costello) and "T-R-O-U-B-L-E" (recorded by Elvis Presley in 1975, and Travis Tritt in 1992.)
Born and raised in Harlan County, Kentucky, he moved to Nashville in 1958 to pursue his career. In 1967, Del Reeves recorded Chesnut's "A Dime at a Time" to give the songwriter his first chart hit single. In 1968, Jerry Lee Lewis's hit recording of Chesnut's "Another Place, Another Time" was nominated for a Grammy Award. In 1972, Chesnut was named Billboard's 'Songwriter of the Year', and in 1992 he became a member of the Nashville Songwriters Hall of Fame.
Jerry Chestnut died in Nashville on December 15, 2018 at the age of 87.
This list includes the song title and artist(s) who have recorded the song.
"A Dime At A Time" – Del Reeves
"Another Place, Another Time" – Jerry Lee Lewis, Arthur Alexander
"Don't She Look Good?" – Bill Anderson, Eddy Arnold
"Good Year for the Roses" – Alan Jackson, George Jones, Elvis Costello, Counting Crows, Johnny Paycheck, Toni Willé
"Holding on to Nothing" – Porter Wagoner & Dolly Parton
"It's Four in the Morning" – Faron Young, Tom Jones
"Weakness In A Man" – Waylon Jennings, Roy Drusky
"If Not for You" – George Jones
"It's Midnight" – Elvis Presley
"Looking at the World Through a Windshield" – Del Reeves, Son Volt, Commander Cody
"Love Coming Down" – Elvis Presley
"Love of a Rolling Stone" – Bonnie Tyler
"Miles And Miles From Nowhere" – Arthur Alexander
"Oney" – Johnny Cash
"T-R-O-U-B-L-E" – Elvis Presley, Travis Tritt*
"They Don't Make 'em Like My Daddy" – Loretta Lynn
"The Wonders You Perform" – Tammy Wynette
"Woman Without Love" – Elvis Presley, Bob Luman, Joe Simon,[3] Johnny Darrell, T.D. Valentine, Brook Benton
* "T-R-O-U-B-L-E" is a song written by Jerry Chesnut and recorded by Elvis Presley in 1975. It is not to be confused with the Leiber and Stoller song "Trouble", that Presley first recorded in 1958.
https://en.wikipedia.org/wiki/Jerry_Chesnut