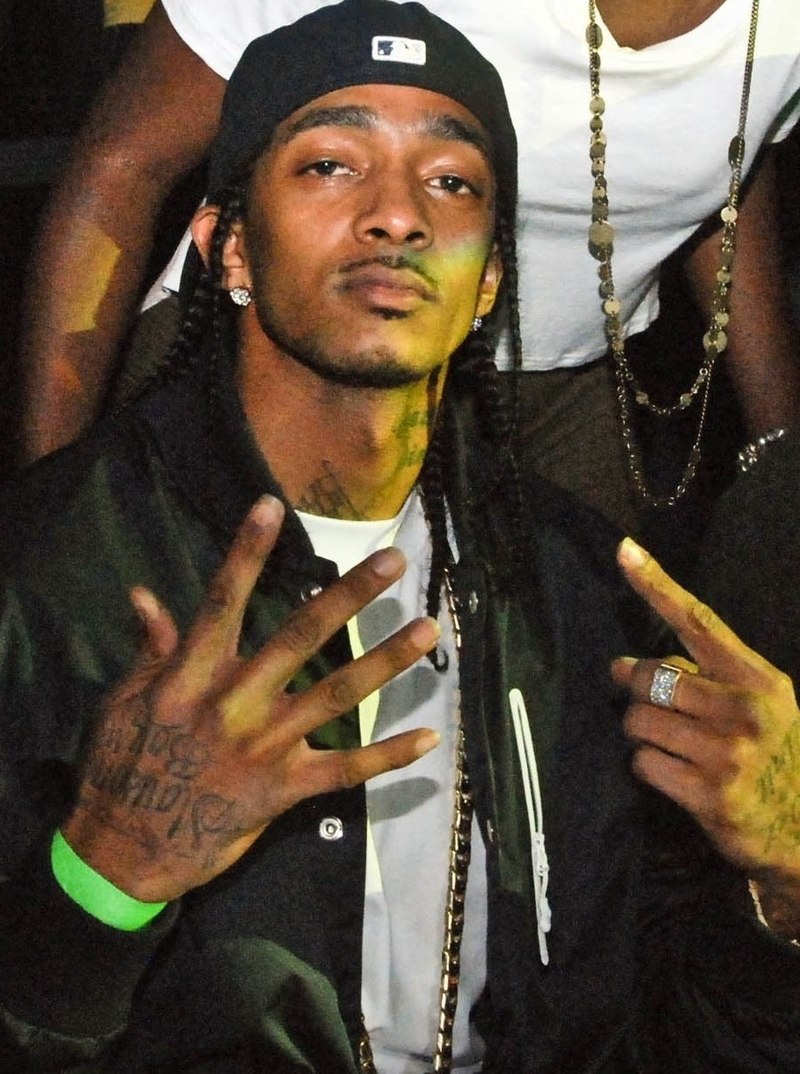 IN MEMORIAM: Nipsey Hussle // Other Notable Musicians' Deaths
Ermias Joseph Asghedom (August 15, 1985 – March 31, 2019), known professionally as Nipsey Hussle (often stylized as Nipsey Hu$$le), was an American rapper and songwriter from Los Angeles, California. Emerging from the West Coast hip hop scene in the mid-2000s, Hussle initially became known for his numerous mixtapes, including his Bullets Ain't Got No Name series, The Marathon, The Marathon Continues and Crenshaw, the last of which rapper Jay-Z bought 100 copies of for $100 each. After much delay, his debut studio album Victory Lap was released in February 2018 to critical acclaim and commercial success, and was nominated for Best Rap Album at the 61st Annual Grammy Awards in 2019.
Hussle was murdered outside his store, Marathon Clothing, in South Los Angeles on March 31, 2019. Eric Holder, a 29-year-old-man who Hussle disputed with earlier in the day, was arrested and charged murder on April 2, 2019.
https://en.wikipedia.org/wiki/Nipsey_Hussle
[There has been so much written online about Mr. Hussle and his GOOD life that you can find plenty of information about him. Therefore, just a short article here.]
Photo: Nipsy Hussle in 2011 (photo from Wikipedia)
* * * * *
Other Notable Musicians' Deaths…
April 2019
2: Rick Elias, American musician (A Ragamuffin Band), brain cancer; Kim English, 48, American house and gospel singer and songwriter, kidney failure.
1: Caravelli, 88, French conductor and composer; Armando Vega Gil, 64, Mexican writer, composer, and musician (Botellita de Jerez), suicide by hanging.
March 2019
31: Nipsey Hussle, 33, American rapper ("Feelin' Myself", "FDT"), shot.
30: Billy Adams, 79, American rockabilly singer and songwriter; Geoff Harvey, 83, Australian musician and music director (The Mike Walsh Show, Midday); Simaro Lutumba, 81, Congolese musician (TPOK Jazz).
29: Joshua Hecht, 91, American operatic bass; Margaret Lewis, 79, American singer-songwriter ("The Girl Most Likely", "Reconsider Me"), pneumonia.
28: Joe Flannery, 87, British music executive (The Beatles); Maury Laws, 95, American television and film composer (Rudolph the Red-Nosed Reindeer, Frosty the Snowman, The Little Drummer Boy).
27: Stephen Fitzpatrick, 24, British rock guitarist and singer (Her's), traffic collision; Audun Laading, 25, Norwegian rock musician (Her's), traffic collision.
26: Kenichi Hagiwara, 68, Japanese actor and singer, gastrointestinal stromal tumor; Daniel Nekonecný, 52, Czech musician; Jenny Pagliaro, 35, American Americana singer and songwriter, breast cancer. Ranking Roger, 56, British singer (The Beat, General Public), cancer; Heinz Winbeck, 73, German composer.