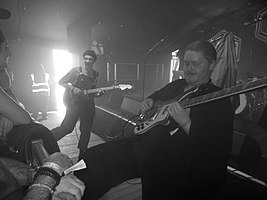 IN MEMORIAM: Traveling English Band Her's / Joe Flannery – Another "Beatle"
Her's was an English indie rock band from Liverpool, England, composed of Stephen Fitzpatrick on vocals and guitar and Audun Laading on bass guitar and backing vocals. Their first full-length album was released in August 2018.
On March 27, 2019, the duo and their tour manager were killed in a traffic collision while on tour in the United States.
Her's formed in 2015 and released their debut track, "Dorothy", on 7 April 2016. They performed on the 2016 Green Man Festival Rising Stage. A nine-track compilation titled Songs of Her's was released on 12 May 2017. The compilation received four stars from The Skinny. Writing for NME in April 2017, Thomas Smith said:
Her's is not a group to stand still. Each song they produce, from the lo-fi bedroom pop power of debut track to 'Dorothy' to the duo's equally melodic take on slacker-rock on 'Marcel', sees the Liverpool-based duo shift and float between sounds. Never really fitting into one genre, but somehow nailing whatever they end up doing.
The band later released their first full-length album, Invitation to Her's, on Heist or Hit Records on August 24, 2018. Her's were featured on Paste's list titled "The 15 New Liverpool Bands You Need to Know in 2018". An acoustic performance by the band at the 2019 South by Southwest festival in Austin, Texas, was also featured on BBC Music Introducing.
Fitzpatrick, from Barrow-in-Furness, Cumbria, England, and Laading, from Flekkerøy, Kristiansand, Norway, met at the Liverpool Institute for Performing Arts, from which they both graduated in 2016 after three-year music degrees.
Fitzpatrick and Laading previously played in the rhythm section of Brad Stank's band, Sundogs. The duo initially formed Her's in jest, traveling around Liverpool to film comedic music videos and posting them on YouTube.
Fitzpatrick was also a drummer but the band used a drum machine with both members contributing to its programming.
At around 1 a.m. on March 27, 2019, Fitzpatrick (aged 24), Laading (25) and their tour manager, Trevor Engelbrektson (37, from Minneapolis) were all killed in a head-on road traffic collision and subsequent vehicle fire near Milepost 68 on Interstate 10, close to Centennial, Arizona. They were traveling from Phoenix, Arizona, where they had played on March 26th, to perform a show on the following evening in Santa Ana, California, some 350 miles away, as part of a 19-date second tour of North America. The Arizona Department of Public Safety confirmed that Engelbrektson had been driving the band's Ford tour van at the time. The driver of a Nissan pick-up truck involved in the collision was also killed. At the time of the crash the Arizona Department of Public Safety was already responding to reports of a Nissan pick-up truck traveling at speed in the wrong direction going eastbound on the westbound highway.
https://en.wikipedia.org/wiki/Her's
* * * * *
Joe Flannery – Another "Beatle"
Joe Flannery, their early booking manager, was known as the "Secret Beatle". The fifth Beatle is an informal title that various commentators in the press and entertainment industry have applied to people who were at one point a member of the Beatles, or who had a strong association with the "Fab Four" (John Lennon, Paul McCartney, George Harrison, and Ringo Starr) during the group's existence. The "fifth Beatle" claims first appeared in the press immediately upon the band's rise to global fame in 1963–64. The members have offered their own beliefs of the "fifth Beatle":
Lennon was critical of individuals who claimed credit for the Beatles' success, including the individual Beatles themselves, saying in his 1970 interview with Jann Wenner, "I'm not the Beatles. I'm me. Paul isn't the Beatles. Brian Epstein wasn't the Beatles, neither is Dick James. The Beatles are the Beatles." Lennon was also disparaging of their music producer George Martin's importance.
McCartney said on two separate occasions that "if anyone [were] the fifth Beatle", it was manager Brian Epstein (in a 1997 BBC interview) and producer George Martin (in a 2016 memorial post).
Harrison stated at the Beatles' 1988 induction into the Rock and Roll Hall of Fame that there were only two "fifth Beatles": Derek Taylor and Neil Aspinall (referring to the Beatles' public relations manager and road manager-turned-business-executive, respectively).
The term is not used to indicate the chronology of band members joining the group. Pete Best joined Lennon, McCartney, Stuart Sutcliffe and Harrison on the eve of their Hamburg sojourn, the five using the monikers "The Silver Beetles" and "The Silver Beatles" (they experimented with "The Beat Brothers" and ultimately "The Beatles" while in Hamburg with Best).
https://en.wikipedia.org/wiki/Fifth_Beatle#Secret_Beatle
Tags:
Arizona
,
Audun Laading
,
Beatles
,
collision
,
George Harrison
,
Her's
,
Joe Flannery
,
John Lennon
,
Paul McCartney
,
Stephen Fitzpatrick
,
wrong way driver