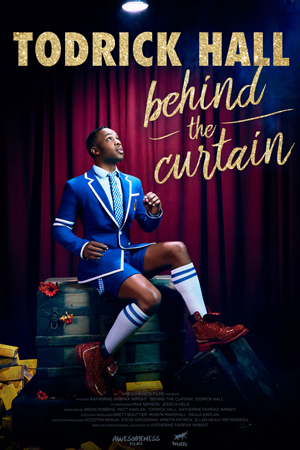 INTERESTING BITS: Todrick Hall's Songs About Sexual Harassment, Gun Control Take on New Relevance in 2017
In June 2016, when YouTube/Broadway star Todrick Hall released his ambitious, semi-auto-biographical, Wizard of Oz-inspired visual album, Straight Outta Oz, one of the standout songs and scenes was "Papi," which depicted ex-Pussycat Doll Nicole Scherzinger as a Hollywood sexual predator attempting to lure a young, naive Hall onto her casting couch. Hall tells Yahoo during a Build Series interview — conducted to promote his new making-of-the-album documentary, Behind the Curtain — that most fans didn't take "Papi" very seriously at the time, but he knows if it came out in 2017, in an era of the #MeToo movement and Time magazine's "Silence Breakers" Person of the Year cover story, it would receive a lot more attention.
"Honestly, a lot of people just thought it was a great song, and they didn't really think very much of it. There were some people that wrote me, and they were like, 'This is a really interesting thing that you made this [predatory character] a woman, because I've gone through this situation before.' But with a lot of people, it just went over their head," says Hall. "I think that it's a lot more relevant now than it was last year. Now I think if I were to re-upload it, it would cause more of a conversation."
Hall reveals that "Papi" was based on his own unfortunate encounter, although his real-life harasser was actually male. "Without saying too much, that was something that I experienced," he says. "I had a casting director that I was — I thought — friends with. I'm not really sure if we were friends or not, but it seemed like a lot of the things that he was doing was reaching out to me often, way too often, and it was in a sexual manner. And I didn't know, because it was disguised as a friendship, if we were actually friends — whether to laugh it off and just send an emoji of a monkey covering his eyes, or if I should address the situation. But it did make me feel uncomfortable enough to write this song about it, because not only was the action just a little bit uncomfortable, but sometimes you feel guilty for playing into it and for responding to that person with something other than 'Don't do this again' — because that person has the power to, in some ways, manipulate your career or success or lack thereof."
Another Straight Outta Oz track that is more relevant than ever is "Water Guns" featuring Jordin Sparks, which tackles the hot topic of gun violence. Straight Outta Oz was released less than two weeks after the fatal Orlando shootings at a Christina Grimmie meet-and-greet and at gay nightclub Pulse, and while Hall originally wrote the song to honor his policewoman friend Jill Smith (who was shot dead in his hometown of Arlington, Texas, in 2010), he and his Oz film crew scrambled to revise the "Water Guns" video after the Florida tragedies occurred.
"The night I wrote the song, Christina Grimmie was shot in Orlando, and then the next night, we filmed the video, and we found out about the Pulse shooting right after we wrapped shooting, and so it was happening at the same time we were [making the video], which was very odd," Hall recalls. "And so, I was like, 'I really want to implement this part where I'm spray-painting the names of the victims that had recently left, and also Trayvon Martin.' … And so the crew members all volunteered their time to come back and shoot the next day to add those things in, which I thought was a very sweet gesture of them."
Following his stint on American Idol Season 9 in 2010, Hall made a name for himself as a YouTube sensation with his colorful, campy, often fairytale- or Disney-inspired music videos — so Straight Outta Oz and Behind the Curtain showcased a surprisingly serious, previously unseen side of the LGBTQ performer, who "grew up in the Bible Belt" with "super-conservative and super-Christian" parents and "was raised at a gospel church every Sunday." Hall explains, "I decided I wanted to tell part of my story, and these were real issues I was struggling with: racism in the industry, homophobia within the industry. Which is ridiculous, because the LGBTQ community basically runs the industry! … It was a difficult situation, just me wanting to be an out gay man … but I think it's so important for people who are growing up in these small towns to have a role model to look up to online that looks like them and sounds like them and lives a life that's very similar to the one that they lead themselves. It was not an option for me not to be very vocal and be an advocate for everything that I truly stand for."
Hall, who is currently starring in Broadway's Chicago as Billy Flynn and played Lola on Broadway in Kinky Boots last year, says there is talk of bringing Straight Outta Oz to Broadway ("That would be a dream come true!"), but for the moment he's focusing on his next album of originals, due out in March 2018. Hall assures it will be as serious as his Straight Outta Oz breakthrough.
"The music is so much different from anything I've ever done," he says enthusiastically. "Straight Outta Oz is what gave me the courage to know that my fanbase would buy an album if the album was just good. When I saw my name sandwiched between Beyoncé's and Adele's [when Straight Outta Oz charted on iTunes at No. 8], there was nothing else I needed to prove to myself that I could do it. And so now, with this next album, it's not a play on Cinderella or The Wizard of Oz or Alice in Wonderland; it's just a story that I am very passionate about. It's going to be a visual album again, and I'm really excited for people to not only get the music and experience it, but to come see us live on tour."
As for advice to his straight fans who want to be good allies, Hall says, "I think one thing that people could do is, when you're in a room and someone is acting homophobic, oftentimes we say, 'Well, that's not my problem; I'm not actually gay. I don't want to speak up.' But it takes someone speaking up and saying, 'That is not cool, and you should not be doing that. You should not say that in front of your kids, and you shouldn't teach your children that.' I think that's the only way for us to move forward, because we've all been inside of a room and had an uncomfortable situation where someone says something racist or something homophobic or transphobic, and if we don't stand up and say, 'I'm not cool with that,' then everyone thinks that — within the confines of people who look and sound like them — it's OK to be racist or homophobic. That conversation is what, I think more than anything, more than a billboard, more than a TV show, more than music, can change the world."
[Original article contains several videos really worth your time to watch!]
By Lyndsey Parker | Yahoo Music
https://www.yahoo.com/music/todrick-halls-songs-sexual-harassment-gun-control-take-new-relevance-2017-213039625.html
http://www.todrickhall.com | He'll be in Denver in May 2018!