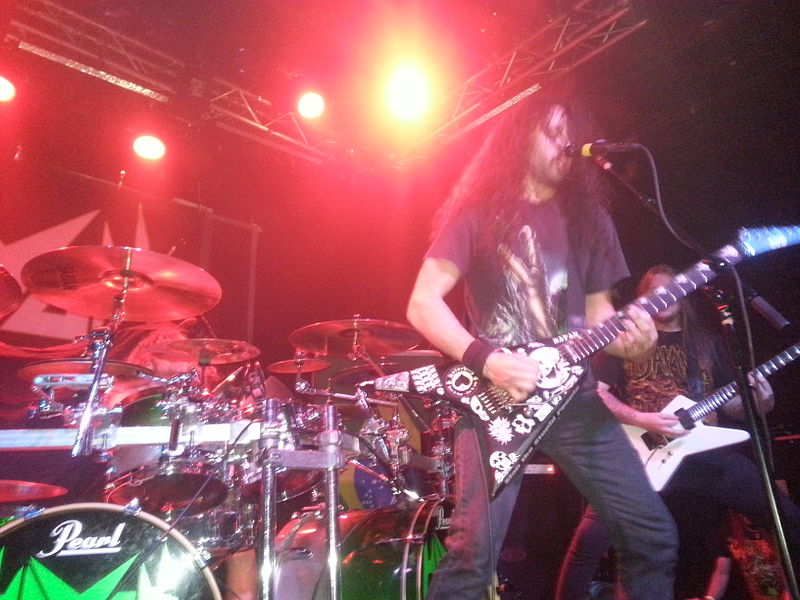 INTERESTING BITS: Top 5 Underrated Thrash Guitarists – Includes Denver's David Sanchez of Havok
There are times when listening to a record — like Death Angel's "Act III" or Havok's "Conformicide" — elicits a specific response: "Damn, this band was/is on fire!" As with most heavy metal, said fire usually comes from three different musical areas. Vocals. Guitars. And drums. OK, fair, bass, too if we're talking Colin Marston (Gorguts) or Art Liboon (Mordred) or Robert Trujillo (during his Suicidal Tendencies stint). But most of the time, it's the primary three instruments, with the guitar leading the pack. Over the years, guitarists usually get their due. They get featured in a guitar magazine, maybe even a cover, or they get to guest up a musical notch. But some guitarists don't get their praise, their kudos, for whatever reason. While there are many great guitarists in metaldom, we've centered on the Top Five Thrash Guitarists deserving high praise.
Now, again, there's a big swath of time — '80s, '90s, '00, and beyond — to consider. There are other factors, too. Like is said fretboard wizard still active? Still with his/her main act? Is the guitarist making significant progress to his/her own music, and thus the greater scene? Decibel considered the eras, activity, and albums, coming up with five six-stringers who, for all intents and purposes, remain under the radar but are high-flying in their own bands. Some recently out of the gate. Some 20-plus years into their respective careers. Like relative newcomer Vektor's David DiSanto. And like veteran Annihilator's Jeff Waters.
Certainly, lists polarize, but if anything's accomplished from this piece it's awareness of 5 top-level string-burners and their music. Time to thrash 'em all!
5. David DiSanto (Vektor)
4. Michael Stützer (Artillery)
3. David Sanchez (Havok)
Since 2004, Sanchez and team Havok, especially Sanchez's formidable sideman/soloist Reece Scruggs, have spearheaded the charge of the present-day thrash metal. Over the course of four full-lengths–"Conformicide", the group's latest, is superb–Sanchez has blazed familiar and new territory across the fretboard. Starting at age 13, Sanchez wood-shedded like most diligent would-be stars, practicing to Metallica. In short order, Sanchez's right hand was mastered. Early influences included duos Hammett/Hetfield, Ian/Spitz, Hanneman/King, Holt/Hunolt, and Pantera riff-master Darrell Abbott. Later, Sanchez widened his horizons by absorbing the wild musical antics of Danny Elfman and the jazz-fusion tact of Al Di Meola. To zero in on Sanchez's finer work, check out: 'Hang 'Em High', 'Prepare for Attack', 'Point of No Return' and 'F.P.C.'
2. Jeff Waters (Annihilator)
1. Rob Cavestany (Death Angel)
Read the full article at the link below.
By Chris Dick
https://www.decibelmagazine.com/2017/08/28/top-5-underrated-thrash-guitarists/