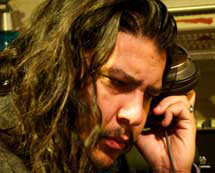 KUDOS: Haylar Garcia Honored Twice for Special FX and Best Director at Macabre Faire Film Fest
We are happy to bring you an update from the awards ceremony at Macabre Faire Film Fest 2018 in New York last evening.
A special shout out to cast member Kristin Keating who graciously attended the festival to represent us all on this wonderful occasion.
We are honored and humbled to announce that our spunky little film Gnaw (now officially titled Apartment 212) brings home two awards to Denver from the Big Apple.
Winner: Best Special FX – Gnaw, a/k/a Apartment 212
Winner: Best Director – Haylar Garcia
Engineer/Producer Haylar Garcia has been recording bands in Denver since 1990, and so you will often find Haylar sitting in on sessions as a producer, second engineer or studio musician when asked. Haylar started many years ago as a local Denver and touring musician and is always inclined to be part of our native music scene as it continues to evolve. He sees The Decibel Garden to be a sanctuary for veteran and new musicians alike. "Fertile ground for our awesome Denver talent" is his mantra. Whether it's his old schooler peers from back in the day or brave new artists coming up. Haylar and the Garden are dedicated to making music that counts.