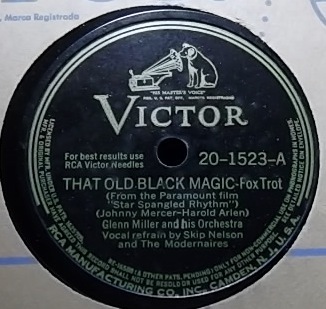 LYRICS OF THE WEEK TO: "That Old Black Magic"
"That Old Black Magic" is a 1942 popular song written by Harold Arlen (music), with the lyrics by Johnny Mercer. They wrote it for the 1942 film Star Spangled Rhythm when it was sung by Johnny Johnston and danced by Vera Zorina. The song was nominated for the Academy Award for Best Original Song in 1943 but lost out to "You'll Never Know".
It was first recorded and released as a single by Glenn Miller and His Orchestra.
The song was published in 1942 and has become an often-recorded standard with versions that include the original single release by Glenn Miller, the singers Margaret Whiting, Frank Sinatra, Sammy Davis Jr., Mercer himself, and others. Mercer wrote the lyrics with Judy Garland in mind, who was, on occasion, an intimate partner. Garland recorded the song for Decca Records in 1942. Mercer recalled wanting to write a song about magic, and while composing, asking Arlen to write more music so the song could go on longer, but that they still wrote the whole song in about three hours.
The Glenn Miller recording was released by RCA Victor Records as catalog number 20-1523-A, with "A Pink Cocktail For a Blue Lady" as the B side. The vocals were by Skip Nelson and the Modernaires. Glenn Miller recorded the song on July 15, 1942. The release was Glenn Miller's last #1 hit. It charted in 1943, spending 14 weeks on the Billboard magazine charts, peaking at position #1 for the week of May 29.
> > > > > > > > > >
The duet recorded by Louis Prima and Keely Smith was released as a single in 1958 on the Capitol label. It reached a peak of eighteen on the Billboard Hot 100. This particular version was performed on Sam and Friends by Sam and Kermit the Frog, Sam performing as Prima and Kermit dressing in drag and performing as Smith. This sequence became one of the most well-known episodes of Sam and Friends.
The said duet version was rearranged and used as background music in the swimsuit competition in the semifinals of the Miss Universe 1996 beauty pageant held in Las Vegas, Nevada.
> > > > > > > > >
https://en.wikipedia.org/wiki/That_Old_Black_Magic

Lyrics to "That Old Black Magic"
That old black magic has me in its spell
That old black magic that you weave so well
Icy fingers up and down my spine
The same old witchcraft when your eyes meet mine
The same old tingle that I feel inside
When that elevator starts its ride
Down and down I go, round and round I go
Like a leaf that's caught in the tide.
I should stay away but what can I do
I hear your name, and I'm aflame
Aflame with such a burning desire
That only your kiss can put out the fire.
You are the lover that I've waited for
The mate that fate had me created for
and every time your lips meet mine
Baby down and down I go,
All around I go
In a spin, loving the spin that I'm in
Under that old black magic called love.
Written by Harold Arlen and Johnny Mercer