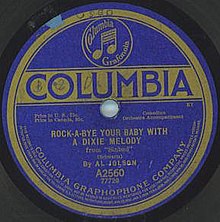 LYRICS OF THE WEEK to "Rock-A-Bye Baby With a Dixie Melody"
"Rock-a-Bye Your Baby with a Dixie Melody" is a popular song written by Jean Schwartz, with lyrics by Sam M. Lewis and Joe Young. The song was introduced by Al Jolson in the Broadway musical Sinbad and published in 1918.
Probably the best-known version of the song was by Al Jolson who recorded it on March 13, 1918 and whose version reached #1 the same year.
● Al Jolson also recorded the song on December 20, 1932 with Guy Lombardo and his Royal Canadians. Jolson recorded the song again on March 27, 1946 with an orchestra under the direction of Morris Stoloff.
● Arthur Fields – considered to be a No. 9 hit in 1918.
● Dean Martin recorded the song on April 28, 1950.
● Judy Garland included the song in her album Miss Show Business (1955) and her 1960 recording appeared in the compilation album The London Sessions. The song was also included in her live album Judy at Carnegie Hall (1961).
● Jerry Lewis – his version was a Top 10 hit in 1956 and became a gold record.
● Brenda Lee recorded her version of the song for her 1959 album Grandma, What Great Songs You Sang!.
● Connie Francis recorded her rendition of the song, also early in 1959, for her album "The Exciting Connie Francis."
● Aretha Franklin also recorded a lesser-known version of this song for her album "The Electrifying Aretha Franklin", which reached #24 in Cash Box and #37 on the Billboard Hot 100 chart in 1961.
● Bing Crosby recorded the song for the 1965 album Bing Crosby's Treasury – "The Songs I Love."
● Sammy Davis, Jr. – frequently sang it in his live shows, and included it his live album "That's All!" (1966)
● Nat King Cole
https://en.wikipedia.org/wiki/Rock-a-Bye_Your_Baby_with_a_Dixie_Melody
# # # # #
Lyrics to "Rock-A-Bye Baby With a Dixie Melody"
Rock-a-bye your baby
With a Dixie melody
When you croon, croon a tune
From the heart of Dixie
Just hang my cradle, mammy mine
Right on that Mason Dixon line
And swing it from Virginia
To Tennessee with all
The love that's in you
Weep no more
Weep no more, my lady
Sing that song for me
So soft and low, just as though
You had me on your knee
[Repeat above 3 stanzas]
A million baby kisses
I'm gonna deliver
The minute that you
Sing the Swanee River
Rock-a-bye your rock-a-bye baby
With a Dixie melody
Songwriters: Sam M. Lewis, Jean Schwartz, Joe Young
Rock-A-Bye Your Baby With A Dixie Melody lyrics © Sony/ATV Music Publishing LLC
http://www.lyricsfreak.com/j/jerry+lewis/rock+a+bye+your+baby+with+a+dixie+melody_20302427.html