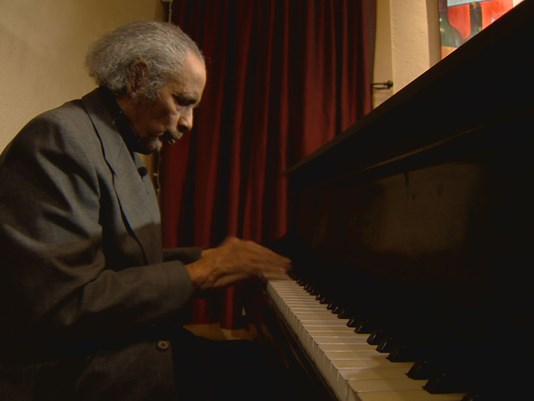 IN MEMORIAM: Brilliant Pianist Billy Wallace Passes // Pete Martinez Passes from Cancer // Other Notable Musicians' Deaths
From Ellyn Rucker on Facebook: Oour brillian pianist and friend, Billy Wallace, passed away [last night]. Will have more details later. Standby. He will be missed by the entire music community.
Ron Bland: We've lost another "star" of the Denver jazz scene but I know he'll be swinging in the heavens as others have said! But he leaves a great legacy & we all have our favorite "Billy Wallace stories." RIP Billy. He was truly a great pianist & musician. Decades ago, when I first moved to Denver I spent many Sunday & Monday nights playing with Billy & various drummers at the Colorado Mine Company in Glendale. I was just a "pup" and the musical tutelage Billy provided became the basis for the musician I am today. He could be difficult & ornery at times but he was always good to me.
# # # #
Jazz Pianist Still Jams Despite Dementia
DENVER – DENVER – Billy Wallace can pound out the notes to more than 4,000 songs strictly by memory, but the 86-year-old jazz pianist — who once played with some of the country's best — no longer recognizes an album he recorded just a few months ago.
"He told me, 'I don't remember playing these,'" his close friend Syd Harriet said. "I told him he did a marvelous job. All one takes. "He just said, 'Oh, OK. OK.'"
Harriet, a retired psychologist, diagnosed Wallace's dementia shortly after he met Wallace. The misplaced facts and repeated stories suggested an all too familiar problem with our aging population.
Dementia impacts one out of every four Americans over the age of 80.
It has not impacted Wallace's encyclopedic knowledge of songs, yet.
"I argue, he's got his own Google, his own iPad built in, when it comes to music," Harriet said.
Wallace's musical prowess started to really take shape in high school.
"It was just something I could do," he would routinely tell anyone who asked.
In the 50s, he started touring and playing with some of the most well-known musicians of the day. He's credited on Max Roach's popular album "Jazz in 3/4 Time" and helped back up such talents as Illinois Jacquet, Charlie Parker, B.B. King and Gladys Knight.
"Billy really is a legend himself," Harriett said.
In the early 70s, Wallace moved to Colorado and became well-known in some of the city's best hotels and nightclubs. Since then, he has spent time all over the world, most recently in Seattle.
A few years ago, Wallace came back to Colorado and currently lives in a modest apartment in Denver's Capitol Hill neighborhood.
Harriet heard Wallace playing about three years ago inside a nightclub and found himself quickly drawn to Wallace's talent. Only after Wallace introduced himself did Harriet realize the man in front of him was the same Billy Wallace he had come to known — at least by name — through his earlier career as a radio DJ.
The two hit it off quickly and have been working together ever since. Harriet, an avid historian of jazz and occasional jazz singer, now frequently accompanies Wallace to local gigs around the Denver area.
"I want him to continue to have an audience because he's still so good," Harriet said. "But we're certainly an unlikely pair."
The two typically start off their set by quizzing the audience, seeking to find someone who can call out a song Wallace doesn't know. It happens, but not very often.
"He'll even create his own arrangements, right there on the spot. Very few pianists can do it that well," Harriet said.
What the audience almost certainly never sees is the work Harriet must put forth just to make sure his friend makes the show. More often than not, Harriet will spend hours before the show calling Wallace to remind him of the show that night.
"Many times I have to call him three of four times," Harriet said. "One time I had to wait [in front of Wallace's apartment] for an hour-and-a-half. He just doesn't remember."
It's still worth it though.
"Here he is. He's 86, and he's playing like he's 19. So, go figure," Harriet said.
On Tuesday, Wallace plans to play at La Cour Art Bar at 1643 South Broadway in Denver from 7 p.m. to 10 p.m.
(© 2016 KUSA)
Copyright 2016 KUSA
By Chris Vanderveen, KUSA | February 12, 2016
http://www.9news.com/news/local/features/jazz-pianist-still-jams-despite-dementia/40302124
* * * * *
Pete Martinez Passes from Cancer
From Mark Diamond: It is with great sadness that I make this post… my friend and band mate Pete Martinez passed away on December 10th from a rare form of cancer that was diagnosed only two months ago. Pete had a natural gift with his country singing voice and gave our group some wonderful performance opportunities over the few years that we got to play and hang together. We met by chance at one of my gigs in Denver and struck up a quick friendship. He was always very respectful and generous to the band, and loved to sing for the crowd! R.I.P. Pete. You'll be missed by so many people. Keep ridin' that long, dusty trail my friend.
On Mark's Facebook page, there is a photo of [the] band in Switzerland with friends we made and shared some shows with, New Country Rain. Jean-Philippe Pahud Werner Fröhlich Kit Simon Natalie Rae Padilla Mathilde Sonney
* * * * *
Other Notable Musicians' Deaths… December 2017
13: Warrel Dane, 56, American rock singer (Sanctuary, Nevermore), heart attack; Willie Pickens, 86, American jazz pianist (Eddie Harris, Elvin Jones) and educator (American Conservatory of Music).
12: Pat DiNizio, 62, American singer and musician (The Smithereens).
11: Joey Corpus, 59, Filipino-American violin teacher (death announced on this date);
10: Manno Charlemagne, 69, Haitian singer-songwriter, guitarist and politician, Mayor of Port-au-Prince (1995–1999), cancer.
9: Lando Fiorini, 79, Italian actor and singer; *Heitaro Nakajima, 96, Japanese digital audio pioneer.
8: Sunny Murray, 81, American jazz drummer (Cecil Taylor, Albert Ayler).
7: Magnus Bergdahl, 67, Swedish guitarist (Thorleifs); Žermena Heine-Vagnere, 94, Latvian opera singer, People's Artist of the USSR (1969); Sir Christus, 39, Finnish rock guitarist (Negative).
6: Johnny Hallyday, 74, French rock singer ("Requiem pour un fou", "Marie", "Tous ensemble") and actor, lung cancer.
* Heitaro Nakajima, March 19, 1921 – December 9, 2017) was a Japanese digital audio pioneer, who was leading Sony's Compact Disc project in the 1970s.
Born in Kurume, Fukuoka Prefecture, Nakajima graduated from the Tokyo Institute of Technology with a bachelor's degree in electrical engineering in 1944, and earned a Doctor of Engineering degree from Kyushu University in 1958.
In 1971, Nakajima joined Sony as a managing director, hired by Sony's co-founder and president at large, Masaru Ibuka. He became president of Aiwa in 1984. In 1989, he received the first IEEE Masaru Ibuka Consumer Electronics Award and in 1993 he was awarded the Purple Ribbon Medal for CD development.
https://en.wikipedia.org/wiki/Heitaro_Nakajima