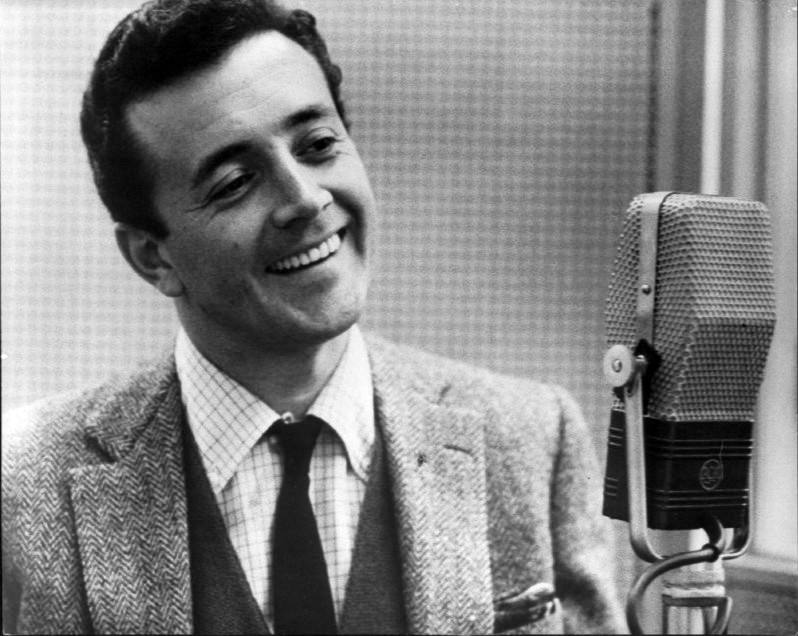 IN MEMORIAM: Country Singer Daryl Singletary, Crooner Vic Damone, Radio DJ Sonny Payne // Other Notable Musicians' Deaths
Daryle Bruce Singletary (March 10, 1971 – February 12, 2018) was an American country music singer. Between 1995 and 1998, he recorded for Giant Records, for which he released three studio albums: Daryle Singletary in 1995, All Because of You in 1996 and Ain't It the Truth in 1998. In the same timespan, Singletary entered the top 40 of the Hot Country Songs charts five times, reaching number two with "I Let Her Lie" and "Amen Kind of Love", and number four with "Too Much Fun".
In 2000, Singletary switched to Audium Entertainment (a division of Koch Entertainment), where he released the albums Now and Again (2000) and That's Why I Sing This Way (2002), both of which were largely composed of cover songs. A third album of covers, 2007's Straight from the Heart, was issued on the independent Shanachie Records label. He returned to Jack Noseworthy Studios (now renamed E1 Music) in 2010, to release Rockin' in the Country.
https://en.wikipedia.org/wiki/Daryle_Singletary
* * * * *
Crooner Vic Damone
Damone was born Vito Rocco Farinola in Brooklyn, New York, to Rocco and Mamie (Damone) Farinola, Italian emigrants from Bari, Italy. His father was an electrician and his mother taught piano. His cousin was the actress and singer Doretta Morrow. Inspired by his favorite singer, Frank Sinatra, Damone began taking voice lessons. He sang in the choir at St. Finbar's Church in Bath Beach, Brooklyn, for Sunday Mass under organist Anthony Amorello.
When his father was injured at work, Damone had to drop out of high school. He worked as an usher and elevator operator in the Paramount Theater in Manhattan. He met Perry Como while at the Paramount Theater. Damone stopped the elevator between floors, sang for him, and asked his advice if he should continue voice lessons. Impressed, Como said, "Keep singing!" and referred him to a local bandleader. Vito Farinola decided to call himself Vic Damone, using his mother's maiden name.
Damone entered the talent search on Arthur Godfrey's Talent Scouts and won in April 1947. This led to his becoming a regular on Godfrey's show. He met Milton Berle at the studio and Berle got him work at two night clubs. By mid-1947, Damone had signed a contract with Mercury Records.
His first release, "I Have But One Heart", reached number seven on the Billboard chart. "You Do" (released November 1) reached the same peak. These were followed by a number of other hits. In 1948, he got his own weekly radio show, Saturday Night Serenade.
He was booked into the Mocambo nightclub on the Sunset Strip in 1949, residing briefly at the Strip's famed Garden of Allah Hotel. In April of 1949 he made his television debut on The Morey Amsterdam Show performing Cole Porter's So In Love. In January of 1950 he made his first of several guest appearances on Ed Sullivan's Toast of the Town including a duet, the first of many, with vocalist and future TV hostess Dinah Shore. Over the next thirty years he became a regular featured guest performer on every major variety series on network television. Among the programs on which he appeared are The All Star Revue, The Texaco Star Theater with Milton Berle, The Arthur Murray Party, What's My Line?, The Jackie Gleason Show, The Steve Allen Show, The Perry Como Show, The Bell Telephone Hour, The Dinah Shore Chevy Show, The Garry Moore Show, I've Got A Secret, The Jack Paar Program, The Red Skelton Hour, The Andy Williams Show, The Hollywood Palace , The Dean Martin Show, Hullabaloo, Mickie Finn's, The Danny Thomas Hour, The Jonathan Winters Show, The Carol Burnett Show, Della, Playboy After Dark, The Joey Bishop Show, Jimmy Durante Presents the Lennon Sisters, Dinah!, The Mike Douglas Show, The Tonight Show Starring Johnny Carson and several Bob Hope specials.
> > > > > > > > >
One of his final public performances was on January 19, 2002, at the Raymond F. Kravis Center for the Performing Arts in Palm Beach, Florida. Damone suffered a stroke the same year and subsequently retired. Damone did, however, step out of retirement on January 22, 2011, when he once again performed at the Kravis Performing Arts Center in Palm Beach, to a sold-out crowd. Damone dedicated this performance to his six grandchildren, who had never seen him perform. Damone stated that "I don't need the money … But, you know, my six grandkids have never seen me on stage. It will be the first time. I will introduce them. It's going to be exciting for me. Before I die, I want them to have heard me perform at least once".
https://en.wikipedia.org/wiki/Vic_Damone
* * * * *
Blues Hall of Famer Sonny Payne Has Passed
We join blues fans everywhere in mourning the passing of "Sunshine" Sonny Payne. For 65 years Sonny was the host of the legendary "King Biscuit Time" program on KFFA radio in Helena, Arkansas, the longest running blues show in America. He was also a two-time Keeping the Blues Alive (KBA) Award recipient and inducted into the Blues Hall of Fame in 2010. "Sunshine Sonny" will be missed by a legion of Blues fans.
* * * * *
Other Notable Musicians' Deaths… February 2018
13: Scott Boyer, 70, American songwriter and musician (Duane Allman, Gregg Allman, Muscle Shoals); Klaasje van der Wal, 69, Dutch musician (Shocking Blue).
12: László Melis, 64, Hungarian composer and violinist; Daryle Singletary, 46, American country music singer ("I Let Her Lie", "The Note", "Amen Kind of Love").
11: Vic Damone, 89, American pop singer ("On the Street Where You Live", "You're Breaking My Heart"), complications from respiratory illness; Jan Maxwell, 61, American actress and singer (Chitty Chitty Bang Bang, Follies, Gossip Girl), meningitis complicated from breast cancer; Tom Rapp, 70, American singer-songwriter (Pearls Before Swine).
10: Troy Blakely, 68, American music executive and talent manager (Sammy Hagar, Red Hot Chili Peppers, Poison), cancer.
9: Jóhann Jóhannsson, 48, Icelandic film composer (The Theory of Everything, Arrival, Sicario); Craig MacGregor, 68, American bass guitarist (Foghat), lung cancer.
8: Paul Danblon, 86, Belgian journalist and composer; Algia Mae Hinton, 88, American blues singer and guitarist; Ebony Reigns, 20, Ghanaian singer, traffic collision; Lovebug Starski, 57, American rapper and disc jockey, heart attack.
7: Nelson Cooke, 98, Australian cellist (London Symphony Orchestra, Royal Philharmonic Orchestra) and teacher (Canberra School of Music); Mickey Jones, 76, American drummer (Kenny Rogers and The First Edition) and actor (Home Improvement, National Lampoon's Vacation); Pat Torpey, 64, American drummer (Mr. Big), complications from Parkinson's disease.