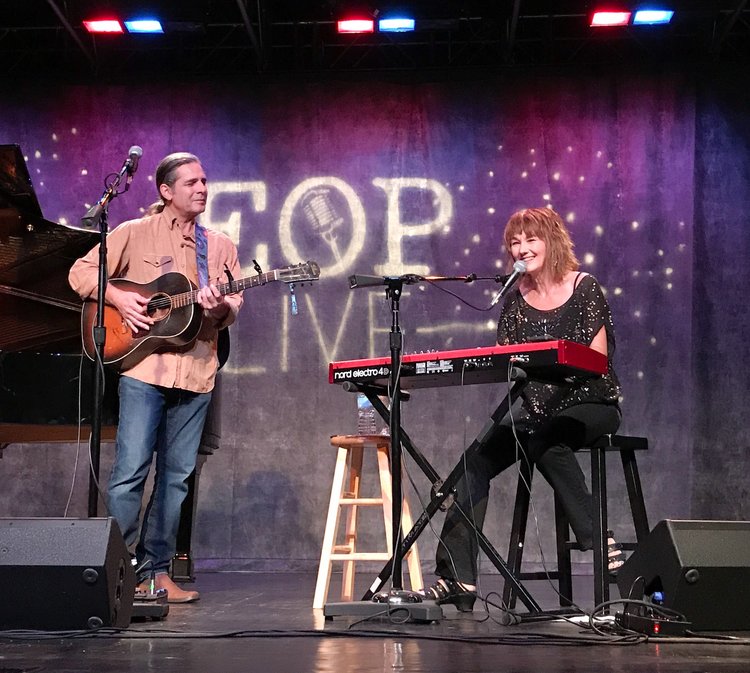 IN MEMORIAM: Country Singer Lari White Cannon Loses Battle with Peritoneal Cancer // Other Notable Musicians' Deaths
Lari White Cannon (Born Lari Michele White; May 13, 1965 – January 23, 2018) was an American country music artist and actress. She first gained national attention in 1988 as a winner on You Can Be a Star, a talent competition which aired on The Nashville Network. A recording contract with RCA Records Nashville followed a year later, producing three studio albums, a greatest hits package, and several chart singles, with three of her singles having reached Top Ten: "That's My Baby" and "That's How You Know (When You're In Love)" at No. 10, and "Now I Know" at No. 5. A fourth studio album was released in 1998 on Lyric Street Records, followed by two more releases on White's own label, Skinny White Girl. Overall, White has charted 12 times on the Billboard country music charts.
In September 2017, White was diagnosed with cancer. Exploratory surgery in October 2017 revealed advanced peritoneal cancer. White died in Nashville, Tennessee, on January 23, 2018, at the age of 52. She was survived by her husband, songwriter Chuck Cannon, and three children. [Editor's note: Chuck Cannon is a regular attendee and mentor at the Durango Songwriters' Expos. Our sincerest condolences go out to Chuck and the children and their families.]
https://en.wikipedia.org/wiki/Lari_White
# # # # #
Lari White's Mother Shares Her Final Hours
Country singer-songwriter Lari White, best known for a string of hits in the '90s, died after a battle with cancer on Jan. 23, at the age of 52. On the day that she passed away, her mother, Yvonne, shared some final moments on the Caring Bridge website established to keep fans informed on her condition.
She began by assuring that Lari died at home surrounded by her loved ones. "Lari wanted to go home to the Holler to be with [husband] Chuck and their three amazing children … She was able to do that over the weekend, still on Hospice Care. She asked for two kinds of days: A Sunny Day, and a Rainy Day."
As it turned out, the singer got both of her days, described as only a mother can detail. "The Sabbath Day broke in the Holler with sunlight streaming through the windows, lighting up the very special sunflower arrangement for Lari on her dresser," noted her mom. "She had a day surrounded by an abundance of Love and Care, in her own bed, her own home she loved so.
"Monday she awoke to the sound of rain on her roof, a sound she always loved. When Lari was about 4, she was taking a walk down the sidewalk with her little umbrella, in the rain. One of our older neighbors came out to check on her, asking if I knew she was doing that, and Lari replied: 'Oh yes! My Mother allows me to take Rain Walks!'…and I did!.. The rest of her Life, we always laughed about 'Lari's Rain Walks.'"
White's mother continued to describe the last moments. "Last night all her Family-of-Origin circled round her bed, saying our goodbyes to Lari, loving her, praying, sending her messages of support and gratitude. Her Dad gave her his loving foot massage. Chuck and their three children joined with us, and it was such a comfort to all of us to be "Together Again" around Lari.
"Chuck and their children bathed her in the same love and care all night long they have given to her for four months. At 4:44 this morning, Lari peacefully took her 'Rain Walk.'"
White helmed a dynamic career over the past couple of decades most notably marked by the '90s Top 10 hits "That's My Baby," "Now I Know," and "That's How You Know." Her most recent project, the pair of EPs Old Friends and New Loves, was released in Feb. 2017 and marked her 25th anniversary as a recording artist. The sets feature appearances by Delbert McClinton, Suzy Bogguss and Lee Roy Parnell.
By Wendy Hermanson
http://tasteofcountry.com/lari-whites-mother-shares-final-hours/
[Editor's note: In case you didn't catch it, Lari passed while it was raining outside. She went for her last walk in the rain.]
* * * * *
Other Notable Musicians' Deaths… January 2018

25: Lyudmila Senchina, 67, Russian singer.
24: Renaud Gagneux, 70, French composer; Mark E. Smith, 60, English singer and songwriter (The Fall).
23: Hugh Masekela, 78, South African jazz trumpeter ("Grazing in the Grass"), prostate cancer; Lari White, 52, American country singer ("Now I Know", "That's My Baby") and actress (Cast Away), peritoneal cancer.
https://en.wikipedia.org/wiki/Hugh_Masekela
Hugh Ramapolo Masekela (4 April 1939 – 23 January 2018)[1] was a South African trumpeter, flugelhornist, cornetist, composer and singer. He has been described as the "father of South African jazz." Masekela was known for his jazz compositions and for writing well-known anti-apartheid songs such as "Soweto Blues" and "Bring Him Back Home". He also had a number 1 US pop hit in 1968 with his version of "Grazing in the Grass".
22: Shorty Castro, 89, Puerto Rican comedian, songwriter and entertainer, cancer; Ceylon Manohar, 73, Indian actor and playback singer ("Surangani"); Preston Shannon, 70, American blues musician.
21: Yao Ming, 69, Chinese composer.
20: Terry Evans, 80, American blues and soul musician; Mario Guccio, 64, Belgian singer (Machiavel); Jim Rodford, 76, English bassist (Argent, The Kinks, The Zombies), injuries from a fall. [See above In Memoriam]
19: Fredo Santana, 27, American rapper, kidney failure.
18: Steve Nisbett, 69, Nevisian-born British reggae drummer (Steel Pulse); Augusto Polo Campos, 85, Peruvian composer.