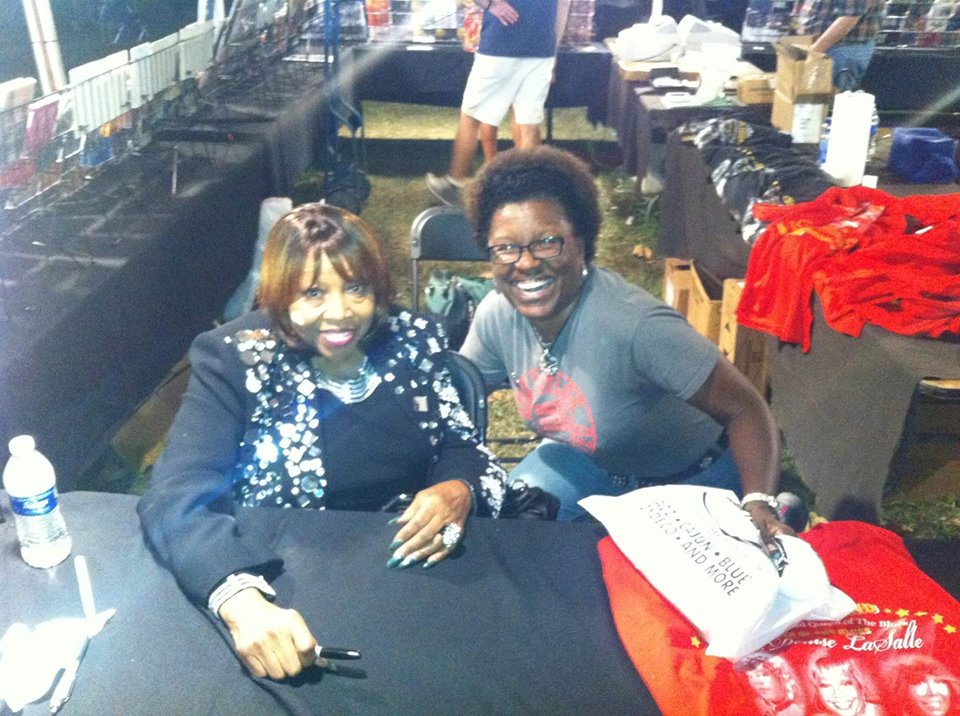 IN MEMORIAM: Denise LaSalle, Queen of Southern Soul, Passes
Erica Brown – 1/09/18: I have learned from my dear friend Stacy Brooks that the Queen of Southern Soul, Ms. Denise LaSalle, has gone on to her Heavenly Home. This Lady was part of the Soundtrack of my life, 'cause haven't we all been "Trapped By This Thing Called Love" at least once?? Rest in Power, Sister Denise, you made the world a better place, and brought joy to so many. Sincere condolences to everyone who knew and loved her. We will see you on the Other Side!
# # # # #
Ora Denise Allen (July 16, 1939 – January 8, 2018), known by the stage name Denise LaSalle, was an American blues and R&B/soul singer, songwriter, and record producer who, since the death of Koko Taylor, had been recognized as the "Queen of the Blues".
Her best known song was "Trapped by a Thing Called Love".
Denise was born near Sidon, Mississippi as the youngest of eight children to Nathaniel A. Allen, Sr. and Nancy Cooper. Her family worked as sharecroppers and she had to pick cotton and took up other labor jobs to support her family. She was raised in Belzoni (moving there at the age of 7), and sang in church choirs for local gospel groups around LeFlore County, before moving to Chicago in the early 1960s when she was aged 13, to live with her oldest brother. She sat in with R&B musicians and wrote songs, influenced by country music as well as the blues, before winning a recording contract with Chess Records in 1967. Her first single, "A Love Reputation" was a modest regional hit.
She established an independent production company, Crajon, with her then husband Bill Jones. Her song "Trapped By a Thing Called Love" (1971) was released on Detroit-based Westbound Records. This reached #1 on the national R&B chart and #13 on the Billboard Hot 100 chart. The song ranked at #85 on the 1971 year-end chart. The RIAA gold disc award was made on November 30, 1971 for a million sales.
She also wrote successful follow-ups, "Now Run and Tell That" and "Man Sized Job" which made #3 and #4 in the R&B Top Ten and also charted in the Hot 100. Her early hits were recorded at the Hi recording studios in Memphis, operated by Willie Mitchell, using the cream of southern session players. She continued to have hits on Westbound and then on ABC Records through the mid-1970s, including "Love Me Right" (#10 R&B, #80 pop) She continued to produce and perform live. Her co-penned song, "Married, But Not to Each Other" (#16 R&B) was included in the 1979 The Best of Barbara Mandrell, compilation album.
In the early 1980s, she signed as a singer and songwriter with Malaco Records, for whom she released a string of critically acclaimed albums over more than 20 years, starting with Lady in the Street (1983) and Right Place, Right Time (1984). Both albums became successful among soul blues, R&B and soul fans and on urban radio stations. In 1985, she enjoyed her only recognition in the UK Singles Chart, when her cover version of Rockin' Sidney's "My Toot Toot" reached #6.
LaSalle appeared at the 1984 and 1993 versions of the Long Beach Blues Festival, and also in 1993, she performed at the San Francisco Blues Festival. Her album Smokin' In Bed (1997) sold well. After more than a decade away, when she recorded three albums with small Memphis- based soul-blues label, Ecko, she returned to Malaco for her 2010 outing called "24 Hour Woman". She continued to work as a live performer, particularly at festivals, and more recently had branched out into the gospel genre. In 2011, she was inducted into the Blues Hall of Fame.
LaSalle lived with her husband, James E. Wolfe, in Jackson, Tennessee, where she opened a restaurant called Blues Legend Café. The restaurant was located at 436 E. Main Street, but has since closed.
In 2013 and 2014, LaSalle was nominated for a Blues Music Award in the 'Soul Blues Female Artist' category. On June 6, 2015, LaSalle was inducted into the Rhythm and Blues Music Hall of Fame.
Personal life and death
After suffering from heart problems, and complications from a fall resulting in her right leg being amputated in October 2017, LaSalle died on January 8, 2018 surrounded by her family, at the age of 78.
She was first married to Bill Jones in 1969 but divorced in 1974. Both of them collaborated in producing records, and they went on to established an independent production company, Crajon Records. She later married her second husband, disc jockey James E. "Super Wolfe" Wolfe Jr., in 1977, and they had two children.
https://en.wikipedia.org/wiki/Denise_LaSalle