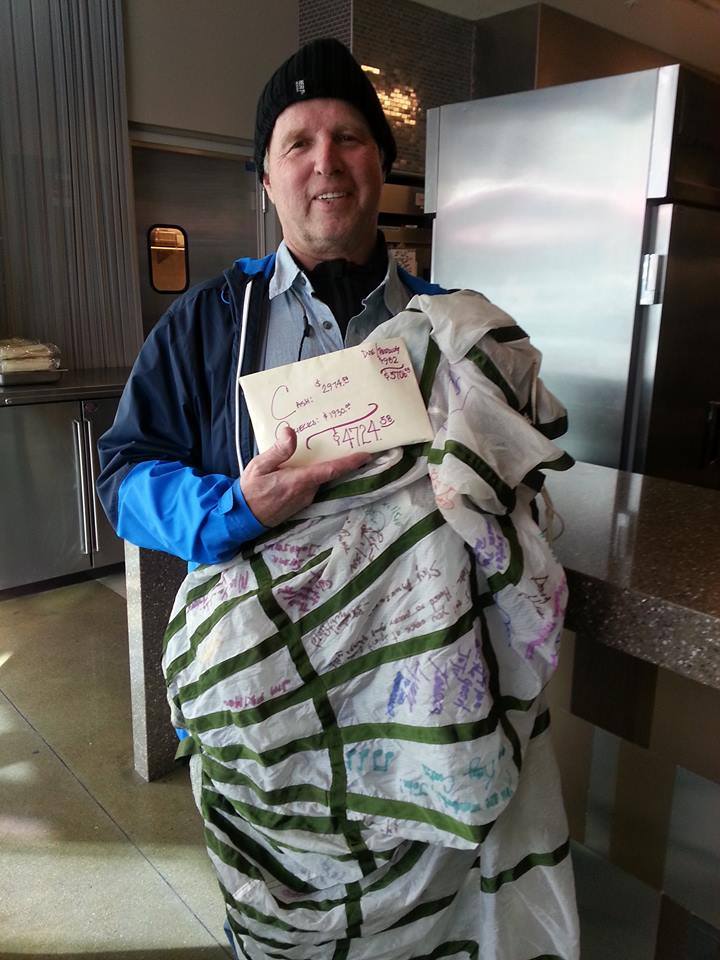 IN MEMORIAM: John Catt, Founder of Blue Star Connection and the Grand County Blues Society, Dies
John Catt (August 16, 1949 ~ May 15, 2017). With great sadness we learned on Monday, May 15, 2017 that our dear friend John Catt lost his battle with cancer.
We lost an amazing supporter of not only live music, specifically blues, but the founder of Blue Star Connection. John Catt is synonymous with Blue Star Connection, the Grand County Blues Society and the Blues from the Top Music Festival.
From Carla Jordan, owner of Ziggie's: Rest now John Catt. You've done more for the human race, and especially the beautiful children all over the country than most organizations ever accomplished during their entire existence. A huge heart and always for the children. You made the impossible happen. You fought the odds. You persevered. You kept doing what you do and never gave up. It's time to rest now buddy; it's time to rest. There will never be another John Catt in our lifetime – I'm pretty certain of that. There will be, however, an army of people keeping on in your memory, for the children. Your parachute can now be retired. We love you man.
From Charles "Chick" Cavallero on Fb: Yesterday I lost a great friend, an amazing man with a huge heart. Take care John, and hug Leo for me.
Teresa Lynne: John was the biggest fan of music and musicians, he channeled his love and his gifts for these to help so many children, God has a special place for John at the biggest concert of all time in Heaven, I'm positive they are having a great time!!!
From Jeff Jacobs on Fb, 5/15/17: It is with great sadness that I hear of the passing of John Catt. For those of you who knew him, you will understand that It 's difficult to express what a wonderful human this man was; without writing a book. He was an inspiration to many and a healer to the sick children he helped and adored. Rest in peace, sir, your life and legacy are complete.
From Mer Sal: I made friends with a visionary healer. John Catt, I felt your energy passing this evening. In that moment, I knew. Hundreds of your friends felt you leave us. The love and dedication you gave to all of your Blue Star kids. The whole idea of making up "Blue Star", and the whole philanthropical idea of it all. You must've seemed crazy at first 'til others could see. Hundreds of others. The way you showed those terminally ill kids a light at the end of a dark tunnel. In your devotion to those who could have felt forsaken, you were an embodiment of love. You'll forever be missed by your community of Blue Star folks. Thanks for welcoming me and Jasco into your Blue Star Connection world. John – you were always a hawk, but now you've joined the sky.
# # #
John Catt, Founder of Grand Co. Blues Society, Dies from Brain Tumor
John Catt, founder of the Grand County Blues Society, passed away Monday in his home in Homestead Hills, after 14 months battling an inoperable brain tumor.
In response to Catt's death, Winter Park Mayor Jimmy Lahrman and the town's council issued an official proclamation recognizing Catt's many contributions to Grand County and declaring "John Catt Day" to be June 24.
"He was pretty tenacious," exclaimed Art Ferrari, treasurer for the Grand County Blues Society and long-time friend of Catt. "… He always started from a vision in his head of what could be, and basically dragged the rest of us along to help fulfill that vision.
"We've all been grateful to have helped him fulfill some pretty significant things."
Catt, 68, was a major figure in the Grand County community for years. In 2002 he created the Grand County Blues Society, a volunteer organization that produces and presents blues shows and festivals. Under Catt's leadership the society presented over 150 shows and produced 12 festivals in Grand County, including the annual Blues From The Top festival in Winter Park.
Catt was also responsible for creating the Blue Star Connection in 2007, a nonprofit organization that provides access and ownership to musical instruments for children with life-threatening illnesses.
A decade later, Blue Star has donated hundreds of instruments to individuals, music therapy and hospital groups in over 20 states.
"Most of this happened because John went out there and made it happen," Ferrari said.
When he wasn't organizing a festival or leading nonprofits, Catt prided himself on being one of the best specialty dry-wallers in the county, according to Ferrari. In his spare time he enjoyed golf and playing his guitar, although rarely in public.
His legacy will live on in his four children: Eli, Halley, Ryan and China.
"I think John was a treasure for our community," Ferrari explained. "He was able to bring folks, resources together in our small community and serve it back in a way that people could be proud of and enjoy.
"His attitude was always about creating the best with whatever we were doing."
By Sawyer D'Argonne | [email protected]
John Catt, founder of Grand Co. Blues Society, dies from brain tumor
# # #
Other well-written obits for Mr. Catt: http://www.bluestarconnection.org
and http://www.coblues.org