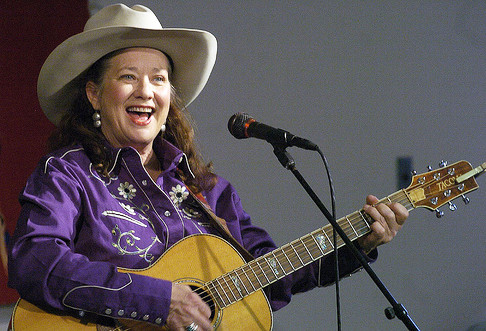 IN MEMORIAM: Liz Masterson – Songbird of the Sage // Other Notable Musicians' Deaths
From Mark Diamond on Fb, 12/30/17: re Liz Masterson – Dear Treasured Friends & Family Afar: Our family is deeply saddened to share the passing of our beloved sister, aunt and family member, the beautifully talented Liz Masterson.
Liz has been in hospice care in her home since early November with a wonderfully supportive stream of friends and family sharing their love and music with her. She passed away shortly after 6:00 p.m. this evening following her long battle with ovarian cancer with several dear friends (Ginger, Mag, Susan, Susie), her brother, Ed and sister-in-law, Jeannie nearby.
Two days ago Liz tried to muster the words and strength to send her Caring Bridge community the following update which she wasn't able to complete:
—
"This is the journal post I didn't want to write for a while. It's been hard getting my mind around the now inevitable conclusion that I am losing this battle. Watching my body decline everyday is an undeniable reality I have to face.
On December 11th while on my way to see my oncologist, I fell on the bottom step of my porch and it took Ginger and two of my neighbors to help me get up. Seeing Jerralyn was bittersweet, as it marked the closing of our four and a half year doctor/patient relationship. I was so relieved to have Ginger here to drive me to my appointment."
—
For those wishing to express their condolences with a thoughtful gift, in lieu of flowers, Liz has asked that you donate to your favorite animal charity, music scholarship or an ovarian cancer or BRCA research alliance or foundation. [See fund-raiser info below]
More details will be shared in the coming days around her memorial service.
Your continued love, support and music through her journey with cancer and her recent days in hospice are immeasurable, and we are forever grateful that she has such a kind and compassionate community.
With love and gratitude,
Liz's Family
https://www.caringbridge.org/visit/lizmasterson/journal
Care to donate to help the family with final expenses?
https://www.generosity.com/medical-fundraising/save-a-life-liz-masterson-songbird-of-the-sage
My name is Meghan Merker, and I sing and play old time cowboy music. I'm launching this fundraiser to give us all a chance to save the life of my beloved friend, Western singer Liz Masterson, the Songbird of the Sage. For the past three years Liz has been fighting ovarian cancer like the true blue cowgirl she is, undergoing round after round of various kinds of chemotherapy with various kinds of unpleasant side effects. Always positive, always smiling, always singing. Now the cancer has metastasized as tumors in her lungs, and the conventional medical doctors say that she's at the end of the trail, Stage 4. She is currently on her fifth and last "line of defense" type of chemo. This final chemo is not expected to be a cure for Liz's cancer; at best it will extend her life by a few months. After this, the doctors say there are no more treatment options.
To learn more about Liz and to hear the songbird warble, please visit her website at http://www.lizmasterson.com
and her CD Baby page at
http://www.cdbaby.com/cd/lizmasterson
… and of course there is some great footage of Liz in action on YouTube.
We love you, Liz!
* * * * *
Other Notable Musicians' Deaths… December 2017 & January 2018
January 2018
3: Colin Brumby, 84, Australian composer and conductor; Lara Kruger, 30, South African disc jockey (Motsweding FM) and transgender rights advocate; Medeniyet Shahberdiyeva, 87, Turkmen opera singer and music educator.
2: Tony Calder, 74, English music promoter and executive (The Beatles, The Rolling Stones); Rick Hall, 85, American record producer, songwriter and recording studio owner (FAME Studios), prostate cancer; Radha Viswanathan, 83, Indian vocalist, pneumonia.
1: Teddy Edelmann, 76, Danish singer; Vidwan Mahadevappa, 87, Indian violinist; Robert Mann, 97, American violinist and composer, founding member of the Juilliard String Quartet; Jon Paul Steuer, 33, American actor (Grace Under Fire, Little Giants, Star Trek: The Next Generation) and musician.
December 2017
31: Maurice Peress, 87, American conductor and music educator.
30: Hanery Amman, 65, Swiss musician; Chingiz Sadykhov, 88, Azerbaijani pianist.
28: Rose Marie, 94, American actress (The Dick Van Dyke Show, The Hollywood Squares, The Doris Day Show); Melton Mustafa, 70, American jazz musician and educator, prostate cancer.
27: Curly Seckler, 98, American bluegrass musician (Foggy Mountain Boys, Nashville Grass).
25: Robbie Malinga, 47, South African musician and producer; Vladimir Shainsky, 92, Ukrainian-born Russian composer (Cheburashka, Finest, the brave Falcon).
24: André Di Cesare, 70, Canadian music producer.
23: Jordan Feldstein, 40, American music manager (Maroon 5), heart attack; George Maida, 62, American radio disc jockey (WCVE), traffic collision; Kurt Schulzke (de), 67, German artist, musician, and author.
22: Pam the Funkstress, 51, American hip hop DJ (The Coup, Prince), complications following organ transplant surgery.
21: Dominic Frontiere, 86, American composer (The Outer Limits, Hang 'Em High, The Flying Nun); Halvard Kausland, 72, Norwegian jazz guitarist; Jatileswar Mukhopadhyay, 83, Indian singer; Roswell Rudd, 82, American jazz trombonist, cancer; Marilyn Tyler, 91, American opera singer.
20: Combat Jack, 53, American music journalist (The Source, Complex), historian and podcaster, colon cancer.