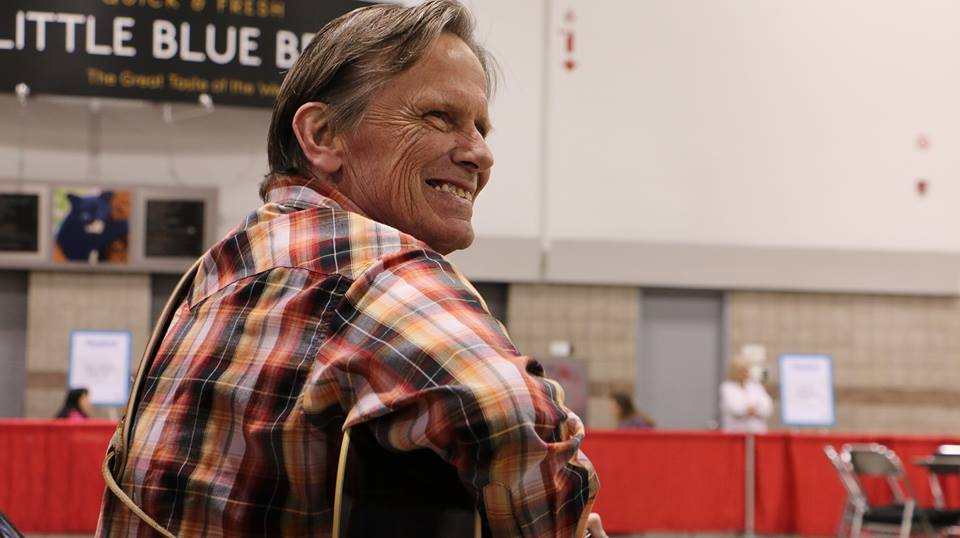 IN MEMORIAM: Local Musicians Fred Wolking and Jim Elsberry Pass // Blues 'n Soul Singer Cricket Colleen Best Passes // Other Notable Musicians' Deaths
Annette VQ: Our music brother Fred Wolking passed today. He was a talented musician. Always donated his time at the 9Health Fair at the Convention center for me. The last time he played, he commented that he would "be available to help others anytime I asked". He was so giving. He took this pic of me with the big blue bear. You will be missed Fred.
Mark Derryberry: My best friend, old studio manager, and Great guitarist Fred Wolking left us to jam with the universe this afternoon. I am devastated! I will miss you Uncle Fred!!
Mary Little > Fred Wolking on Fb, 8/08/17: Well there's something to be said for 'going out with your boots on' and Fred you never slowed down; music was in your bones!!! And you never stopped encouraging the musicians around you; young or old, greenies or seasoned players. No one can ever say that you left this planet with your music still in you, because your music is all over this planet- in the ears and hearts of those who love you. Butthead; I wish you'd said goodbye …
# # # # #
Tributes to Jim Elsberry
From Jeff Jenkins on Facebook, 8/08/17: I am heartbroken to report that my best friend, teacher, supporter, and inspiration Jim Elsberry passed away in his sleep last night. My world is upside down and inside out! I'll look for you in the sunrise, and sing to you in the stars!
Rex Matzke: I have known Jim for years. When I was in school at UNL I played in the horn section with John Mills backing up his vocal charts. RIP Jim!
* * * * *
Blues 'n Soul Singer Cricket Colleen Best Passes
Carvin Jones – Cricket Colleen Best, 8/04/17: One of the saddest days of my music career as the valley lost a beautiful soul yesterday Cricket Colleen Best she was a incredible blues n soul singer, Cricket would keep me company while on tour by messaging me " Carvin how's Spain,how's Poland, how's Brazil n what did you eat,are you staying warm? n I would message her " where did you sing this weekend,any exciting news from the valley… I will truly miss our messages while on tour RIP our songbird we love you and the woman you were
* * * * *
Other Notable Musicians' Deaths… August 2017
9: Marián Varga, 70, Slovak organist and composer.
8: Arleta, 72, Greek singer, songwriter and book illustrator, stroke: Glen Campbell, 81, American singer ("Rhinestone Cowboy", "By the Time I Get to Phoenix") and actor (True Grit), Grammy winner (1967, 2015), Alzheimer's disease; Barbara Cook, 89, American singer and actress (The Music Man, Sondheim on Sondheim, Candide), respiratory failure; Peteris Plakidis, 70, Latvian composer and pianist.
6: Walter Levin, 92, German-born American violinist (LaSalle Quartet); David Maslanka, 73, American composer, colon cancer.
5: Lee Blakeley, 45, British opera and theatre director.
4: Luiz Melodia, 66, Brazilian actor, singer and songwriter, bone marrow cancer; Jessy Serrata, 63, American Tejano musician, kidney cancer.
3: Dejan Miladinovic, 68, Serbian opera director.
2: Tony Cohen, 60, Australian record producer (Nick Cave and the Bad Seeds); Daniel Licht, 60, American soundtrack composer (Dexter, Thinner, Dishonored) and musician, sarcoma.
1: Ana-Maria Avram, 55, Romanian composer; Alfie Lorenzo, 78, Filipino talent manager, heart failure; Goldy McJohn, 72, Canadian keyboardist (Steppenwolf), heart attack; Skapti Ólafsson, 89, Icelandic rock and jazz musician; Raiman Rai, 38, Nepalese singer, suicide by hanging; Patrick Thomas, 85, Australian conductor.