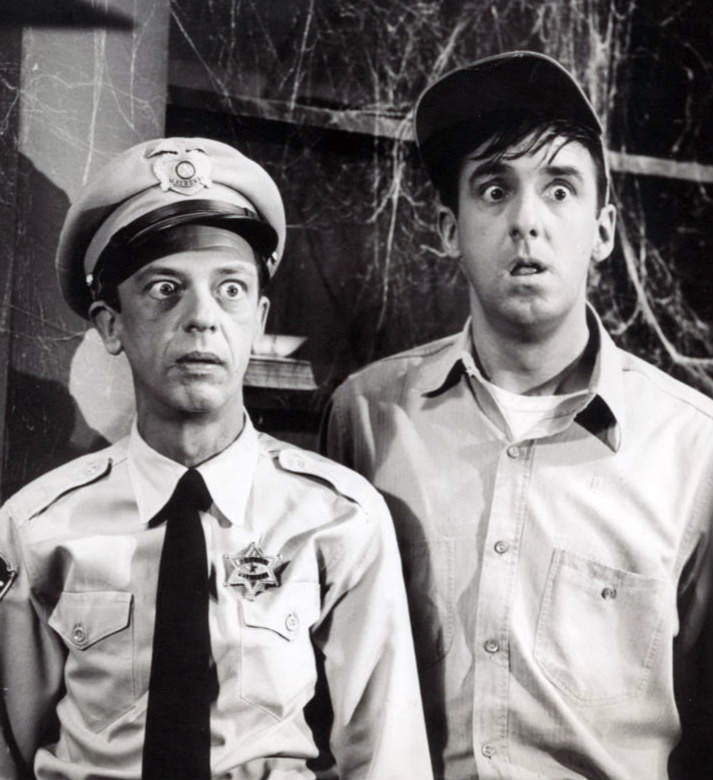 IN MEMORIAM: The Lovable Gomer Pyle – Jim Nabors Passes // Other Notable Musicians' Deaths
James Thurston Nabors (June 12, 1930 – November 30, 2017) was an American actor, singer, and comedian. Nabors was born and raised in Sylacauga, Alabama, but he moved to southern California because of his asthma. He was discovered by Andy Griffith while working at a Santa Monica nightclub, and he later joined The Andy Griffith Show as Gomer Pyle. The character proved popular, and Nabors was given his own spin-off show Gomer Pyle, U.S.M.C..
Nabors was known for his portrayal of Gomer Pyle, although he became a popular guest on variety shows which showcased his rich baritone voice in the 1960s and 1970s, including two specials of his own in 1969 and 1974. He subsequently recorded numerous albums and singles, most of them containing romantic ballads.
Nabors was also known for singing "Back Home Again in Indiana" prior to the start of the Indianapolis 500, held annually over the Memorial Day weekend. He sang the unofficial Indiana anthem almost every year from 1972 until his final time performing the song in 2014, except for occasional absences due to illness or scheduling conflicts.
Nabors was born on June 12, 1930, in Sylacauga, Alabama, to Mavis Pearl (Newman) and Fred Nabors, a police officer. He sang for his high school and church, and he had two sisters. He attended the University of Alabama, where he began acting in skits. While at Alabama, he became a member of Delta Tau Delta International Fraternity. After graduating, he moved to New York City, where he worked as a typist for the United Nations; after a year, he moved to Chattanooga, Tennessee, where he got his first job in the television industry as a film cutter.
Because of his asthma, Nabors moved to Los Angeles and worked as a film cutter for NBC. He also worked at a Santa Monica tavern, The Horn, singing and acting in cabaret theater. His act featured him as a character similar to the Gomer Pyle character he later portrayed. He sang in a baritone and sometimes spoke and sang in his higher-pitched comedic voice. At the club, comedian Bill Dana saw Nabors' act and invited him to appear on The Steve Allen Show. Nabors signed on to the show, but it was soon canceled.
It was at The Horn where Nabors was discovered by Andy Griffith and was hired to play a one-shot role of Gomer Pyle, an "addlebrained" gas station attendant, on The Andy Griffith Show (Season 3, episode 13 – "The Bank Job"). Nabors's character (based on his act at The Horn) became so popular that he was made a regular on the show and was later given his own show, the spin-off Gomer Pyle, U.S.M.C., in which his character joined the United States Marine Corps. The show, which placed Nabors' bungling, naive character opposite Sergeant Vince Carter (Frank Sutton), was also popular.
Despite its run during the Vietnam War, Gomer Pyle remained popular, because it avoided war-related themes and instead focused on the show's rural roots and the relationship between Pyle and Carter. Nabors resigned from Gomer Pyle, U.S.M.C. after five seasons—prompting producers Aaron Ruben and Sheldon Leonard to ask CBS to cancel it—because he desired to move to something else, "reach for another rung on the ladder, either up or down."
Nabors revealed his rich baritone voice first on the February 24, 1964, "The Song Festers" episode of The Andy Griffith Show and on April 8, 1964, on The Danny Kaye Show, and subsequently capitalized on it with numerous successful recordings and live performances. Most of the songs were romantic ballads, though he sang pop, gospel, and country songs as well.
The climactic vocal performance on Gomer Pyle, U.S.M.C. came in an episode titled "The Show Must Go On", aired November 3, 1967, in which Pyle sang "The Impossible Dream (The Quest)" in Washington, D.C., at a U.S. Navy relief show, accompanied by the Marine Corps Band. A clip from the show, in which Pyle says "Surprise, surprise, surprise!" appears in the Pink Floyd album The Wall in the song "Nobody Home". He hosted a variety show, The Jim Nabors Hour (1969–1971), which featured his Gomer Pyle co-stars Ronnie Schell and Frank Sutton. Despite a poor critical reception, the show was popular and earned an Emmy nomination. After the cancellation of The Jim Nabors Hour, Nabors embarked on a nationwide roadshow.
> > > > > > > > > >
Read Mr. Nabors' whole bio here:
https://en.wikipedia.org/wiki/Jim_Nabors
* * * * *
Other Notable Musicians' Deaths… November / December 2017
December 2017
6: Johnny Hallyday, 74, French rock singer ("Requiem pour un fou", "Marie", "Tous ensemble") and actor, lung cancer.
5: Ted Simons, 84, American composer, arranger and musical director.
4: Purabi Mukhopadhyay, 83, Indian singer; Carles Santos, 77, Spanish pianist and composer.
3: Kalachand Darbesh, 84, Indian singer; Cherry Taketani, 52, Brazilian singer and guitarist, cancer.
2: William Blankenship, 89, American operatic tenor; Norihiko Hashida, 72, Japanese folk singer-songwriter (The Folk Crusaders); Mundell Lowe, 95, American jazz guitarist and composer.
1: Maelé, 59, Equatorial Guinean singer.
November 2017
30: Jim Nabors, 87, American actor (Gomer Pyle, U.S.M.C., The Andy Griffith Show, The Best Little Whorehouse in Texas) and singer; Zé Pedro (pt), 61, Portuguese guitarist (Xutos & Pontapés).
29: Robert Walker, 80, American blues musician, cancer.
28: Magín Díaz, 94, Colombian folk singer and songwriter, Latin Grammy winner (2017); Shadia, 86, Egyptian actress and singer, stroke.