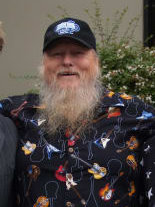 IN MEMORIAM: Notable Musicians' Deaths
February 2018
7: Mickey Jones, 76, American drummer (Kenny Rogers and The First Edition) and actor (Home Improvement, National Lampoon's Vacation).
Mickey Jones (June 10, 1941 – February 7, 2018) was an American musician and actor. His career as a drummer had him backing up such artists and bands as Trini Lopez, Johnny Rivers, Bob Dylan, and Kenny Rogers and The First Edition. Jones had 17 gold records from his musical career of over two decades.
After the break-up of The First Edition in 1976, Jones concentrated on his career as a character actor, where he made many appearances on film and television.
https://en.wikipedia.org/wiki/Mickey_Jones
6: Fedora Alemán, 105, Venezuelan singer; John Perry Barlow, 70, American writer, lyricist (Grateful Dead) and internet activist, co-founder of Electronic Frontier Foundation.
5: Zeno Roth, 61, German guitarist and songwriter (Uli Jon Roth); Jockie Soerjoprajogo, 63, Indonesian musician and songwriter.
4: Hoàng Vân, 88, Vietnamese songwriter; Leif Rygg, 77, Norwegian fiddler, cancer.
3: Leon "Ndugu" Chancler, 65, American jazz/pop drummer ("Billie Jean").
From Brian Conway on Fb, 2/03/18: My heart is heavy, today. I just heard a great man has passed. Leon Ndugu Chancler was one of the coolest, most caring men I've worked with. He devoted his life to the craft of drumming & educating young people. I was honored to have been a drum tech for him at Stanford Jazz Workshops. He's a legend & his legacy will live on through the lives he's touched. Rest In Peace..
Ndugu Chancler (n-DOO-goo CHANS-lur; July 1, 1952 – February 3, 2018) was a world-renowned American pop, funk and jazz drummer. He further developed his skills and shared his talent as a studio musician, composer, producer and university professor.
Born in Shreveport, Louisiana, Chancler began playing drums when he was thirteen years old. He would publicly reminisce about being asked to leave a classroom for continuously tapping on the desk, only to be later heard tapping on the poles in the hallway. He graduated from Locke High School. While in high school, he played with Willie Bobo and the Harold Johnson Sextet. He graduated from California State University, Dominguez Hills with a degree in music education. By then he had already performed with the Gerald Wilson Big Band, Herbie Hancock, and recorded with Miles Davis, Freddie Hubbard, and Bobby Hutcherson.
He recorded as a sideman in jazz, blues, and pop music, including on "Billie Jean" by Michael Jackson. In 1982, he received a Grammy nomination for Best Rhythm & Blues song, for co-writing "Let It Whip" made famous by the Dazz Band. He worked with George Benson, Stanley Clarke, The Crusaders, George Duke, Herbie Hancock, John Lee Hooker, Hubert Laws, Thelonious Monk, Jean-Luc Ponty, Lionel Richie, Kenny Rogers, Patrice Rushen, Santana, Frank Sinatra, Donna Summer, The Temptations, Tina Turner, and Weather Report.
In 2006, he became an Adjunct Assistant Professor of Jazz Studies at the University of Southern California and taught at the Stanford Jazz Workshop in California for three weeks every summer. He was a member of the Percussive Arts Society.
Chancler died of prostate cancer, at the age of 65.
https://en.wikipedia.org/wiki/Leon_"Ndugu"_Chancler
1: Dennis Edwards, 74, American Hall of Fame soul and R&B singer (The Contours, The Temptations), complications from meningitis; Mowzey Radio, 33, Ugandan singer (Goodlyfe Crew), head injury; Alan Stout, 85, American composer.
https://en.wikipedia.org/wiki/Dennis_Edwards
January 2018
31: Del Delker, 93, American gospel singer (Voice of Prophecy); Rita Deneve, 73, Belgian singer and actress; Leah LaBelle, 31, Canadian-born American singer (American Idol), traffic collision.
Leah LaBelle Vladowski (September 8, 1986 – January 31, 2018), known professionally as Leah LaBelle, was a Canadian-born American R&B singer, signed to Epic Records/So So Def Recordings. LaBelle was the twelfth place finalist on the third season of American Idol, as the wild card selection of Paula Abdul. She was recording her debut studio album. She also gained popularity and a large following by posting cover videos on YouTube, for several years.
https://en.wikipedia.org/wiki/Leah_LaBelle