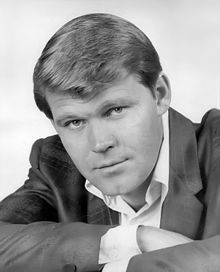 IN MEMORIAM: The One – The Only – Glen Campbell // Kennedy Center Honoree Barbara Cook
Forward Tribute from Chris Daniels (on Facebook, August 8, 2017) Days like today in the music world are always a reminder of how precious our time here is. My good buddy Jeff Dayton was Glen Campbell's bandleader for 14 or so years – I loved Glen's version of John Hartford's "Gentle On My Mind." One of the main reasons I got into music was because of David Daniels, my uncle and a star on Broadway. The musical that launched his career was with Barbara Cook who also died today. Most of you have probably never heard of her, nor David, and this music is probably not your cup of joe, but it's what we all listened to in our house as kids. David acted and sang with Bonnie Raitt's dad John and won awards for his time on stage and screen. But the musical "Plain and Fancy" was where he got his start with Barbara Cook. Enjoy ever moment you get. Big hugs CD
# # # # #
The One – The Only – Glen Campbell
Glen Travis Campbell (April 22, 1936 – August 8, 2017) was an American singer, songwriter, musician, television host, and actor. He is best known for a series of hits in the 1960s and 1970s, and for hosting a music and comedy variety show called The Glen Campbell Goodtime Hour on CBS television, from January 1969 through June 1972.[1]
During his 50 years in show business, Campbell released more than 70 albums. He sold 45 million records and accumulated 12 RIAA gold albums, four platinum albums, and one double-platinum album. He placed a total of 80 different songs on either the Billboard Country Chart, Billboard Hot 100, or Adult Contemporary Chart, of which 29 made the top 10 and of which nine reached number one on at least one of those charts. Campbell's hits include his recordings of John Hartford's "Gentle on My Mind"; Jimmy Webb's "By the Time I Get to Phoenix", "Wichita Lineman", and "Galveston"; Larry Weiss's "Rhinestone Cowboy"; and Allen Toussaint's "Southern Nights".
Campbell made history in 1967 by winning four Grammys in the country and pop categories. For "Gentle on My Mind", he received two awards in country and western; "By the Time I Get to Phoenix" did the same in pop. Three of his early hits later won Grammy Hall of Fame Awards (2000, 2004, 2008), while Campbell himself won the Grammy Lifetime Achievement Award in 2012. He owned trophies for Male Vocalist of the Year from both the Country Music Association (CMA) and the Academy of Country Music (ACM), and took the CMA's top award as 1968 Entertainer of the Year. Campbell appeared as a supporting role in the film True Grit (1969), which earned him a Golden Globe nomination for Most Promising Newcomer. Campbell also sang the title song, which was nominated for an Academy Award.
https://en.wikipedia.org/wiki/Glen_Campbell
[Editor's note: There is so much written about Glen Campbell so we're only presenting a very short bio here. We loved ye, Glen.]
* * * * *
Kennedy Center Honoree Barbara Cook
Barbara Cook (October 25, 1927 – August 8, 2017) was an American singer and actress who first came to prominence in the 1950s as the lead in the original Broadway musicals Plain and Fancy (1955), Candide (1956) and The Music Man (1957) among others, winning a Tony Award for the latter. She continued performing mostly in theatre until the mid-1970s, when she began a second career as a cabaret and concert singer. She also made numerous recordings.
During her years as Broadway's leading ingénue Cook was lauded for her excellent lyric soprano voice. She was particularly admired for her vocal agility, wide range, warm sound, and emotive interpretations. As she aged her voice took on a darker quality, even in her head voice, that was less prominent in her youth.[1] At the time of her death, Cook was widely recognized as one of the "premier interpreters" of musical theatre songs and standards, in particular the songs of composer Stephen Sondheim. Her subtle and sensitive interpretations of American popular song continued to earn high praise even into her eighties.[2] She was named an honoree at the 2011 Kennedy Center Honors.
https://en.wikipedia.org/wiki/Barbara_Cook