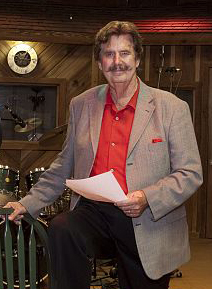 IN MEMORIAM: Rick Hall – Record Producer, Songwriter – Muscle Shoals Music // Robert Mann – Founding Member of the Julliard String Quartet
Roe Erister "Rick" Hall (January 31, 1932 – January 2, 2018) was an American record producer, songwriter, music publisher, and musician best known as the owner and proprietor of FAME Studios in Muscle Shoals, Alabama. As the "Father of Muscle Shoals Music", he was influential in recording and promoting both country and soul music, and in helping develop the careers of such musicians as Aretha Franklin, Otis Redding, Duane Allman and Etta James.
Hall was inducted into the Alabama Music Hall of Fame in 1985 and also received the John Herbert Orr Pioneer Award. In 2014, he won the Grammy Trustees Award in recognition of his lengthy career. Hall remained active in the music industry with FAME Studios, FAME Records, and FAME Publishing.
Hall was born into a family of sharecroppers in Forest Grove, Tishomingo County, Mississippi to Herman Hall, a sawmill worker and sharecropper and his wife, Dolly. After his mother left home when young Hall was aged 4, he, along with his siblings was raised in rural poverty by his father and grandparents in Franklin County, Alabama. He moved to Rockford, Illinois, as a teenager, working as an apprentice toolmaker, and began playing in local bar bands. When he was drafted for the Korean War, he declared himself a conscientious objector, joined the honor guard of the Fourth United States Army, and played in a band which also included Faron Young and the fiddler Gordon Terry.
When Hall returned to Alabama he resumed factory life, working for Reynolds Aluminum in Florence. When both his new bride and his father died within a two-week period, he lost interest in regular work and began moving around the area playing guitar, mandolin, and fiddle with a local group, Carmol Taylor and the Country Pals. The group appeared on a weekly regional radio show at WERH in Hamilton. Subsequently, Hall formed a new R&B group, the Fairlanes, with the saxophonist Billy Sherrill fronted by the singer Dan Penn, with Hall playing bass. He also began writing songs at that time.
Hall left the Fairlanes to concentrate on becoming a songwriter and record producer. He had his first songwriting successes in the late 1950s, when George Jones recorded his song "Achin', Breakin' Heart", Brenda Lee recorded "She'll Never Know", and Roy Orbison recorded "Sweet and Innocent".
Success With FAME Studios
In 1959, Hall and Sherrill accepted an offer from Tom Stafford, the owner of a recording studio, to help set up a new music publishing company in the town of Florence, to be known as Florence Alabama Music Enterprises, or FAME. However, in 1960, Sherrill and Stafford dissolved the partnership, leaving Hall with rights to the studio name. Hall then set up FAME Studios in Muscle Shoals, Alabama, where one of his first recordings was Arthur Alexander's "You Better Move On". The commercial success of the record gave Hall the financial resources to establish a new, larger FAME recording studio.
Though Hall grew up in a culture dominated by country music, he had a love of R&B music and, in the highly segregated state of Alabama, regularly flaunted local policies and recorded many black musicians. Hall wrote: "Black music helped broaden my musical horizons and open my eyes and ears to the widespread appeal of the so-called 'race' music that later became known as 'rhythm and blues". Hall's successes continued after the Atlanta-based agent Bill Lowery brought him acts to record, and the studio produced hits for Tommy Roe, Joe Tex, the Tams, and Jimmy Hughes. However, in 1964, Hall's regular session group — David Briggs, Norbert Putnam, Jerry Carrigan, Earl "Peanut" Montgomery, and Donnie Fritts — became frustrated at being paid minimum union-scale wages by Hall, and left Muscle Shoals to set up a studio of their own in Nashville. Hall then pulled together a new studio band, including Spooner Oldham, Jimmy Johnson, David Hood, and Roger Hawkins, and continued to produce hit records.
In 1966, he helped license Percy Sledge's "When a Man Loves a Woman", produced by Quin Ivy, to Atlantic Records, which then led to a regular arrangement under which Atlantic would send musicians to Hall's Muscle Shoals studio to record. The studio produced further hit records for Wilson Pickett, James & Bobby Purify, Aretha Franklin, Clarence Carter, Otis Redding, and Arthur Conley, enhancing Hall's reputation as a white Southern producer who could produce and engineer hits for black Southern soul singers. He produced many sessions using guitarist Duane Allman. He also produced recordings for other artists, including Etta James, whom he persuaded to record Clarence Carter's song "Tell Mama". However, his fiery temperament led to the end of the relationship with Atlantic after he got into a fist-fight with Aretha Franklin's husband, Ted White, in late 1967.
In 1969, FAME Records, with artists including Candi Staton, Clarence Carter and Arthur Conley, established a distribution deal with Capitol Records. Hall then turned his attention away from soul music towards mainstream pop, producing hits for the Osmonds, Paul Anka, Tom Jones, Marie Osmond and Donny Osmond. Also in 1969, another FAME Studio house band, Muscle Shoals Rhythm Section, affectionately called The Swampers, consisting of Barry Beckett (keyboards), Roger Hawkins (drums), Jimmy Johnson (guitar), and David Hood (bass), left the FAME studio to found the competing Muscle Shoals Sound Studio at 3614 Jackson Highway in Sheffield, with start-up funding from Jerry Wexler. Subsequently, Hall hired the Fame Gang as the new studio band.
Read the rest of Mr. Hall's bio here:
https://en.wikipedia.org/wiki/Rick_Hall
Hall's life and career are profiled in the 2013 documentary film Muscle Shoals. During an interview before the release of the movie, Hall told a journalist that in 2009, he had donated his home to a charity for abused and neglected children. The hits he had recorded over the years, and the sale of two of his six publishing catalogs had made him wealthy. In spite of that, at the age of 81, he was still trying to make recording deals.
Photo: Rick Hall at FAME Recording Studios )By Carol M. Highsmith – The George F. Landegger Collection of Alabama Photographs in Carol M. Highsmith's America, Library of Congress, Prints and Photographs Division http://www.loc.gov/pictures/item/2010641239/ & File:Rick Hall at FAME Recording Studios.jpg, Public Domain, https://commons.wikimedia.org/w/index.php?curid=32395586
* * * * *
Robert Mann – Founding Member of the Julliard String Quartet
Robert Nathaniel Mann (July 19, 1920 – January 1, 2018) was a violinist, composer, conductor, and founding member of the Juilliard String Quartet,[1] as well as a faculty member at the Manhattan School of Music.[2] Mann, the first violinist at Juilliard, served on the school's string quartet for over fifty years until his retirement in 1997.[3]
Mann played and performed on many instruments, including those made by Antonio Stradivari and John Young. Mann was the subject of a 2014 documentary, titled Speak the Music.[3]
Mann was born and raised in Portland, Oregon. His father worked as a tailor and a grocer.[4] Mann began his study of the violin at age nine; at 13, he was accepted into the class of Edouard Hurlimann, concertmaster of the Portland Symphony. He attended the Portland Youth Philharmonic, but had planned to become a forest ranger in his youth.[3]
In 1938, at the age of eighteen, he moved to New York City to enroll in the Juilliard School, where he studied violin with Edouard Dethier, composition with Bernard Wagenaar and Stefan Wolpe, and conducting with Edgar Schenkman. Mann won the prestigious Naumburg Competition in 1941 and made his New York debut two days after the attack on Pearl Harbor. Shortly after his graduation from Juilliard, he was drafted into the US Army.
Career at Julliard
At the invitation of Juilliard's president, William Schuman, Mann founded the Juilliard String Quartet in 1946 and served as the ensemble's first violinist until his retirement from the quartet in 1997.[3] The quartet, which celebrated its golden jubilee during the 1996–97 season, had played approximately 5,000 concerts and performed more than 600 works, including some 100 premieres. Its discography includes recordings of more than 100 compositions. They have received three Grammy awards for their recordings.
Mann composed more than 30 works for narrator with various instruments that he performed with his wife, the actress Lucy Rowan; several have been recorded on the Musical Heritage label. He also composed an Orchestral Fantasy performed by Dimitri Mitropoulos with the New York Philharmonic, the Vienna Philharmonic, and at the Salzburg Festival; a Duo for Violin and Piano premiered at Carnegie Hall by Itzhak Perlman and Samuel Sanders; and a string quartet included in the repertoires of both the La Salle and the Concord string quartets. Other works include a Duo for Cello and Piano written for Joel Krosnick and Gilbert Kalish, a Concerto for Orchestra, and "Lament" for two solo violas and orchestra.
Robert Mann's solo discography includes Béla Bartók's Solo Violin Sonata, the Sonata No. 1 for violin and piano, and Contrasts; Beethoven's complete violin sonatas (with pianist Stephen Hough); many of Mozart's violin sonatas, with pianist Yefim Bronfman; and Elliott Carter's Duo for Violin and Piano, with Christopher Oldfather.
Mann conducted throughout his professional career; he led the Boston Symphony Orchestra in a Peter Bartók recording of Béla Bartók's Piano Concerto No. 1. He made his public debut as a conductor with the Seattle Symphony during the 1988-89 season, and conducted the Jupiter Symphony, a musical group, the following season in New York City.
Read the rest of Mr. Mann bio here:
https://en.wikipedia.org/wiki/Robert_Mann