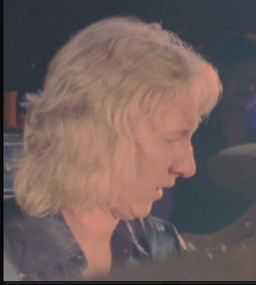 IN MEMORIAM: Rock Drummer Pentti "Whitey" Glan of Alice Cooper Dies // Other Notable Musicians' Deaths
Pentti "Whitey" Glan (July 8, 1946 – November 7, 2017) was a Finnish rock drummer, best known for his work with Alice Cooper and Lou Reed.
Glan's first serious band was the Canadian soul band The Rogues (later called Mandala) which he formed with keyboardist Josef Chirowski and bassist Don Elliot; they had worked together in other bands like Whitey & The Roulettes. Mandala had their first hit single with "Opportunity" with original singer George Oliver, recorded at Chess Records.
In 1966 Glan played several shows with Mandala in Ontario and recorded the first two demo songs of his career ("I Can't Hold Out No Longer" and "I'll Make It Up To You"). Roy Kenner had replaced George Oliver. When they played their first shows in the USA they performed at the Whiskey A Go Go. They recorded their only album Soul Crusade in 1968 which produced a hit single ("Loveitis") but they disbanded in 1969 after several line-up changes and poor album sales.
He formed another group called Bush in 1971 with Mandala bandmates Domenic Troiano, Roy Kenner and Prakash John. They released a self-titled album and toured with Steppenwolf, after which they disbanded.
Glan became a session drummer, playing on the first and second solo albums of Steppenwolf's John Kay. In 1974, Glan began touring with Lou Reed, playing on two live albums and one studio album. In 1975 Glan joined Alice Cooper for the recording of his first solo album Welcome To My Nightmare and subsequent tour, and later appeared on the live album The Alice Cooper Show. Glan toured with Alice Cooper from 1975 to 1979 during the Madhouse Tour, supporting Cooper's From the Inside album. He also appeared in the movie The Rose as the drummer of The Rose Band.
He died on November 7, 2017 at the age of 71. He had been diagnosed with lung cancer in August. Kenny Webber, the administrator of his Facebook page wrote that cancer was discovered as he was being treated for pneumonia although it was believed to be "one of the more treatable types."
https://en.wikipedia.org/wiki/Pentti_Glan
* * * * *
Other Notable Musicians' Deaths… November 2017
7: Paul Buckmaster, 71, English arranger and composer, Grammy winner (2002); Robert De Cormier, 95, American composer and conductor (The Belafonte Folk Singers); Pentti Glan, 71, Finnish-Canadian drummer (Alice Cooper, Lou Reed, Mandala); Karel Štedrý, 80, Czech singer, actor (If a Thousand Clarinets), screenwriter and presenter.
5: Robert Knight, 72, American R&B singer ("Everlasting Love", "Love on a Mountain Top"); Louis Roney, 96, American opera singer.
4: Isabel Granada, 41, Filipino actress and singer, aneurysm; Dudley Simpson, 95, Australian composer (Doctor Who, Blake's 7) and conductor (Royal Opera House).
3: Gaetano Bardini, 91, Italian opera singer, heart disease; Václav Riedlbauch, 70, Czech composer, pedagogue, manager and politician, Minister of Culture (2009–2010).
2: María Martha Serra Lima, 72, Argentine ballad and bolero singer.
1: Katie Lee, 98, American folk singer and environmentalist; Roland Verlooven, 79, Belgian music producer.