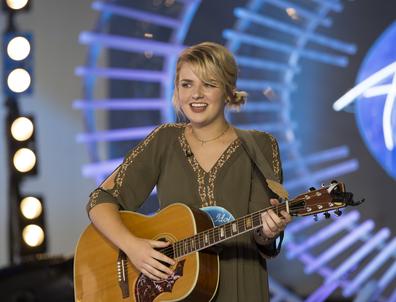 NEWS: Carrie on: The 'American Idol' Top 5 Take on Underwood's Legacy
With The Voice now recruiting two of the most successful American Idol alumni, Kelly Clarkson and Jennifer Hudson, to be coaches next season, Idol made a bid to reclaim (read: cling to) its superstar legacy this Sunday by inviting Grammy-winning, 65 million-selling winner Carrie Underwood to mentor the top five. The contestants even sang songs from the Carrie catalog. "We're proud to have the most successful Idol in the show's history back tonight," host Ryan Seacrest bragged.
But there is only one Carrie Underwood. (No, not even her supposed mini-me, Gabby Barrett, can compare.) This sad fact was evidenced by four of the five contestants' lackluster Carrie covers; really, the night's best Carrie song was when the Season 4 champ herself returned to the Idol stage in glitter-painted clown tears to belt her new single "Cry Pretty."
However, it's been obvious since Gabby's audition (with a Carrie song) that the show's powers-that-be want her to win. And watching Gabby tell Carrie, "I started singing country music because of you"; Carrie respond with, "I see a lot of myself in you, but I was not as good as you are at your age"; and judge Luke Bryan describe Gabby as "Carrie Underwood reincarnated"… well, none of that was subtle.
And the Idol brass may get their wish: At the end of the evening, after 20 million real-time votes were tallied, Gabby indeed made the top three (yes, three, not the usual two) heading into next week's finale, along with Caleb Lee Hutchinson and, in a bit of a pleasant surprise, Maddie Poppe. (Will Gabby and Caleb ironically split the country vote, opening the door to a Maddie victory? Well, that didn't happen in Season 10 with Scott McCreery, Lauren Alaina, and rocker Haley Reinhart, but that's my hope for next week.)
In addition to performing Carrie covers Sunday, the top five also made Mother's Day dedications — complete with mom-bonding moments so touching, they inspired some non-pretty-crying. And the contestants all fared much better. With these second songs, even eliminated singers Cade Foehner and Michael J. Woodward did their mamas proud.
By Lyndsey Parker | Yahoo Music
Original article contains videos of all the performances:
https://www.yahoo.com/entertainment/carrie-american-idol-top-5-take-underwoods-legacy-024247474.html
American Idol 2018 Top 10 …Top 3 in bold…
Caleb Lee Hutchinson
Gabby Barrett
Maddie Poppe
Ada Vox*
Cade Foehner*
Catie Turner*
Dennis Lorenzo*
Jurnee* [From Littleton, CO – will be on American Idol's tour this summer!]
Michael J. Woodard*
Michelle Sussett*
http://abc.go.com/shows/american-idol/