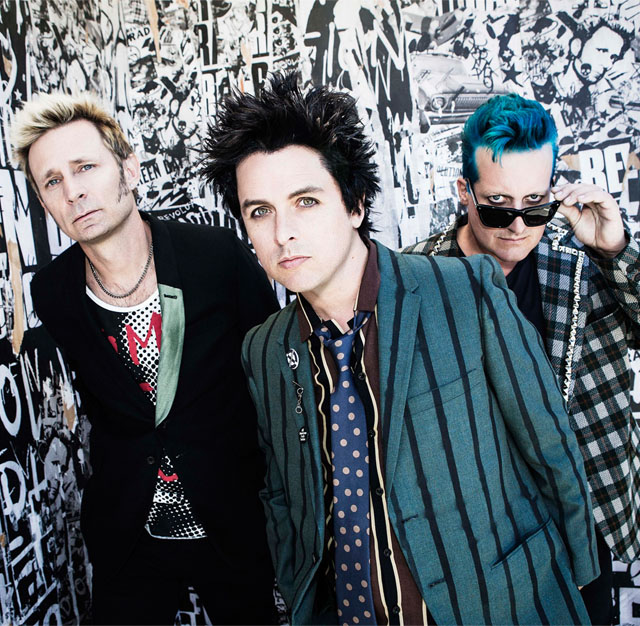 NEWS: Green Day's Billie Joe Armstrong Defends Performing at Festival After Acrobat's Death // Rising Country Star and Band Involved in Fatal Bus Accident
Green Day is speaking out after they began a headlining performance just after an acrobat fell to his death at Madrid's Mad Cool Festival on Friday.
An acrobat named Pedro Aunión plunged 100 feet to his death while performing in between sets at the sold-out festival.
In a statement obtained by ABC News, the band's lead singer Billie Joe Armstrong offered condolences to Aunión's family.
"We are so sad for Pedro and his family and we pray for them in this time of grief," the statement read. "I can't imagine how much suffering the friends and family are going through."
Armstrong, 45, then addressed those who were "wondering why we continued to play our show after the accident."
"Green Day did not hear about the accident until after our show was over," the statement said. "We didn't even know there was an acrobat performance at all. These festivals are huge. There are so many things happening at the same time it's impossible to keep up with every performer/artist."
The statement explained that the band was backstage "about a half mile away from the main festival stage" when the fatal accident occurred.
"15 minutes prior, our tour management was told by local authorities to wait to go on stage because there was some sort of security issue," the statement continued. "Security issues are a normal occurrence and procedure at any show. We were NOT told why, which is also normal. We waited as we were instructed. Still, we had no clue there was any such accident."
Armstrong noted that once the band hit the stage and performed for more than two hours, all seemed "normal," adding, "the crowd and fans had a good time."
Once the band returned backstage, they were "told the shocking news about Pedro," the statement said. "All of us were in disbelief."
"If we had known prior to our performance we most likely would not have played at all. We are not heartless people. The safety and well being at any of our concerts absolutely comes first," the statement continued.
The statement concluded by remembering Pedro.
"What happened to Pedro is unthinkable," it read. "Once again we are heartbroken for his friends and family. and we are also shocked and heartbroken for anyone that had to witness this tragedy."
In a statement on Saturday obtained by ABC News, Mad Cool Festival's promoters Javier Arnaiz and Farruco Castromán said: "Mad Cool Festival regrets the terrible accident that the aerial dancer suffered during the second day of the festival."
"For security reasons, the festival decided to continue with its programming," the statement continued. "We send our most sincere condolences to all his family."
The statement also noted that during Saturday's performances at the festival, "we will render a heartfelt tribute to the artist."
The festival also issued a second statement on its website Saturday noting that the decision to continue the show was made by "state and local security forces as well as our security management."
"In this situation it was officially deemed unsafe to have a large mass of people moving all at once, with the possibility of violent reactions, due to a sudden cancellation of an event of 45,000 people," the statement continued. "The safety and security of the fans at the festival was of the highest order and it was not compromised."
By Joi-Marie McKenzie | Good Morning America
https://www.yahoo.com/gma/green-days-billie-joe-armstrong-defends-performing-festival-204304323.html
[Article includes video.]
[Editor's note: I have to agree with the decision to go on with the show. Can you imagine the chaos and the anger of patrons if the show had been discontinued and concert goers were told to 'go home'? There definitely would have been fights and a rush to the doors, even the potential of trampling, and damage to the building and seating from disappointed fans of the band.]
* * * * *
Rising Country Star and Band Involved in Fatal Bus Accident
A rising Texas country singer and his band were involved in an accident over the long 4th of July weekend in which a man lost his life.
According to a GoFundMe page, on July 3 singer Cameran Nelson and his band were traveling to a scheduled show in Del Rio, Texas for an Independence Day celebration when their tour bus was hit by another car. The tour bus driver swerved to attempt to avoid the collision and wound up running off the road into a ditch, which caused the trailer full of equipment they were pulling to break away from the bus. An occupant of the other vehicle was killed, and Nelson and his band lost their trailer and their equipment.
The shaken singer turned to Facebook to give fans the grim news, writing, "Today was one of the scariest days of my life. I'm very thankful that everyone in my camp is safe. As many miles as we travel, this is a nightmare that you never want to come true or witness. We are all shaken up, but again very thankful to be ok. I just want to go home, hug my family, and try to calm down. Everyone's thoughts and prayers should be with the man that passed away."
He also shared a series of pictures depicting the damage to the bus, as well as the wreckage of the trailer. Another picture shows wreckage strewn all over the road as well as the other car involved in the accident, the driver's side of which appears to be totaled.
A friend of the band started the GoFundMe page to try to raise $10,000 for the band to replace the lost equipment and trailer. The campaign has so far raised $4,500 of its $10,000 goal.
Country singers had a particularly tough 4th of July weekend. Toby Keith's daughter, singer Krystal Keith, and her family were struck by a drunk driver on July 4 in an accident that she says "almost took the lives of my entire family." Fortunately, everyone is going to be okay, but Keith is asking for prayers.
By Sterling Whitaker
http://tasteofcountry.com/cameran-nelson-band-fatal-bus-accident/
https://www.yahoo.com/style/m/ad3da711-bbac-3df7-af86-4359bfdc66d1/ss_rising-country-star-and-band.html
Cameran Nelson Band Lost Gear Fund
On Monday, July 3, 2017, Cameran Nelson and his band were traveling to Del Rio, Texas to perform for an Independence Day celebration. While traveling, things took a turn for the worse. The tour bus that we were traveling in was struck by another car. While attempting to avoid the collision, the tour bus swerved into the ditch causing the trailer to break away from the bus. The trailer and the band's equipment was destroyed.
I have had the pleasure of working with Cameran and his band, and have personally seen how hard they work for everything they have. This group plays almost every weekend and puts 100 percent into every show.
I am starting this GoFund Me Campaign to help Cameran and his band get back on their feet and back on the road by replacing the damaged equipment and trailer. Please donate anything you can or share their story to help these guys out. Thank you for taking the time to read and share this campaign.
Billy Sellers
https://www.gofundme.com/8bet76-cameran-nelson-band-lost-gear-fund