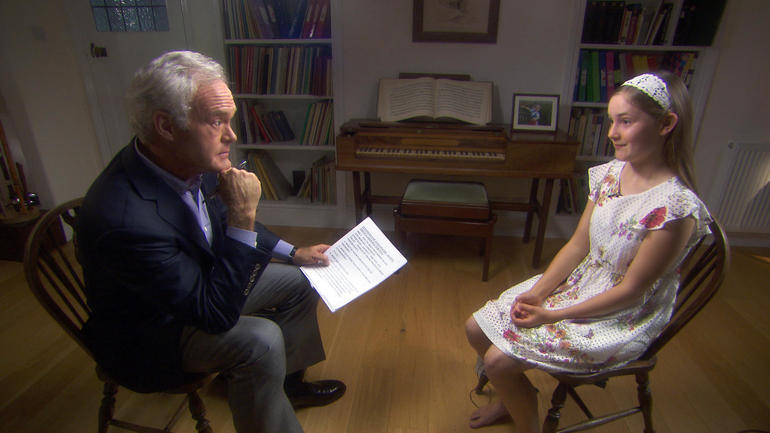 REPORTS: The 12-year-old Prodigy Whose "First Language" is Mozart
Alma Deutscher was playing piano and violin by the time she was 3 years old and wrote her first opera at 10. For her, making music seems as natural as breathing
We cannot explain what you are about to hear. Science doesn't know enough about the brain to make sense of Alma. Alma Deutscher is an accomplished British composer in the classical style. She is a virtuoso on the piano and the violin. And she is 12 years old. She's different from other prodigies we have known, because at the age of ten she wrote an opera, which demands comprehensive mastery; not just how to play the piano, but, what is the range of the oboe? What can a cellist play? We don't know how she understands it all. It seems that Alma was born that way.
Scott Pelley: What is your earliest musical memory?
Alma Deutscher: I remember that when I was three, and I listened to this really beautiful lullaby by Richard Strauss, and that was when I really first realized how much I loved music. And I asked my parents, "But how can music be so beautiful?"
Those notes of Richard Strauss ignited a universe. At three, Alma was playing piano and violin.
Scott Pelley: When did the composing begin?
Alma Deutscher: When I was four, I just had these melodies and ideas in my head, and I would play them down at the piano. And sometimes my parents would think that I was just remembering music that I'd already heard before. But I said, "No, no, these are my melodies, that I composed."
"For me, it's strange to walk around and not to have melodies popping into my head."
This past summer, in Austria, we watched Alma prepare her violin concerto and the premiere of her piano concerto.
That night, the soloist was the composer herself. Remember, she wrote all the notes for all the instruments.
We could see, Alma was living a story.
A story of loss.
A story of redemption.
Scales of emotion beyond a child.
And yet her vision was almost like wisdom.
> > > > > > > > > >
Robert Gjerdingen is a professor of music at Northwestern in Chicago. He has been a consultant to Alma's education.
Robert Gjerdingen: It's kind of a comet that goes by and everybody looks up and just goes, "Wow." I sent her some assignments when she was six, seven, where I expected her to crash and burn, because they were very difficult. It came back, it was like listening to a mid-18th century composer. She was a native speaker.
Scott Pelley: A native speaker?
Robert Gjerdingen: It's her first language she speaks the Mozart-style. She speaks the style of Mendelssohn.
Scott Pelley: And the names that you just mentioned are the ones that live for centuries.
Robert Gjerdingen: Yes. She's batting in the big leagues. And if you win the pennant, there's immortality.
The route to immortality leads through California. In December, the Opera San Jose Orchestra will stage Cinderella in Alma's American debut. She'll be the belle of the ball, on the piano, organ and violin.
> > > > > > > > > >
We cannot know how Alma Deutscher channels her music like a portal in time. But in a world, too often ugly, and too often overburdened with explanation, it's nice to take a moment and wonder.
Produced by Robert G. Anderson and Aaron Weisz
© 2017 CBS Interactive Inc. All Rights Reserved.
By CBS News Correspondent Scott Pelley
Read the whole interview here which also contains video:
https://www.cbsnews.com/news/the-12-year-old-prodigy-whose-first-language-is-mozart/