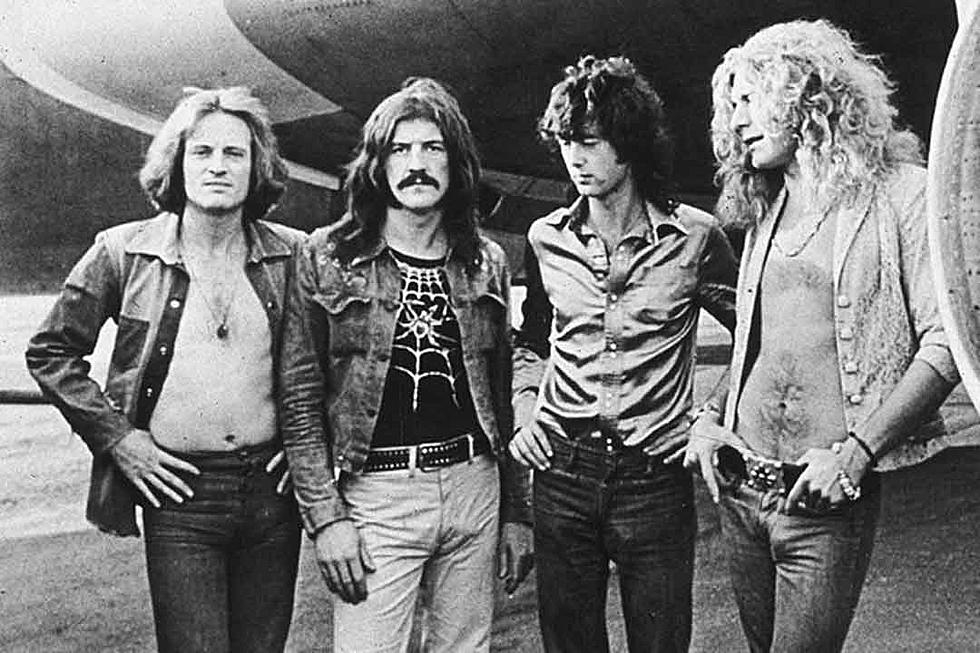 REPORTS: The Songs Remain Acclaimed: Led Zeppelin, 50 years On
By Lyndsey Parker, Yahoo Music | Fifty years ago, on Jan. 12, 1969, one the greatest rock bands and bestselling recording artists of all time, Led Zeppelin, released their self-titled debut album. In the epic decade that followed, they released seven more landmark studio LPs (all of which made the top 10 in the U.S. and hit No. 1 in the U.K.), but they disbanded after the tragic 1980 death of their drummer, John Bonham.
Surviving members Robert Plant, Jimmy Page (who also turned 75 this week, on Jan. 9) and John Paul Jones went on to focus on other projects. And their recent artistic efforts — among them Plant's Album of the Year Grammy-winner with Alison Krauss, Raising Sand; Page's electric guitar documentary with Jack White and the Edge, It Might Get Loud; and Jones's supergroup with Dave Grohl and Josh Homme, Them Crooked Vultures — have certainly been impressive in their own right. But as evidenced by the rapturously received one-off Zep reunion that took place at 2007's Ahmet Ertegun Tribute Concert in London (with Bonham's son, Jason, playing drums), nothing can quite compare to the chemistry these stellar musicians shared back in the day.
"Making my own records, working with other singers — and I've worked with some damn fine singers, you know — but I really missed Robert along the way," Page told Yahoo Entertainment in 1998, when he and Plant were promoting their lone studio album together, Walking Into Clarksdale. "There was never the communication between myself and another vocalist that we had together, you know? It was very intuitive. I threw an idea at Robert, and he'd know what it was straight away — and vice versa."
"The essential thing about having a musical relationship with people is to allow yourself to be vulnerable, so that people know exactly who you are — so when you're trying really hard, they know you're trying really hard, and then you get a response. This is the way I work," Plant added, as he described his bond with Page. "And I found that working with other musicians, younger guys, although it was exciting because there was such hunger and determination, there was no history to their knowledge of music."
The sessions for Led Zeppelin took place at London's Olympic Studios in September and October 1968, less than two months after the band had formed — before they even had a record deal, which meant no label interference — and totaled only 36 hours. Speaking to Yahoo Entertainment around the time of the 2007 reunion, Jones recalled that the connection between the players, when they first got together, was almost immediate.
"Jimmy Page had gotten out of sessions a year earlier, before me, and had joined the Yardbirds," Jones said. "And I read he was forming a band, in one of the local papers. And I called him up and I said, 'Do you want a bass player?' And he said, 'Yeah, I'm gonna see a singer and a guitarist, and I'll tell you what they're like when I get back.' He came back raving. He said, 'Oh, this guy [Robert Plant] looks amazing! The drummer [John Bonham] is fantastic — except, can we pay him more than 40 quid a week?' We worked it out; we put [Bonham] on wages. So then, yes: There was Led Zeppelin."
While Led Zeppelin stands as one of the finest debuts in rock history, and was a jaw-dropping introduction to the band, Zep are perhaps best remembered as a live act: Even in 2007, after a lengthy hiatus, they still wowed on London's O2 Arena stage. "The recordings were a statement of where we were at that time of recording, and then that was the blueprint, really, for the stage shows," Jones explained.
"It was almost embryonic, if you like, on the albums, because once it went into the set, it would change it would mutate," Page told Yahoo in 2007, further discussing the band members' musical chemistry. "And because we were a band that was improvising of the moment, it was cutting-edge. We were probably one of the few bands doing that, probably the only band. The only one who could do it properly, anyway!"
"That's what made it a joy to play with this band and made it really interesting. I don't think anybody could actually play anything the same way twice. Even the songs that didn't have any improvisation were always texturally different," said Jones.
Added Page, "I mean, you can see there's all these little filigrees and different changes of character and color in it that would be of that particular night."
However, that need to continually switch things up is likely why Zeppelin will never reunite again — not even to acknowledge their 50th anniversary…
Read the whole article with photos and videos here:
https://www.yahoo.com/entertainment/songs-remain-acclaimed-led-zeppelin-50-years-215538576.html
Additional reporting by Dave DiMartino.