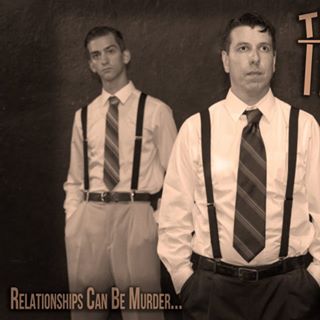 SONGWRITERS' CORNER: Equinox Theatre Presents The Regional Premiere Of: Thrill Me: The Leopold & Loeb Story
REMINDER: THERE ARE ONLY FIVE (5) DAYS LEFT TO ENTER COMBO'S 5th ANNUAL SONGWRITING CONTEST WHICH ENDS AUGUST 1st. Remember, too, that ALL contestants names will be thrown into "The Hat" for a drawing to attend the Durango Songwriters Expo October 5th thru 7th at the Marriott Hotel in Westminster, Colorado!
* * * * *
Equinox Theatre Presents The Regional Premiere of: Thrill Me: The Leopold & Loeb Story
Denver, CO: Equinox Theatre Company is thrilled to present the regional premiere of Thrill Me: The Leopold & Loeb Story. Performances are July 28 through August 19 on Friday and Saturday Nights at 7:30 p.m. with a pay-what-you-can industry night on Thursday, August 10th. Tickets are $20 in advance/$25 at the door/$17 for groups of 6 or more in advance only. All performances will be at The Bug Theatre at 3654 Navajo Street in Denver. Tickets and more information available online at http://www.EquinoxTheatreDenver.com
About the Show: In 1924, two wealthy students at the University of Chicago, Nathan Leopold and Richard Loeb, murdered a young boy in order to commit "the perfect crime." They became known as "The Thrill Killers" and they believed their own intellectual superiority absolved them of any responsibility for their actions. Nathan was passionate about Richard, who was passionate about crime and excitement, creating a secret agreement to satisfy each other's needs. But soon their perfect crime unraveled due to a careless mistake – or was it so careless? Focusing on the obsessive nature of their relationship, beginning with a 1958 parole hearing, this stunningly beautiful musical will mesmerize you from the very first note.
"The thing that I find so fascinating about Thrill Me is how well it portrays obsession," offers director Patrick Brownson. "Whether it's obsession with an ideal or another person, if we allow ourselves to become so focused on our basest desires it can often have disastrous consequences, no more so than for the two characters in this musical. I've also loved the challenge of presenting such a darkly beautiful piece that is so stripped down (just two men and a piano) and working with these gents to make this a vibrant and engrossing theatrical experience."
Starring Colin Roybal as Nathan Leopold and Maximus Nielsen as Richard Loeb.
"Others have told the tale in plays and films, but there is something brazenly satisfying about Mr. Dolginoff's rendition. It's a reminder that evil often looks and sounds beautiful. Credit the lean approach to the storytelling." — NY Times.
"Dolginoff shows that unlikely musical subject matter can be mastered if the approach is strong enough. You will be intrigued." — TheaterMania.com.
"A brilliant, unforgettable musical…Sends chills down the spine. Uncompromising and intoxicating." — Talkin' Broadway.
Book, music & lyrics by Stephen Dolginoff
Directed by Patrick Brownson
Music Direction by Heather Holt Hall
July 28 through August 19
Fri and Sat at 7:30 PM
$20 in advance/$25 at the door
$17 for groups of 6 or more in advance only
Recommended for mature audiences only
http://www.EquinoxTheatreDenver.com
Contact: Deb Flomberg | 720-434-5245 \ [email protected]