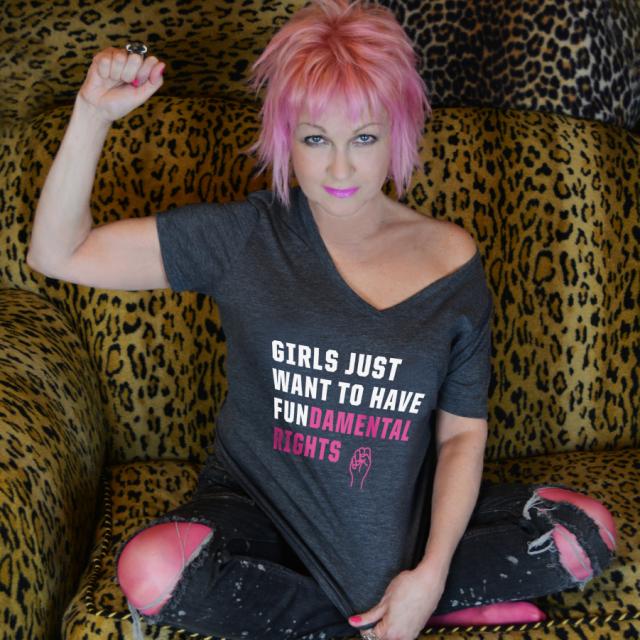 SONGWRITERS' CORNER: The So-Unusual Story of How 'Girls Just Want to Have Fun' Went from Bad-Boy Party Song to Feminist Anthem
On Sept. 6, 1983, a quirky little redhead with a big, big voice named Cyndi Lauper became an instant MTV icon when she released "Girls Just Want to Have Fun," a feminist anthem for the new wave age. But interestingly, "Girls Just Want to Have Fun" was written and originally recorded as a demo in 1979 by a male punk/new wave artist, the late Robert Hazard, who performed it from the point of view of a girl-crazy bad boy. When Lauper remade it — with some lyric changes that had Hazard's blessing — the song took on new meaning, and it really took off.
Compare and contrast the very different versions [in the original article linked below].
Thirty-five years later, Lauper's message still resonates with girls of all ages. Lauper noticed that people had started carrying signs that read "Girls Just Want to Have Fundamental Rights" at the Women's March in 2017 and 2018, and she started running slideshows of those protesters at her concerts. She also designed an official T-shirt with that slogan to raise money for her organization, the True Colors Fund (which helps homeless LGBTQ youth) and Planned Parenthood.
"As I marched down the streets of New York City in January amongst a beautiful array of people of every sex, race, religion, sexual orientation, gender identity, and nationality, I was blown away to see so many people embracing the message of 'Girls Just Want to Have Fundamental Rights' on their handmade signs," Lauper explained on True Colors Fund website. "Seeing this anthem continue to empower so many people to speak out and get involved, I was inspired to find new ways to further spread this powerful message of equality and justice for all."
Lauper and Yahoo Entertainment recently discussed the evolution of "Girls" from party song to feminist call-to-arms, and the pop maverick also discussed Madonna, Miley Cyrus, American Idol, and why she never tires of singing "Girls" live.
Yahoo Entertainment: "Girls Just Want to Have Fun" was written and first recorded by a man. What made you want to cover it and make it your own?
Cyndi Lauper: The first time I heard it, I understood how I could sing from my point of view and make it a call to solidarity for women. In the 1980s, women were still struggling to be seen as equal to men. When the women's movement really started earlier in the '60s and '70s, I felt so empowered and it was thrilling to me. But in 1980s, it seemed that a lot of the hard work by people like Betty Friedan and Gloria Steinem was being forgotten, and women were once again accepting the status quo. We had gotten far — but not far enough — so I sang "Girls" for all the women around the world to remember our power.
How did you change it to a female point of view?
I had a different take, obviously. He's a guy; he's not going to write what a woman's going to sing about. I was concerned about how it would be taken, and he said, "Well, think about what it could mean." So the parts that were very masculine and didn't pertain to what I wanted to say, I cut out. My idea was to use those Hooters guys [Eric Bazilian and Rob Hyman, who worked on the album] and their reggae feel, and this wonderful new sound of this electronic drum, and use the wonderful new styles that came over from England from groups like the Clash and how they approached their guitars. It was kind of raw. And also [the influence of] Andy Summers [of the Police], who I felt played in a completely different way than what we were listening to, way more blues-oriented. I just felt there was a way to incorporate everything and use a big voice, which I had.
Now "Girls" is considered a feminist anthem. Was that your intention all along?
Absolutely. I didn't know it would be so well-received, of course, but I really wanted every woman to hear that song and think about their power. That's also why it was very important that I had women of all colors in that video, so that every little girl, wherever she was from, could see herself in that video.
What was the specific message were you trying to send with that song?
We are strong! Celebrate that.
> > > > > > > > >
(Read the whole article at the link below)
What advice would you give you female pop singers coming up now, who hope to have an illustrious career like yours in 35 years?
Never give up!
> > > > > > > > >
By Lyndsey Parker | Yahoo Entertainment
https://www.yahoo.com/entertainment/unusual-story-girls-just-want-fun-went-bad-boy-party-song-feminist-anthem-011725153.html
Photo: Cyndi Lauper (Photo: Courtesy of the True Colors Fund)