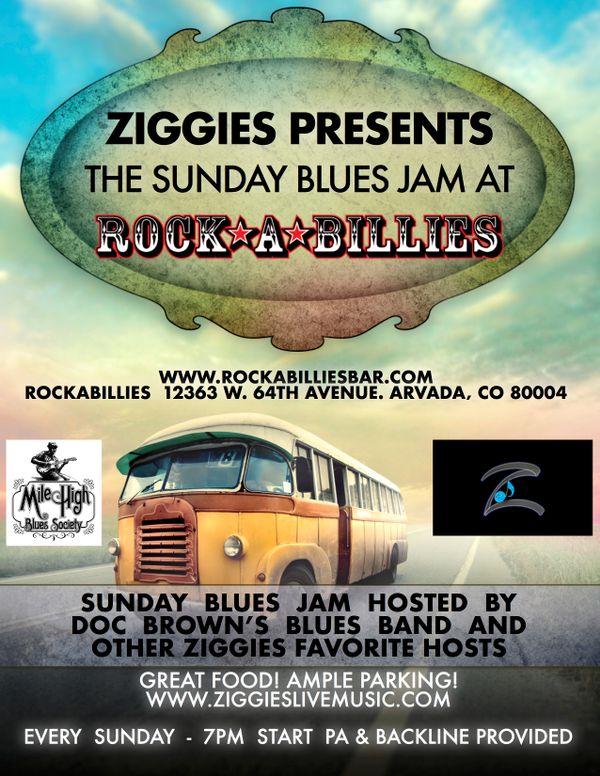 TALENT NEEDED: Carla Jordan – Ziggie's – Announces New Sunday Night Blues Jam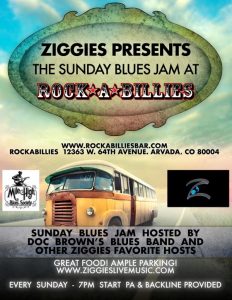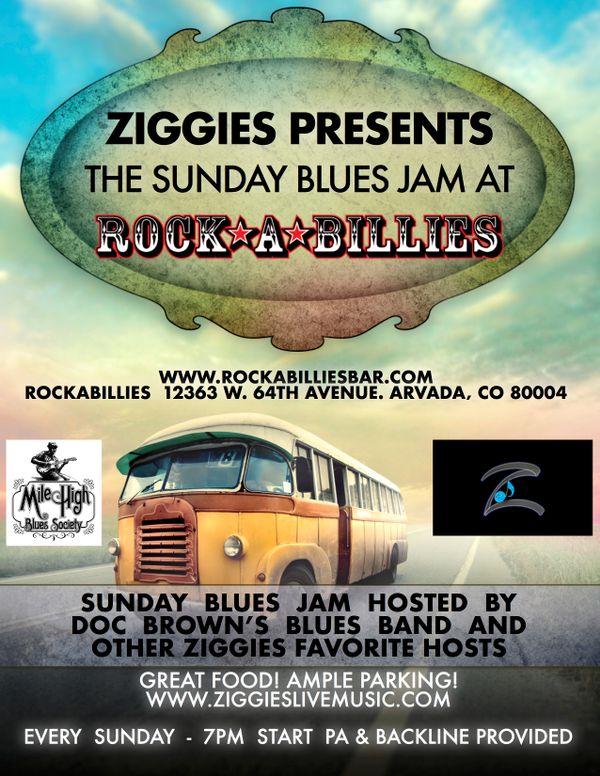 From Carla Jordan on Facebook, 3/06/18: WE'RE BACK!!! The Famous Sunday Night Blues Jam! Ziggies Presents! We have revived it and moved the Ziggies Sunday Night Blues jam to Rockabillies in Arvada, 64th & Ward Road. We've missed you terribly!
Rockabillies has GREAT food, ample parking, a great room, and really cool people! PA and backline provided. ALL AGES welcome up to 9:00 p.m. After 9:00 p.m., it's over 21 only. And The Carla will be there to welcome you and hug you! Come see us! Let's make this great again!
Sponsored in part by MHBS [Mile High Blues Society] and the Ziggies hosts. Jodie Woodward and Friends on March 18th; Doc Brown's Blues Band on March 25th. Come for dinner, stay for the jam! Jam starts 7:00 p.m. A huge thanks to Jimmy Nigg and the Rockabillies crew for welcoming us. Support them and the musicians! This is going to be a BLAST!!!
https://ziggieslivemusic.com/event/2234155/466075442/the-ziggies-famous-sunday-night-blues-jam-is-back
# # # # #
From Carla Jordan on Facebook, 3/02/18: A new era is on the horizon! Ziggies, the oldest blues bar in Colorado, closed its doors for business on October 31, 2017 at the location on west 38th Avenue in northwest Denver after over 53 years, with the same liquor license that was issued in 1964! After a few months of pondering, wondering, and wandering Carla Jordan, the owner of Ziggies, (the brand and the business), got restless. Missing so many fans, musicians, and close friends from Ziggies she started hanging out in other venues to support the bands she loves and see some of the fans who used to frequent Ziggies. Everyone continues to ask "When are you getting another bar?" Well, financially that just isn't really feasible or a good business decision to jump into right now. Various venues wanted her to help them in different ways as did several musician friends. Considering her love for so many musicians and their mutual admiration she is jumping head first into a new adventure, which she calls "Ziggies Presents".
"Ziggies Presents" is about helping musicians from the band management, promotion, and booking standpoint and helping them grow, develop, and advance while staying focused on their music. And they won't have to deal with some of the gritty parts of the music business that Carla will take care of. She will be taking on the management of a few select bands and focusing on their success.
In addition she hopes to delve into establishing a "Ziggies Presents" showcase that will be featured in specific venues with a high regard for musicians and live shows, and not just blues!
Please welcome the Miles Lee Band and the Stacey Turpenoff Band to the "Ziggies Presents" Family!
Check out our updated website often with all the "Ziggies Presents" goings on!
http://www.ziggieslivemusic.com