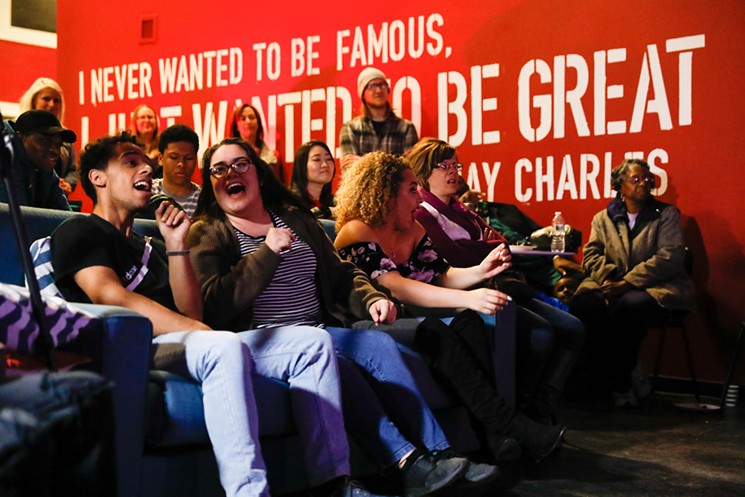 TALENT NEEDED: DIME Gives Students Who Hate School and Love Music a Future
After two decades of playing music, singer-songwriter and pianist Stephanie Ault found herself working as a project manager for a construction company. She says she had completely lost touch with herself.
So she started looking for full-time work in music, perhaps A&R or management. She Googled: "What can I do in the music industry?"
The search brought up an article about the Detroit Institute of Music Education, or DIME, in which Sarah Clayman and Kevin Nixon talked about founding the school, an institute tailored for serious musicians looking for a long-term professional career in modern music.
Now, a year after starting a temporary DIME Denver on the Auraria campus, the pair just opened a permanent school at 800 Kalamath Street in partnership with Metropolitan State University. DIME manages the program; Metro State hires the professors and grants degrees. The school offers four-year bachelor's degrees in commercial music performance, commercial songwriting and music-industry studies.
"The partnership between MSU Denver and DIME gives students a unique opportunity to learn about the commercial music business from seasoned pros and top-notch professors," says Bob Amend, chief academic and administrative officer for the MSU Denver-DIME Partnership. "We also look forward to collaborating with the numerous creative people involved in the vibrant Denver music scene."
Clayman says that she and Nixon designed the curriculum based on their own work in the music business, to help students go from being bedroom musicians and entrepreneurs to working in the industry.
Ault just started the commercial songwriting program and works with three other songwriters in what DIME calls a cohort model. "We work together constantly," she says. "We're given assignments. Right now, two of us are writing a blues song together. We're kind of forced to learn different genres, like going through a blues song, a folk song, pop, and then perform it live. One reason that I wanted to come here is it would force me to work with other people, because being a songwriter can be very isolated."
Using the cohort model, Ault and the other three songwriters will stick together through the four years.
"I will only have three other songwriters in my classes, which I think is really cool," Ault says. "We'll move though the four years together. I like that model. It's pretty small and intimate. It's kind of like this support system, and you do get feedback and critiqued."
Clayman says DIME uses the cohort model for two reasons. "One, the music industry hires young, and the younger you are, the more opportunities there are in the music industry," she says. "Number two is these young people are studying and learning together, so they're creating their own communities. They're creating their own music industry as they travel along together. And they're making lifelong relationships with people they're going to work with the rest of their careers. It's a really supportive environment."
Now in its second year in Denver, DIME is gradually gaining traction locally. Even so, it's not widely known in the industry.
AEG Presents Rocky Mountain co-president and senior talent buyer Don Strasburg and AEG talent buyer and Lost Lake, Globe Hall and Larimer Lounge owner Scott Campbell, who both work from an office a block away from DIME's building and are two of the biggest players in live music in Denver, knew nothing about the school when Westword reached out for their perspective.
"I'm not familiar with the program, but anything that can encourage people and help guide people into a career in the arts is a beautiful thing," Strasburg says.
GO TO THE URL TO READ THE REST OF THE ARTICLE…
By Jon Solomon
Jon Solomon writes about music and nightlife for Westword, where he's been the Clubs Editor since 2006.
https://www.westword.com/music/dime-partners-with-msu-to-offer-music-industry-education-in-denver-10844636
[Thank you to Alex Teitz, http://www.femmusic.com, for contributing this article.]
Photo: DIME Denver trains students to work in the music industry.