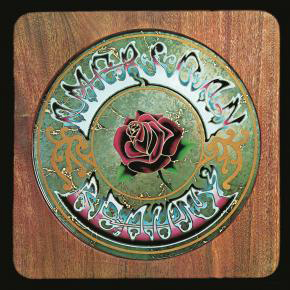 The Grateful Dead's "American Beauty" is one of the 20th century's most iconic record albums. Along with "Workingman's Dead" released six months earlier, it is one of the foundational recordings of what we now call Americana music. The songs, mostly by Robert Hunter and Jerry Garcia, were something entirely new, yet seemed utterly familiar. That is a rare thing indeed. Though the psychedelic jams are absent, in concert, songs like "Truckin'" were often the jumping-off points for extended improvisations.
David Glasser recalls "I remember when 'American Beauty' was released, and FM stations played 'Ripple' and 'Brokedown Palace.' I was transfixed, and knew I had found something special. When I saw the Dead in the months that followed, I was utterly confused: what I heard in concert bore only a passing resemblance to 'Workingman's Dead' and 'American Beauty.' I came to understand that was one of the salient properties of the band: the unique ability to absorb, fuse, and reanimate a wide range of musical styles and influences, with surprises waiting around every corner. Working on this 50th anniversary release was a great thrill, and an honor, sometimes nerve-wracking (a pretty heavy weight to bear), but always rewarding. And a great production team made it damn fun: David Lemieux, Jeffrey Norman, Jamie Howarth, John Chester, Ivette Ramos, and the whole Rhino crew."
(Fun fact: "Box of Rain" which kicks off side 1, co-written and sung by Phil Lesh, is the only Grateful Dead song that Phil doesn't play bass on. Bass was handed by Dave Torbert of the New Riders.)
The album comes packaged with a live show from the era, 2/18/17 from the Capitol Theatre, Port Chester NY.
Here's a link to "Truckin'" from the bonus disc.
Pre-order here for Halloween delivery: https://americanbeauty50.dead.net/