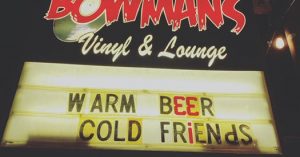 [Editor's note: This is so disappointing. One of COMBO's favorite places to hold our meetings has been hit by the tsunami of the covidvirus after waves. Located at 1512 South Broadway, Bowman's was that small, intimate "friends" meeting place where you could browse over a selection of vinyl albums while having a beer or mixed drink with your close friends. Their little side room was perfect for our meetings in a "living room" setting. Darn. Maybe consider donating to their "tip jar" during the Colorado Gives Day on December 8th to help out their staff.]
From Bowman's on Facebook: We are so sad to say that we will be closing our doors. We have so much to be grateful for though. This thing is overwhelming, As it is to so many. We love everyone that has graced us with their presence over the last five years. It has been such an amazing feeling and rewarding to know and have met you all. Words don't have enough power to describe how much this community and you people have meant to us. Thank you for all of your support and to all the bands…. you rock. You were always awesome. You made our little world turn and we appreciate you.
And finally to the staff. To EVERYONE who has ever worked here – Thank you. We are nothing but an empty shell and a vacant brick building without you. You welcomed the weird, the obscure and the best people. Your service was the greatest gift any business could ever ask for. From our family to all of you… please stay weird and always be true to yourself. Life is a vehicle. Keep the engine greased and the tank full of gas. Knowledge is your power. Be kind and be gentle to each other's engine because someday you may need a little extra fuel.
# # # # #
Like many other small business's around Colorado, Bowman's Vinyl & Lounge had to shut their doors for good due to COVID-19. The bartenders at Bowman's could really use everyone's help, especially during the holidays.
If you have a fond memory, enjoyed a free show or got a little too drunk over the last five years at this bar, please consider tipping the people that made it all possible, one last time. All donations will be split equally between current bartenders.
We love you all! Thank you for the years of loyalty and laughs. Stay Weird Denver!
https://gf.me/u/y9ygwr
We would like to thank every single person who commented, sent us love and called or sent texts over the past couple days. Your love and support does not go unnoticed. Much respect and much love to the entire Denver community including all the bars, venues and restaurants. To anyone who you came through these doors and had a good time with us. We love you all and we will see you around. Stay strong and please support local business. It's the life blood of our community. Stay safe and stay weird.
Most of you know I asked Derrick to take over managing Bowman's for me after the first wave of COVID hit. I poured my heart and soul into the bar for a handful of years and was finally ready to quit the late nights and move into graphic design.
Derrick stepped in without question, having the same amount of drive and passion I initially had. He's done such a wonderful job with the old girl, and it's been an honor to work beside him every Friday night for the last 5 months.
If it wasn't for COVID, you would have brought this bar to the next level. Thank you for all that you have done for Bowman's and all the years of friendship and laughs. Until our next adventure ?? All the love! -Lexi-
Thank you so much ~ Laura Jane Grace
.
https://www.facebook.com/Bowmansvinylandlounge/