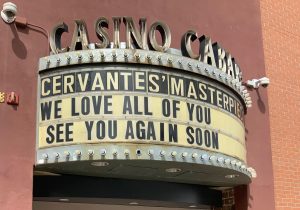 Hello, Friends of Cervantes! As you know, all venues, restaurants & bars in Colorado are now closed through May 11 to help contain the spread of Covid-19. Our awesome and dedicated Cervantes' staff are suddenly out of work & will need money for rent, food, utilities, healthcare, etc.
We've started a GoFundMe page to raise money on their behalf. Any amount you can give will be divided among all of our staff: door staff, production, bartenders, barbacks and box office.
In the meantime, stay safe, healthy and support the local musicians who are doing live streams, lessons online and whatever else they can do to stay afloat.
We're in this together and look forward to getting down with you all soon!
Thank you for supporting our little piece of live music heaven! We love you and we'll be back!