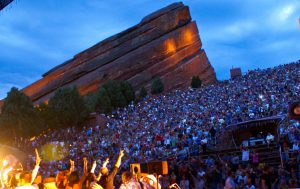 By Kyle Harris, Westword | Twenty-six-year-old Air Force veteran Joey Oertli was walking back to his car during the Winter on the Rocks concert at Red Rocks in 2018 when he was assaulted by two men. As he was being beaten, a security guard with Argus Event Staffing stood by watching, according to a lawsuit filed in Denver District Court by his father, attorney Richard Oertli, against the security company. Instead of trying to intervene, the Argus employee called police, and the assailants were arrested. Joey continues to suffer from traumatic brain injury and is uncertain about his prognosis.
Several months after the incident, Richard weighed suing the City and County of Denver, which operates the venue, as well as Argus. He eventually dropped the idea of taking the government to court, because case law makes it virtually impossible to sue such entities for injuries that happened in a public park.
But Richard did move forward with his lawsuit against Argus, arguing that the company failed to keep his son and other patrons safe on Red Rocks premises. The security company, which has not responded to requests for comment for this story, argued that it isn't responsible for protecting concert-goers who are leaving the amphitheater. A judge ruled in favor of Argus in January.
Richard, who says he will not be taking further action, is concerned that between the venue's security, which is run by Argus, police officers sprinkled throughout the parking areas, and the Jefferson County Sheriff's Department officers on traffic duty, not enough people are watching out for the safety of patrons as they leave.
Read the whole story here:
https://www.westword.com/music/red-rocks-assault-victim-loses-lawsuit-against-argus-11619822
[Thank you to Alex Teitz,
http://www.femmusic.com
, for contributing this article.]