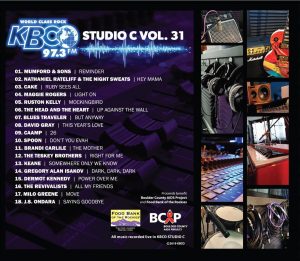 Denver/Boulder, CO –The KBCO Studio C archive will release 18 new songs exclusively performed live on 97.3 KBCO starting at 8:00 a.m., December 7th at nine select Colorado Whole Foods Market Front Range locations. Honoring its 31st year, the annual KBCO charity CD will feature 18 songs recorded live on the air from the Denver/Boulder radio station's performance studio.
An annual tradition as a highly sought-after collectors' item, thousands of loyal KBCO fans line up each year to purchase the latest KBCO Studio C CD for a unique holiday gift. KBCO Studio C Volume 31 CD will be sold for $12.00.
97.3 KBCO handpicks a wide variety of songs from artists, who donate their time & talent, for their world famous KBCO Studio C charity CD Series.
Proceeds from the sale of the KBCO Studio C Volume 31 CD will benefit the Boulder County AIDS Project and Food Bank of the Rockies. "Boulder County AIDS Project is excited for the 97.3 KBCO Studio C Volume 31 release! Our staff, board, and volunteers are eagerly signing-up to greet and thank the thousands of supporters who will visit select Whole Foods Markets in Colorado on December 7. KBCO fans are remarkable and incredibly loyal. They have their own, unique connections to the radio station and its staff, the music, and BCAP's mission. BCAP is grateful to KBCO for so many years of partnering with us to improve the lives of people living with HIV, minimize transmission, and end stigma in our community" says Frank O'Cana, BCAP's Executive Director.
"KBCO and their listeners truly make an impact for Food Bank of the Rockies during the holidays. This partnership continues to nourish men, women and children facing hunger during the holidays and all year long. We are so grateful for the musicians, KBCO, and everyone who purchases the KBCO Studio C CD this year. Because you care, the joy you receive listening to this music is multiplied by the hope families in our community will experience with a hearty meal. Thank you!" – Erin Pulling, President and CEO, Food Bank of the Rockies
KBCO Studio C Volume 31 CD:
1. Mumford & Sons "Reminder"
2. Nathaniel Rateliff & The Night Sweats "Hey Mama"
3. Cake "Ruby Sees All"
4. Maggie Rogers "Light On"
5. Ruston Kelly "Mockingbird"
6. The Head and The Heart "Up Against the Wall"
7. Blues Traveler "But Anyway"
8. David Gray "This Year's Love"
9. Caamp "26"
10. Spoon "Don't You Evah"
11. Brandi Carlile "The Mother"
12. The Teskey Brothers "Right for Me"
13. Keane "Somewhere Only We Know"
14. Gregory Alan Isakov "Dark, Dark, Dark"
15. Dermot Kennedy "Power Over Me"
16. The Revivalists "All My Friends"
17. Milo Greene "Move"
18. J.S. Ondara "Saying Goodbye"
About iHeartMedia Denver
iHeartMedia Denver owns and operates KOA NewsRadio 850 AM & 94.1 FM, TalkRadio 630 KHOW, Freedom 93.7 (KDFD) Channel 93.3 (KTCL), 95.7 The Party (KPTT), 97.3 KBCO, 103.5 The Fox (KRFX), 106.7 The Bull (KWBL), 107.9 KBPI, Denver Broncos Radio Network, Colorado Rockies Radio Network and is part of iHeartMedia.
iHeartMedia is the number one audio company in the United States, reaching nine out of 10 Americans every month – and with its quarter of a billion monthly listeners, has a greater reach than any other media company in the U.S. The company's leadership position in audio extends across multiple platforms including 850 live broadcast stations; streaming music, radio and on demand via its iHeartRadio digital service available across more than 250 platforms and 2,000 devices including smart speakers, digital auto dashes, tablets, wearables, smartphones, virtual assistants, TVs and gaming consoles; through its influencers; social; branded iconic live music events; and podcasts as the #1 commercial podcast publisher globally. iHeartMedia also leads the audio industry in analytics and attribution technology for its marketing partners, using data from its massive consumer base. iHeartMedia is a division of iHeartMedia, Inc. Visit http://www.iHeartMedia.com for more company information.
# # #
The list of select Whole Foods Market locations and all additional details are available by contacting Bad White or by visiting kbco.com.
CONTACT:
Brad White, KBCO Assistant Program Director
brad@kbco.com
Office: 303-930-6807
iHeartMedia | Denver/Boulder, CO
4695 S. Monaco St.
Denver, CO 80237
America's #1 Audio Company