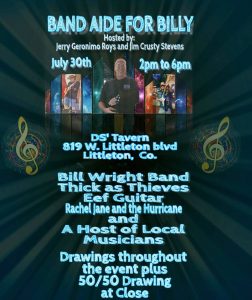 On Sunday, July 30th, we're gonna have church and show some love to one of the kindest, most caring persons on the planet – guitarist Bill Wright. It begins at 2:00 p.m. and goes up to 6:00 p.m. We have a lot of great entertainment showing up and some really cool drawings, but most of all it's to support one of our own. See you there. Oh, I'll be bugging you throughout the week with this
Hosted by Jerry "Geronimo" Roys and Jim "Crusty" Stevens, there will be drawings throughout the event plus 50/50 drawing at close.
What: Band Aide for Billy
Why: Bill's left arm, wrist, and hand was injured when a rager took a hammer to him
When: Sunday, July 30th
Where: DS' Tavern, 819 West Littleton Blvd., Littleton, CO
Time: 2:00 until 6:00 p.m.
Cost: Donations at the door gladly accepted
Bands donating their time and talents to help out Bill include the Bill Wright Band, Thick as Thieves, Eef Guitar (and her co-harts), Rachel Jane & The Hurricane, and lots more!