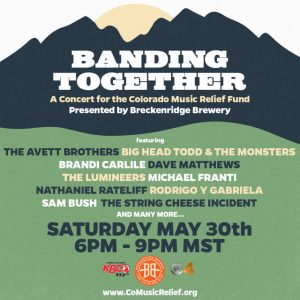 By Katey Johnson, CBS4 | Some of Colorado's favorite stars are taking the stage to support music industry workers across the state. "Banding Together: A Concert for the Colorado Music Relief Fund," will feature The Avett Brothers, Big Head Todd & The Monsters, Brandi Carlile, Dave Matthews, The Lumineers, Michael Franti, Nathaniel Rateliff, Rodrigo y Gabriela, Sam Bush, The String Cheese Incident, and many more.
The first hour of the virtual event will be broadcast on CBS4 on Saturday, May 30 starting at 6 p.m. The entire three-hour program will be streamed on CBSN Denver and aired on 97.3 KBCO from 6-9 p.m.
Go here to read the whole article:
'Banding Together': Virtual Concert For Colorado Music Relief Fund Streams On May 30
Donate here to help support Colorado's music industry:
Applications for the Colorado Music Relief Fund will open on May 28, 2020 at http://comusicrelief.org/.
For more information and updates, follow Colorado Music Relief Fund:
Twitter: @comusicrelief
Instagram: @comusicrelief
Facebook: @ColoradoMusicReliefFund
YouTube: ColoradoMusicReliefFund