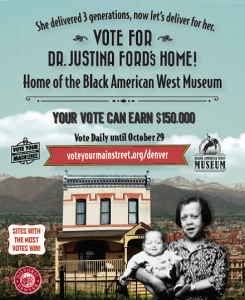 She delivered three generations , now let's deliver for her! Vote for Dr. Justina Ford's home, Home of the Black American West Museum to help them win $150,000 to help preserve their building.
For over 50 years, Dr. Justina Ford Denver's first African American doctor treated patients in her home. Known by the community as the "Baby Doctor", she delivered 7,000 babies and treated countless others.
Vote here daily until October 29th. https://www.nationalgeographic.com/voteyourmainstreet/denver/
Your vote can earn $150,000 for the museum, by helping them win the Partners in Preservation Vote Your Main Street competition.
Denied access to local hospitals, Colorado's first licensed female African American doctor Justina Ford instead treated patients at her home office, helping circumvent the racial and economic barriers to their medical care. Locally, Dr. Ford became known as the "Baby Doctor" because she delivered over 7,000 babies in her 50-year medical career.
Saved from demolition in the 1980s by the Five Points Community and Historic Denver, Dr. Ford's 1890 Italianate-style house is now home to the Black American West Museum & Heritage Center. Grant funding will allow for important exterior renovations such as window restoration and masonry work, ensuring that the Museum can safeguard its rich collection of black history, remain a place of learning, and continue to symbolize the black experience in the West.
Where: Black American West Museum & Heritage Center, 3091 California St, Denver 80205
When: Saturday, October 5th
Time: 10 a.m. – 4:30 p.m.
Experience the home of Dr. Justina Ford yourself! Enjoy tours, performances, food trucks and historical interpreters. You can vote for the BAWM&HC on-site during the event.
Come join the fun and learn more about the home's fascinating history!
COMBO members Rudy Grant & The Buffalo Riders Band will be appearing at 3:00 p.m.
If you are interested in booking Rudy Grant & The Buffalo Riders, call 720-859-8988 or 303-355-4545.