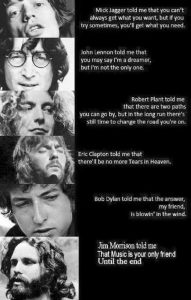 It's been said that, in times of trouble, humans come up with new and creative ways to overcome. It is amazing all the inventive things that have come about because of the coronavirus, dubbed COVID-19: new and better ventilators, home-made face masks that at least can increase your chances of not getting or passing along the virus (even if not perfect), places for musicians to play like balconies and Wildermiss's flat-bed trailer rolling stage, and so many ZOOM events including major competition shows like American Idol and The Voice. And the SONGS! So many really cool songs with a positive, encouraging message to hang in there and stick together through this mess! Love them!
.
Reminder: COMBO does not usually run general meetings during the summer months although we may do something like tours. Keep an ear here!
.
COMBO is about the "Business" of Music. Our mission is to teach musicians about the ins & outs of the music industry. We offer guidance and advice to help musicians advance their careers! Our articles represent some phase of music business that could effect musicians – all musicians – everywhere. Our motto: Elevate Your Musical State!
.
Be sure to check out Alex Teitz's Lead Sheet on his website, http://www.femmusic.com
.
Articles on Financial Help for Musicians & Artists
● Songwriters, Self-Employed Music Workers Eligible for Relief in Federal Stimulus Bill
● MusiCares Announces $2m Musicians Relief Fund
● Gig Workers Should Get Access To Colorado Unemployment
● The Bohemian Foundation Offers NoCO Music Relief Fund
.
Live Nation is streaming concerts! Go to http://www.livenation.com to sign up & watch!
.
Talent Needed:
● Stone Cottage Studios "Livestream Your Next Show" Contest – Ends May 22nd at Midnight
● My Youth on Record Interrupted Podcasts
● Radio Personality Alf Looking for LIVE Musicians
● Constructive Criticism – New Show to Review the Music of Hip Hop Artists
● 2020 Telluride Blues Challenge Entries Now Open! [See "Talent Needed" category] .
Check out COMBO's Calendar for Upcoming Events:
https://www.coloradomusic.org/colorado-music-business-organization-combo/calendar/
.
Join us Every Thursday for Digital Balanced Breakfast! See "Events"
.
Events – May 2020
Sa, 23rd – KGNU Presents Showcase #10: NoCo Live From Home Show (See "Events" below)
.
Artists – May 2020
.
COMBO Member Cary Morin Announces Livestream dates:
All at https://www.youtube.com/user/carymorin
.
Events – June 2020
2020 Pagosa Folk 'N Bluegrass Festival has been cancelled. See you next year!
Sa, 20th – Juneteenth Music Festival – Five Points, Denver – Going to the Net!
.
Events – July 2020
Girls Rock Denver is still on at this time. Check back for updates.
.
25th – Denver's Underground Music Showcase – Gone ZOOMING! See Events Category! http://www.ums.com
.
Events – August 2020
Su, 2nd – Vintage Voltage Expo / Colorado Guitar Show – Denver Merchandise Mart (more later)
27th – 30th – Tarab Retreat – Colorado Springs – http://www.megyork.com
.
Events – September 2020
Sa, Su – 4th & 5th – FoCoMX 12 (postponed date from May) – See "Events" for details
.
BELL RINGERS: Previous article ringing a bell? Look for it on COMBO's Website!
● Warning Signs of Suicide 1-800-273-TALK
● How to Take Care of Your Mental Health During a Pandemic
● COMBO's YouTube Channel Features Videos From Our Meetings and Friends
● Updates to the COMBO Resource Pages – List Your Business – Free!
● Join us Every Thursday for Digital Balanced Breakfast!
● The 2020 Underground Music "Something" on July 25th
● 2020 Telluride Blues Challenge Entries Now Open!
● Ian Anderson Reveals Incurable Lung Disease to Dan Rather
● Bob Dylan Remembers Little Richard: 'My Shining Star and Guiding Light'
● 'Love and Hip Hop's' Mo Fayne Arrested, Accused of 'greedily' Using $1.5M of Coronavirus Loan on Jewelry and a Rolls-Royce
● How Coronavirus Spread to 87% of the Singers at a Washington Choir Practice
● Constructive Criticism – New Show to Review the Music of Hip Hop Artists
● Golden Music Opens on a Limited Basis
● Lyons, Colorado COVID-19 Relief Fund for Lyons Artists & Musicians
● Westword's Jon Solomon Reports on Music Venues: Jazz Club and French Bistro La Cour Has Closed and Here's How Denver Music Stores Are Preparing to Reopen This Weekend
● Arkansas Governor Shuts Down Artist's Attempt to Create a Socially-Distanced Concert
● Open Colorado: Grizzly Rose Owners Express Frustration On Sign Visible From I-25
● Remember Small, Sweaty Music Venues?
● Kyle Harris of Westword Reports on The Shaky Future of Denver Arts and Culture Funding and Every June Concert at Red Rocks Has Been Canceled or Postponed
● Wax Trax, Famous Denver Record Store, Hopes New Website Helps Them Survive Coronavirus
● Live Nation Is Planning for Crowdless Shows and Drive-In Concerts
● Mark Bliesener Shares His Memory of Meeting With Little Richard
● Music Industry Leaders Press Congress For New Stimulus: 'Our Situation Is Dire'
● Jonny Sterling Laments the Loss of "The Show Must Go On"
● Our Industry Isn't Coming Back Like Yours Is
● Higher Ground Rehearsal Studios in Fort Collins Will Reopen May 26th
● Radio Personality Alf Looking for LIVE Musicians
● Musician Ben Makinen Starts Conversation on Facebook re Pay for Musicians
.