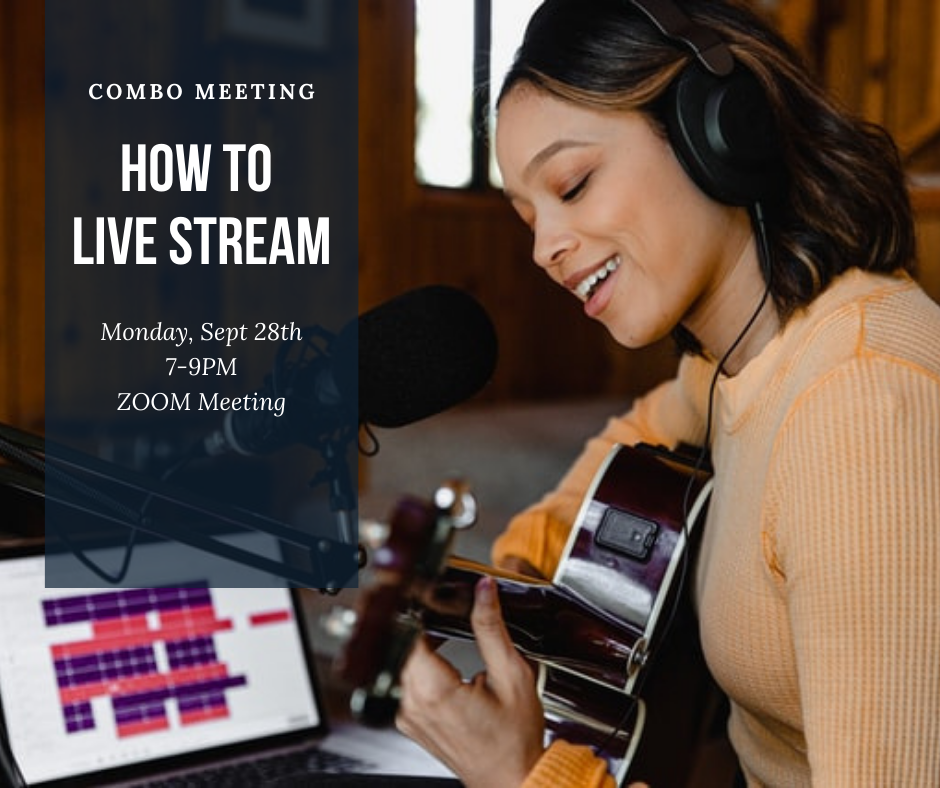 COMBO is about the LOVE of Music. Our mission is to assist musicians with the ins & outs of the music industry. We offer guidance and advice to help musicians advance their careers whether it been in writing, performing, teaching, or recording and sound engineering! Our articles represent some phase of the music business that could effect musicians – all musicians – everywhere. Our motto: Elevate Your Musical State!
.
Miss a meeting you wanted to get to? Try Colorado Music Biz's general YouTube channel:
https://www.youtube.com/channel/UCZWXnO5WKAH5ORlMLunli3A
Get the full stories on COMBO's website under the heading "Talent Needed":
● Position Available: Part-Time Drum Instructor for Denver School of Rock
● The Colorado Music Relief Fund is Accepting Applications thru September 30th
● COMBO is looking for new – or even used – Board Members! 😉
● COMBO is also looking for judges for the Summer of 2021's Songwriting Contest
.
Check out COMBO's Calendar for Upcoming Events:
https://www.coloradomusic.org/colorado-music-business-organization-combo/calendar/
.
Events – September 2020
Fr, 18th thru Oct. 2nd – Free Screening of Chuck Berry: The Original King of Rock 'N' Roll – See "Events"
.
Fr, 25th – Fundraiser and Picnic in the Park with Hazel Miller and Band – See "Events"
.
Mo, 28th – COMBO General Meeting – 7:00 p.m. – More details under "Events"
.
Events – October 2020
Th-Fr, 1st & 2nd – Last two nights for the Chuck Berry movie! See "Events"
Sa, 10th – Innervision Fundraiser & CD release at Mercury Café – 7:00 p.m.
Get your tickets at http://www.innervisionfm.com | 75% of proceeds go to Innervision, working with disabled musical artists to help with the business of music!
.
Th, 16th – Gaia Rising Holding a "Get The Vote Out" Event at The Mercury Café, 6-8:00 p.m.
.
BELL RINGERS: Previous article ringing a bell? Look for it on COMBO's Website!
● Warning Signs of Suicide 1-800-273-TALK
● How to Take Care of Your Mental Health During a Pandemic
● COMBO's YouTube Channel Features Videos From Our Meetings and Friends
● Updates to the COMBO Resource Pages – List Your Business – Free!
● The Colorado Music Relief Fund is Accepting Applications
● Mile High Blues Society Has Made Limited Funds Available to Help Our Local Musicians.
● Camille Brightsmith Responds to the Article on the Vandalism at the Elvis Presley Estate
● Boulder's AirShow Mastering: Grateful Dead Announces 50th Anniversary Release of "American Beauty"
● Gov. Polis Says He Will Push To Let Bars Stay Open Until 4 A.M. After Pandemic
● National Blues Foundation Appoints New President & CEO
● Position Available: Part-Time Drum Instructor for Denver School of Rock
● Facebook Live is Changing the World – But Not in the Way It Hoped
● How Can We Pay for Creativity in the Digital Age?
● Legendary Reggae Singer Toots Hibbert, Frontman of the Maytals, Dies at 77
● COMBO Member Rich Owen Breaks Top 10 on ReverbNation's Country Chart
● Local Metal Band Havok Has New Video Out –Selected for Slipknot's On-Line Concert Series
● Vinyl Records Outsell CDs in US for First Time Since 1980s
● Claim: Broncos Shown Favoritism Over Plan to Admit Fans to Games
● From Jody Mulgrew, A Durango Songwriter
● Update From Larry Odneal on Facebook, 9/15/20 re: His Case of COVID-19
● Denver Area Guitarist Rick Armstrong Passes
● Jazz Lives in Clubs. The Pandemic Is Threatening Its Future.
● Opee Patzkowsky of Cricket on the Hill Passes
.